Comics can be the perfect way to learn more about taking care of our mental and physical health. What better way to learn than through beautiful art and interesting stories? Here is a list of graphic medicine graphic novels for you to enjoy, hand-picked from the Europe Comics catalog.

Aldo has been twenty-eight for three hundred years. Despite his long life, he still hasn't developed very good social skills. His whole family has been dead now for a long while, and nobody believes he is immortal. As a result, he leads a lonely existence. He is afraid to love anything or anyone, except for his beautiful Alfa Romeo and his little pug Gustav. When he tries to seek professional help, there too the truth seems too absurd for words. But then he spots someone on television and recognizes him from an encounter two hundred years ago. And he decides to visit the man to get some answers.

Almost everyone makes it to fifty these days. And so did John. When his daughters give him a ticket to Rome, he decides it's time to conquer his fear of flying once and for all. But on the plane home he loses consciousness, and in the hospital he gets devastating news: he has colon cancer. What follows is a roller coaster of emotions, with ups and downs and newfound love… helping John realize just how much life is worth fighting for.
In The Moment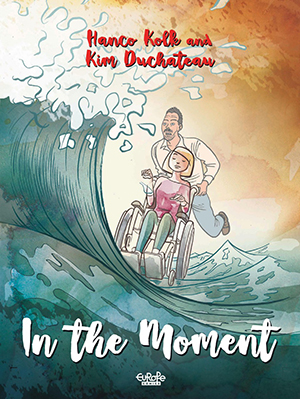 "In the Moment" is a modern Romeo and Juliet in two different time dimensions. In this unusual love story, Dutch author Hanco Kolk and Flemish author Kim Duchateau have found a particular way of working together, in which each of them draws one time dimension. Rafael Falstaff falls hopelessly in love with Sylvia, a chronowoman. He can see her, but he doesn't see her move, nor can he touch her, because they would both die if he did. But he's happy with just seeing her, until he realizes her life is in danger. He then decides to take action, with all that it entails… A story in two parts.
The day before her seventeenth birthday, Lya's life changed forever. Hit by a speeding car and left for dead, she lost the use of her legs as well as some of her faith in the world… Lya learned to live again with the support of her parents. But having discovered that someone bought their silence, Lya is determined to unmask the perpetrator and obtain justice. Her search for the truth takes her to a famous law firm… and down a dangerous path. With the help of her friend Antoine, she'll stop at nothing to get to the bottom of it all…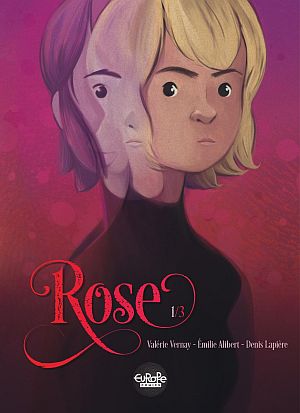 Rose
Ever since she was a little girl, Rose has had a special and troubling power: the ability to "double" herself and travel outside her body. She always saw it as something wrong with her… until now. When her father is murdered, Rose's strange ability gives her a chance to find her father's killer, solve a series of mysterious cold cases, and untangle a centuries-old curse. But maybe some secrets should stay buried…
Olive, age 17, has a rich and vivid inner life. She has created an imaginary world that she's able to visit whenever she chooses. But her daily life on earth is shaken up by the arrival of a new roommate at boarding school, who won't leave Olive alone. And even more upsetting: a mysterious spaceman makes a surprise appearance in her imaginary world! A coming-of-age story that will take Olive far from her comfort zone, as she discovers unsuspected sides of herself and the world around her.
This is a graphic novel about death and suicide… but not in the way you think. It's about death that can be reversible, when and if the right angels are looking. The dead person here is Catalina, a self-absorbed student who kills herself out of heartbreak. The angel is Karmen, an angel of the facetious, unusual sort. Her capacity for empathy is so great that she leads "her" dead on a journey toward redemption and, believe it or not, back to life! Full of surprises, metaphysics, and beautiful women, this graphic novel is tender and not devoid of humor.
Once an animator at Disney Studios, Nicolas Keramidas now makes a living as a cartoonist in Grenoble. He's married to a wonderful woman, Chloé, has two energetic sons, and plays soccer every Sunday with his pals. He was also born with Tetralogy of Fallot, a rare combination of four heart defects that in 1973 made him one of the youngest children ever to undergo open-heart surgery. Forty-three years later, when his congenital condition stops him short during a soccer game, he'll have to face surgery again, a saga he details in this moving, humorous, and above all, very human memoir.
Penelope is a Belgian physician who works with Doctors Without Borders in war-torn Syria. She returns to Belgium when she can in order to see her husband and daughter, but the transition is hard. Her latest trip home for the holidays proves even tougher than usual, as the coexistence of the two excruciatingly different worlds she inhabits becomes increasingly fraught.
When Clémence, a student and actress struggling with personal issues, sees how miserable her grandmother is in her nursing home, she decides to break her out and take her on a road trip to the coast so she can see her childhood home one last time. But traveling with a senior with Alzheimer's Disease comes with a fair amount of challenges, and the journey is fraught with highs, lows, and near misses. Still, it's a chance for the two women to reconnect, with each other and with themselves, and it's a chance for Clémence to give Grammy the gift of one last thrilling and joyful experience.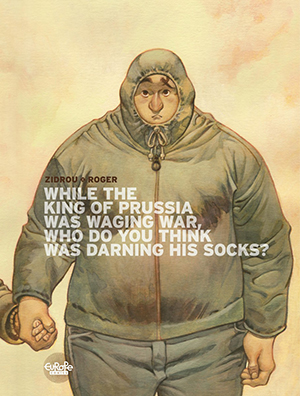 While The King Of Prussia Was Waging War, Who Do You Think Was Darning His Socks ?
Mrs. Hubeau looks after her 40-year-old handicapped son, Michel. Despite many happy moments, her daily life is far from easy, but she faces it with unparalleled courage and generosity. This is a beautiful homage to all the admirable people fighting in the shadows.
Cover banner from Open-Hearted © Nicolas Keramidas/ Dupuis