Alex Carret is a talented young Brussels chocolatier whose life takes a drastic turn when he quits his job and agrees to partner with a friend of a friend named Ben. He's a little wary of him at first, but when Ben comes up with a business plan, a space, a brilliant branding idea, and a 100,000-euro loan, Alex can't resist the temptation of seeing his lifelong dream come true. Soon he and his team are selecting the finest chocolate from countries around the world and throwing a launch party, which is a smash success. But will that put them in the crosshairs of other local power brokers?
Days Of Sugar And Spice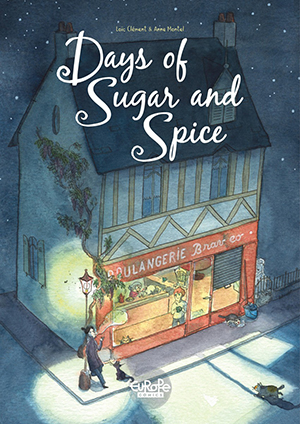 Rose is not a happy young woman; she is closed off and angry and she hates her job. But her life changes drastically when she inherits her father's bakery in a small town in Brittany. Returning to a place that brought her both joy and grief forces her to confront painful memories of her past and find the courage to open her heart to a new, happier life that awaits her if she will just let it. A story about new beginnings, filled with small town charm, delicious pastries and the warmth of home and friends.
Chris is a young pastry apprentice who, one fateful night, sees his delicious creations magically disappear. He decides to get hold of the thief, who happens to be a peculiar sort of squirrel. Chris doesn't know that the chase will lead to a fantastic adventure! The restaurant's fridge is the gateway to the magical world of Fridgebottom, a country populated by myths and legends. In this new universe Chris makes the acquaintance of Hannah, a young elf who runs the Monster Delight pastry shop, and who isn't so great at making pastry! Luckily for Hannah, Chris has a knack for inventing the perfect sweet delight for every palette.
Dodin-Bouffant: Gourmet Extraordinaire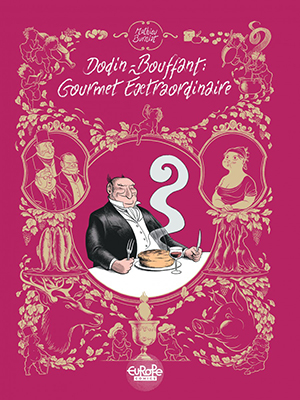 Dodin-Bouffant is a total food enthusiast. He lives for excellence and spends his time surrounded by a small circle of hand-picked gastronomes. When his beloved cook, Eugénie, dies, it turns Bouffant's world upside down. After a long, hard search he finally finds what he is looking for in Adèle. Not without some complications, Adèle and Dodin-Bouffant form a strong bond and share many a delicious meal. This novel by Marcel Rouff (1887-1936) is a tribute to the famous French gastronome Brillat-Savarin, on whom the character Dodin-Bouffant is loosely based.
What could be more moving than a reunion of childhood friends making peace after long enmity and tragic misunderstanding? Lucius Murena and the Emperor emerge from their long-awaited meeting with rekindled trust and affection. But in Nero's Rome, such victories are always fleeting. When a brutal murder attempt leaves Murena on the brink of death, his memory is erased by a family of patricians plotting to assassinate Nero with the help of the Emperor's own dear advisor, Seneca. The series, a dive into the intricate and deadly world of ancient Rome, is back with this tenth volume.
Jack Wolfgang – 1. Enter the wolf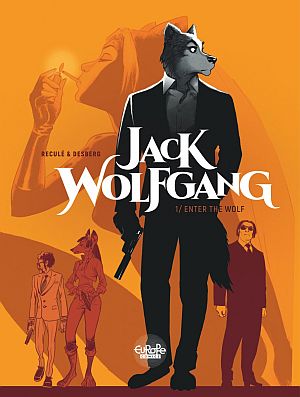 With the invention of Super Mega Tofu, civilization has seen the advent of a fragile peace—between animals and humans, between carnivores and herbivores. This miracle food has the peculiar quality of being universally loved. Jack Wolfgang, the world-renowned restaurant critic, travels the world sampling Super Mega Tofu in all of its varieties. It's the perfect cover for his second identity: Jack Wolfgang, CIA special agent. When his friend and mentor is killed, Jack picks up the scent of a conspiracy and tracks it half way around the globe. Can society survive this collision of fine dining and espionage
Eleven‐year‐old Yasmina and her dad lead a modest life in a small city apartment. Luckily, the food-loving Yasmina can whip up just about anything in the kitchen, with an assist from her edible herb books and her friends from the community garden. That is, until the day the garden disappears, bulldozed and replaced by a field of potatoes that are both experimental… and completely addictive! The only solution is for Yasmina to track down and eradicate the source of the problem. A fun and colorful tale for all ages.
Acclaimed political cartoonist and comic book author Michel Kichka (Second Generation) brings us the fascinating, informative, and uplifting autobiographical tale of his love affair with Israel, a land he was inspired to move to at the age of twenty. From culture shock and Israeli customs to the mandatory military service, from art school to political conflict and human tragedies, he delivers a richly detailed account of his life as an artist, family man, peace advocate and Belgian Jew turned Israeli, living in the beautiful and troubled city of Jerusalem.
Header: Dodin-Bouffant: Gourmet Extraodinaire © Mathieu Burniat / Dargaud