Christian Hincker, also known as Blutch (b. 1967), is despite himself a wielder of paradoxes. His pen name stems from a resemblance he bears with the antimilitarist corporal from Les tuniques bleues (Dupuis; in English The Bluecoats, Cinebook), a classic Belgian bande dessinée published in the comics weekly Spirou. Upon examination of the author's career, punctuated by detours and experimenting art forms that are at times avant-gardist, the choice of an alias referring to what is generally considered a children's classic might seem odd at the least—even if the last ten years have seen the rise of a form of post-modern creation that has cultivated a mischievous relationship with those post-war classics, a movement that Blutch himself has recently plunged into. Following a period of stark opposition between the old guard and the new, this form of post-modern comics has played a rather conciliatory role, which is why Blutch's work in this direction over the past decade carries unique significance. Continue reading…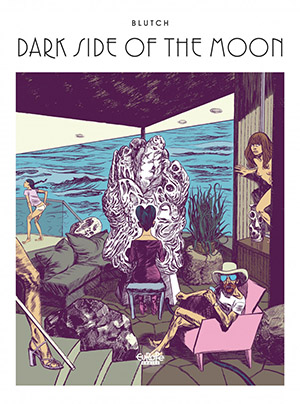 Dark Side of the Moon
The story takes place in a near future (more or less). The world is a huge factory, and the factory is the world. This world is presided over by "The Orifice," the company which revolutionized the working method. You put your hands inside two holes, and you work, without you (or anybody) actually knowing what you're working on… In the midst of all this is Lantz. Lantz is a comic book author. He's the one who came up with the New New Testament, the bestseller that the entire economy depends on. Problem is: he's got writer's block. Riddled with doubt, he doesn't know what he wants anymore, and his various frustrations are making him miserable. Lantz reflects the daily life of many among us. Will he be able to find an honorable way out of his psychological battles?
So Long, Silver Screen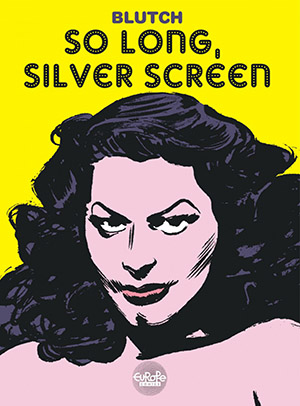 What is cinema? What is its effect on us? Why do we love it so much? These are all questions to which Blutch seeks the answers in his considered and humble way, drawing on his prodigious cultural knowledge and his gift for the comic book form. He references Burt Lancaster, Jean Gabin, Michel Piccoli, Luchino Visconti, Claudia Cardinale, Tarzan, Psychose, and many more. As much comic book as graphic essay, this reverie on the narrative art of image marks the advent of one of today's masters of the 9th art.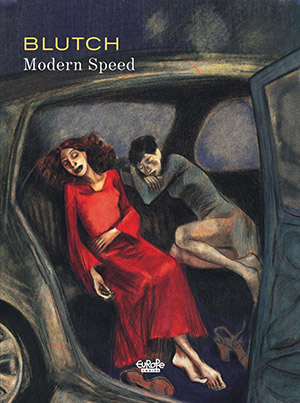 Modern Speed
Modern-day Paris. One night, as she's leaving rehearsal, Lola, a young dancer, is approached by Renée. She introduces herself as a writer, and asks Lola if she could share her life for a while in order to gather material to write a book about her. Despite not feeling entirely comfortable with the idea, Lola accepts. The very next day, Lola and Renée experience the strangest day of their lives, involving an absent father who reappears at random points throughout the book, a bashful but psychopathic admirer, Omar Shariff, and a huge spider… All this is set against a backdrop of a general power cut, a highly demanding dance class and a very rainy day. In the world of today, where everything goes too quickly, twenty-four hours is sometimes enough to change your life.
Header image: The Dark Side of the Moon © Blutch / Dargaud