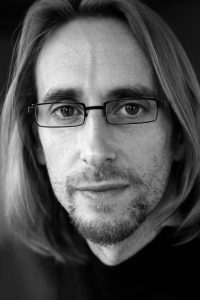 One of the amazing creators joining us in New York this October is Brüno.  Born in 1975 in Germany, Brüno's father served in the military while his mother was a housewife. After graduating from high school he spent a year at the Ecole Estienne in Paris, then moved to Rennes, where he obtained a master's degree in visual arts. In 1996 his first works were noticed by the publishing house La Chose (Cranial Guide, Vitr Mo…). He was signed by Treize Étrange in 1998, where he created Nemo, a loose adaptation of the Jules Verne novel Twenty Thousand Leagues Under the Sea. From 2001, with Fatima Ammari-B, he published Inner City Blues, a crime drama that takes place in America's dark mid-1970s. From 2003 to 2006 with Pascal Jousselin he created the artwork of Les aventures de Michel Swing, an improvised series carried out by the two of them. Before appearing as a print edition (Treize Étrange) in 2006, the cartoon was posted on the Internet.In 2007 he met Apollo, with whom he was signed at Dargaud. Together they created two series — Biotope (a sci-fi diptych) and Commando colonial. To this day he continues his successful collaborations at Dargaud, notably with Fabien Nury, with whom he co-created Atar Gull (Dargaud/Europe Comics, 2015). In 2013, the two authors launched a new series, Tyler Cross (Dargaud/Europe Comics, 2015). The second volume was released in 2015.
How did you decide to become a comics artist? And if you hadn't pursued this career, what line of work would you have chosen?
I became a comics artist slightly by accident. I always loved comics, reading them a lot, as well as making some of my own. Later, when I was in college in Rennes, where I was studying fine arts, a group of friends introduced me to self-publishing. I released a few albums that way (with a very modest print run), and afterwards I started approaching bigger publishers. I was lucky, because all of my books drew interest from critics — if not always from the general public — which allowed me to keep publishing, and to make a living off my comics. I have a hard time imagining myself doing anything else, to be honest… Selling turntables maybe?
What has influenced your creative work the most? Is there a person who has particularly inspired you?
There are many, especially among European comics creators… Hergé, Morris, Goscinny, Gotlib, Hermann, Moebius, Schultheiss and Pratt, Breccia, Risso, Munoz… It's an endless list, really.
Which artist (living or dead) would you like to collaborate with?
It's difficult to say. I enjoyed a very symbiotic collaboration with Fabien Nury! Otherwise, there are many scriptwriters whose work I love to read: Greg, Goscinny, Brian Azzarello, Fabien Vehlmann, Xavier Dorison, Alan Moore…
What are your thoughts on digital comics?
I think that comics, unlike cinema or literature, are more difficult to adapt to digital. The coexistence of text and image, within the larger graphic entity of the page, is not well-suited for digital formats (issues with the text size, inability to see the page as a whole, etc.). I feel that the only solution is to think about and plan for digital from the start of the creative process. 
This idea was at the heart of Professeur Cyclope, a digital magazine I created alongside Fabien Vehlmann, Gwen Debonneval, Hervé Tanquerelle and Cyril Pedrosa. We wanted to offer narratives designed specifically for digital, and not just digitalized print comics, which simply don't offer the same reading pleasure without their original format.
 But I am still attached to print books, a wonderful format that offers the reader complete autonomy and is never threatened by obsolete or incompatible software — just farsightedness.
Tell us a bit about Tyler Cross and Atar Gull. What's the story behind these books? What was the creative process like?
Fabien liked my work, and contacted me about illustrating the script of Atar Gull. Our collaboration went really well throughout the whole process, so I asked if he'd be interested in making another book together. And he was. 
This time it wasn't a question of adaption (Atar Gull was adapted from a French novel). Fabien was looking for an original idea. I talked to him about the US in the '70s, Charles Bronson, and rednecks, and he shot back with noir fiction, Humphrey Bogart, and the US of the '50s. Tyler Cross was born.
Tyler Cross is a gangster, a character close to "the man with no name" from the westerns of Leone. He's pragmatic and efficient, gifted with a sharp survival instinct. Regardless of the circumstances he finds himself in, Tyler is the disruptive element that will blow up the situation as well as the relationships between other characters in the story.
Each Tyler Cross album is a complete narrative, a short, 90-page noir story created in the tradition of Dashiell Hammett, Jim Thompson and Richard Stark. It's also our love letter to the whole of American cinema from the '40s-'70s, from John Huston to Sam Peckinpah.
As for the actual creation of the album, to start off, Fabien gives me a complete screenplay, and then I send him back a kind of storyboard cutting up the action and narrative (generally in 20-page sequences, as I prefer not to divide up the whole book at once). And that's when we really get down to it and line everything up: we discuss the staging, I recut, Fabien rewrites, I redraw, and so on. Once we agree, I then start inking my sketches.
In albums like Tyler Cross, the staging is vital: it takes time to put it together, but that's where Fabien and I have the most fun. It's crucial to not allow any hesitation or any slack in the storyline. It's a fast-paced narrative, with no dead time. That's the very essence of Tyler Cross.
Header image: Atar Gull © Brüno & Nury / Dargaud