For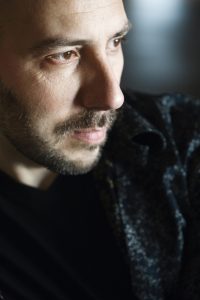 this year's New York Comic Con (Oct. 5th – 8th), we are thrilled to be able to participate for the third time alongside a number of accomplished European comics creators. One of these is Mathieu Lauffray, who is coming thanks to an invitation from the French Comics Association. Already a fan favorite from his work on the swashbuckling adventure series Long John Silver, he is back this September with his own take on the legendary Valerian saga, with writer Wilfrid Lupano: Shingouzlooz, Inc. (Dargaud, Europe Comics/Cinebook in English). We had the privilege recently to connect with the artist to discuss these series and more.
How did you decide to become a comics artist?
I decided very early on to make my living as an artist. I was very fortunate, because all that was left then was to figure out what form that was going to take. As a kid, I read American comics just as much as Franco-Belgian comics, without any separation between them. The two shared the same space under my bed. As a result, my first "serious" drawings were as much based on Superman as they were on Gaston Lagaffe. I also started copying some of the sci-fi illustrations that were popular at the time, but pretty soon, a desire to tell stories pushed me toward comics. I was drawn in by the magic of closing myself up in my room and bringing to life new characters and new worlds.
And if you hadn't pursued this career, what line of work would you have chosen?
I very much enjoy painting and illustration. Taking a single, unique image as far as you possibly can. I often wish I could push my work further, artistically speaking, but then that's the charm of comics — being able to say so much with so little. Apart from that, I would have loved to be a filmmaker. I'm fascinated by this convergence of image and sound, and the strong alchemy that creates. And if you add to that the ability to control the narrative rhythm, you get one of the most tremendous vehicles of emotion out there. I also would have loved to dedicate myself to underwater exploration… When I'm older, I plan on devoting myself fully to painting as well as woodworking, another profession that's close to my heart. I like work that makes you feel alive.
What has influenced your creative work the most? Is there a person who has particularly inspired you?
John Buscema was my "founding" artist, the one who introduced me to the potential of expressive rather than representative drawing. He expresses so much through his drawing — rage, despair, strength. Buscema works in a way that goes beyond comics codes and efficiency. What he does may not be absolutely necessary to tell a story, but it's beautiful and inspiring. He's still a part of my pantheon today, along with Hergé, Franquin, Tardi, and Winsor McCay.
Which scriptwriter (living or dead) would you like to collaborate with?
Loads! Leigh Brackett for example (Rio Bravo, Star Wars: The Empire Strikes Back, The Big Sleep), John Milius (Conan the Barbarian, Jeremiah Johnson, Apocalypse Now)… Simple characters, but put together just right, and effective plotlines. I've also been influenced by Tennessee Williams, Maupassant, and Alexandre Dumas. I look for humanity first and foremost. The rest comes automatically! More recently, I've enjoyed the work of Brian K. Vaughan (Saga) and Joe Hill (Locke & Key), and I've been marked by the comics and novels of Neil Gaiman. More generally, I'm very interested in today's Anglo-Saxon scriptwriters. Working together with one of them would be stimulating for me. I'd love to give the experience a shot.
What are your thoughts on digital comics?
I don't really have much to say on the topic, to be honest! Digital is just like the rest: either it's a relevant medium and succeeds in imposing its logic in a certain area, or it isn't. The creative process is key and always will be. I'm much more concerned about the problems connected to living in a society that discourages personality and individual points of view than about digital publishing. A good system is one that produces good books. I'm convinced that our environment and the values of our time have a decisive impact on creators and artists. That's what we need to work on.
Tell us a little about Long John Silver and Shingouzlooz, Inc. What's the story behind these books? What was the creative process like?
Long John Silver came into my life like a miracle. A real gift from heaven, and from my friend and scriptwriter Xavier Dorison. The series represented kind of a more mature collaboration following our years spent working on Prophet (Humanoïdes Associés/Soleil). Xavier is the one who introduced me to pirates, and as it turned out, the genre was going to become my biggest ally. The world of Long John is unstable, twisted by the passions of its characters. Together we created this universe, outlandish and fanciful, historic and imaginary. This project, to me, was self-evident: it was where I felt most comfortable.
Valerian, too, is a wonderful playground. Always in motion, with one's imagination as the keystone, a desire for excess and spatial disorientation. I started off with the idea of creating an adventure story where humor would have its place, of course, but most of all the fascinating mysteries of the cosmos! A journey, a grand journey! And I can tell you that Wilfrid Lupano did not disappoint. When I received his script, everything was in place, with full dialogues, ready to go. And of course a good dose of his signature humor. I will never be able to thank him enough for bringing me into his world. I had to adapt to more of a ligne claire style, clean up my composition and layout, develop the expressiveness of my characters, and learn how to combine drama and situational comedy. It was a busy year! But what a treat it was, bursting out laughing while completing the storyboard. On top of that, beneath the cover of his humor, Wilfrid was able to develop a number of deeper themes that fully justify his decision to take on a science-fiction story. As if that weren't enough, his dialogues are also a real delight.
Find more on our trip to the New York Comic Con here — to be updated weekly, check back soon!
Header image: Shingouzlooz Inc. © 2017 Lupano & Lauffray, Christin & Mézières / Dargaud