by Laurent Mélikian
Defining European culture and identity is a vast undertaking… With the present electoral cycle offering its fair share of turmoil, the EU can come across as a quirky and fragile work in progress. How do comics, and more specifically graphic novels, find their place in this complex setting? In this article series, we've crossed Europe to speak with a number of authors who put the notion of Europe into practice.
Marzena Sowa: A childhood under tyranny
Our journey begins around the Baltics. In Poland, we are met with the stark reminder that just thirty years ago, the continent was divided by the Iron Curtain. Scriptwriter Marzena Sowa was a child when General Jaruzelski ruled the country. The scriptwriter's autobiographical series Marzi (Dupuis; Europe Comics in English), through which many readers discovered life under a people's democracy, was born thanks to her acquaintance with French artist Sylvain Savoia. "As a child, I didn't read 'komiks,' as they say in Poland," confides Marzena Sowa. "Comics were considered reading material for boys or those who didn't particularly like reading. I always wanted to tell stories, and when I was introduced to the universe of comics thanks to my partner Sylvain Savoia, I discovered my medium. I grew up with novels, poems, historical films, and plays, which contributed in great measure to my artistic sensibility, along with the fact that I love making my characters talk. Recalling my childhood with Sylvain made sense."
Marzi was first published as a serial in the Belgian comics magazine Spirou, and then in the form of seven hardback volumes in French and Polish. These were then compiled into omnibus editions, a format more suited to an international audience and for translation (into nearly a dozen languages). "I like to entrust an artist with the task of interpreting my story," says Sowa. "And when it comes to evoking the history of Poland, a foreign artist can bring a fresh take, a different outlook. I also collaborated with Sandrine Revel for N'embrassez pas qui vous voulez (Dupuis; You can't just kiss anyone you want, Europe Comics). She focused on the human aspect over the historical and that's what mattered to me in that book. For L'Insurrection, I instead opted to work with a Polish artist, Gawron. He was perfect for a job which required a completely different approach to historical research and transcription. In any case, childhood is a period that no doubt makes an appearance in everything I write."
Mateusz Skutnik: Embracing multimedia

Still in Poland, a reader from the West flipping through the science-fiction series Rewolucje (Egmont Polska/Timof; Revolutions, Europe Comics) by Mateusz Skutnik can sense a touch of surrealism reminiscent of Terry Gilliam or Jean-Pierre Jeunet and Marc Caro. The reader might not realize that, in fact, such stories were also common across Communist Europe, the most notable being Tytus, Romek i A'Tomek by Henryk Jerzy Chmielewski, which remained popular after the fall of the Berlin Wall. "When I was 8 years old, Tytus made me want to create my own comics," recalls Mateusz Skutnik, born in 1976. "I gained the acceptance of my peers through my stories. In 2004, I was published by the Polish branch of Egmont [editor's note: a Danish publishing group]. Revolutions became a success and I continue this series today." Skutnik, however, is active across other fields as well: "Becoming a professional comics artist gave me access to video games. Europe has played a major role in this field. I was an architecture student, and while the art in Revolutions is generally made up of buildings from my hometown, I also get inspiration from my travels abroad. I created a game series called 10 Gnomes based on photos taken in European cities. At the same time, some of my books are being translated into English and my two worlds are starting to intertwine. My video game fans are increasingly becoming interested in my comics…"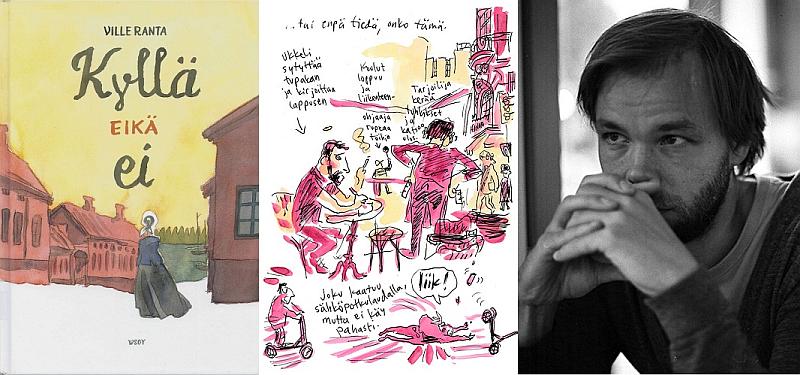 Ville Ranta: A new brand of literature

On the other side of the Baltics, in Finland, everyone loves reading the daily comics strips in the newspaper. Not that this has hindered the growth of the graphic novel over the last decade, far from it. Ville Ranta is the best-known author of the genre. He has already published more than ten autobiographical or historical volumes. "I studied literature, which got me instantly hooked on graphic novels. My own books don't contain a lot of action or adventure, but I give the utmost importance to the rhythm, the lines, the text itself." We met Ville Ranta in Paris, where he had settled for a few months to work on a new graphic novel in French. The author, barely in his forties, has already had several of his books published not only in French, but also in German, Swedish, and Polish. "With the economic crisis of the early '90s, Franco-Belgian comics for adults stopped being published in Finnish. But my interest never wavered. Fortunately, Finland joined the European Community. My mother, a political journalist, often traveled to Brussels, and she brought these French books back for me. Discovering the work of [French publisher] L'Association as well as that of other independent publishers was crucial. Pacsin by Joann Sfar, for example, inspired me a lot. This comes through in my very improvised style which can be read and perceived on many levels. For me, this is what a European graphic novel should look like. I understood that you can grab a piece of paper and a pencil and begin to express yourself…"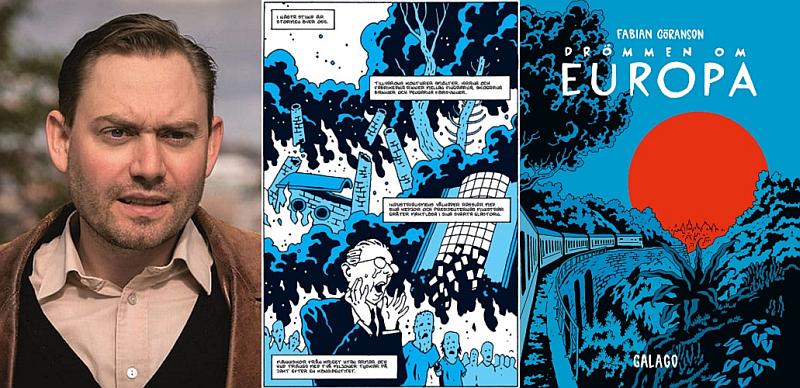 Fabian Göranson: Hitting the road

Of the same generation as the three previous authors, creator Fabian Göranson is Swedish. "But I feel more like a European citizen," he says. "At the age of 13, I lived in Brussels, where you could find a comic book shop in every neighborhood. That's where I spent my afternoons…" Göranson has been drawing for over 15 years, all the while accumulating extensive experience as a publisher and a translator of comics. "I only recently started to focus on my own creations," he says. His latest book is perhaps most relevant to our review. Published by Galago, Drömmen om Europa ("Dreams of Europe") is an autobiography in the style of a road movie. It tells the story of the author's 2017 road trip across Europe, an exploration of populist countries and their ailments, and how to remedy them. "I hope to keep writing travel stories. I like to invest myself in a place, absorb the atmosphere, the history, the culture," he reveals, cognizant of the possibilities afforded by his medium. "I believe that the graphic novel was born somewhere between the USA and Europe. But here is where it became a more established format. We are constantly evolving, and powerful new titles are published every year. Up-and-coming authors are deciding that this is their format, especially for travel journals, something that I think is typically European."
In part two, our journey through graphic Europe will take us to Germany and the United Kingdom.
Published in collaboration with ActuaBD.com (article in French here). Text by Laurent Mélikian, journalist and international comics specialist.
Header image: Marzi © Sowa & Savoia / Dupuis