This opening episode begins with the Hittites' bloody Urar conquest, which is the first stage of a fierce conflict. Urar belongs to the rulers Marak, Kymris and Simmissee, three ancient rivals who have now united and formed one fearsome fighting force whose sole preoccupation is killing. Woe betide anyoe who provokes their wrath!
1471. Leading a band of faithful crossbowmen, Juan de Olid leaves Castile in secret, bound for adventure and the unknown lands of Sub-Saharan Africa. The expedition's objective is to bring back a unicorn horn as quickly as possible—the future of the kingdom depends on it. On the advice of the most pre-eminent experts of their day, Juan de Olid and his companions take along with them the one thing that can help them in their quest: a virgin. For the scent of unsullied maidens has the power to tame the most formidable of unicorns. Meanwhile, the apothecaries of King Henry IV of Castile, nicknamed "the Impotent," impatiently await this legendary horn, as it is said it can cure the King and ensure the continuation of the royal line…
France, 1076. Hermance Languedolce, a child with miraculous healing powers, falls in with religious rebels and is branded a heretic. Hideously tortured, he summons a miracle and saves himself, only to be taken in by kind gypsies. When fearsome warrior Karlis Oresund is converted to Christ, he too receives a miraculous ability to sense evil. Entering the service of Bohemond of Taranto, he sets forth on a crusade to the Holy Land, conscripting Hermance by force along the way. Hermance can't or won't remember his powers, but can Karlis bring them out of the scarred young man?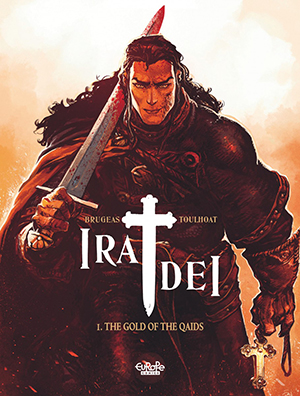 Ira Dei
A Norman by the name of Tancred makes landfall in Sicily with a motley international mercenary crew. A figure of mystery and danger, he soon proves himself a fierce blade and a cunning strategist, but why has he come? Revenge on the embattled Lord Harald now besieging Taormina? The fabulous wealth of the Qaids hidden within the city? Why does Tancred travel with a papal legate who calls him Robert? What disgraceful past is he trying desperately to hide? It's every man for himself in this intrigue of shifting alliances and sudden death, set against the backdrop of Sicily's Norman conquest.
Taho-the-Quick, a poacher, has an encounter with the animal totem of his people, the dragon queen, who entrusts him with the dangerous mission of carrying her egg to her dragon brothers up in the mountains. On his journey, Taho-the-Quick will not only have to fight enemies but also join forces with unexpected allies, including the mysterious White Claw, a warrior with unparalleled skills. The survival of the dragon species and that of a whole people will depend on their partnership.
When former Roman soldier Marcus Livius is arrested in Egypt, starving and half mad, he is swiftly accused of desertion and murder. He denies the charges and embarks on an incredible tale… His story begins with the discovery of a body surrounded by documents written in an unknown language, as well as spectacular jewels and other items all suggesting the existence of a rich and powerful civilization previously unknown to Rome. Under the orders of Centurion Caius Bracca, Marcus decides to desert, and along with nine other men begins a secret expedition to find this unknown land. What will they discover… and how many will survive?
Glorim Cortis is a military celebrity in the Imperial army. The Empire has conquered many known lands, but not yet any unknown. This is the mission entrusted by the emperor to Glorim and his squadron. Once they cross the final frontier of mapped Imperial territories, this group of elites rides their way through a series of intense emotions spanning from doubt to fear. One thing is for sure: as the new map's outlines slowly take shape, their expedition will lead to things that none of them were expecting,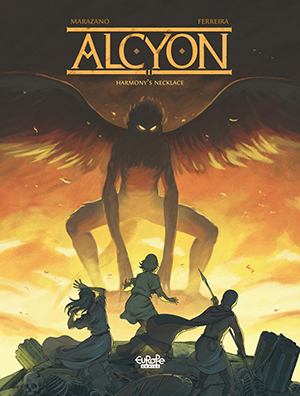 Alcyon
Sycion, the jewel of ancient Greece, at the time of tyrants and myths… In order to right a wrong that threatens their tribes and fathers, Alcyon and Phoebe, two troublemaking friends, depart in search of Harmony's necklace, a legendary item forged by the god Hephaestus himself. Joined by Kyrilos, a young Spartan out to prove himself, their adventures in this world will be long, dangerous, and epic.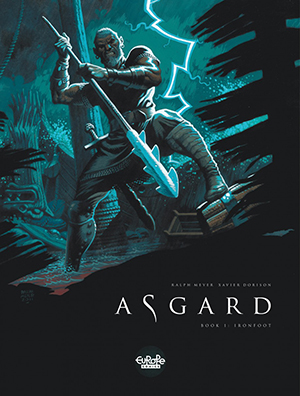 Asgard
A monstrous sea serpent is terrorizing the Fjördland, destroying one fishing boat after another, eating all on board, and keeping the Vikings from going on their pillaging expeditions. All hope seems lost until a stranger with a dark past and a score to settle with the gods shows up and offers to hunt down and slay the Krökken for a thousand silver talents. Soon a ragtag group of would-be monster hunters boards a drak and, against a divine, ominous Nordic background of lakes and mist and mountains, sets sail on a perilous mission not all will survive.
A feisty cop, a cunning mercenary, and a super sweet kid must band together to survive in a hostile, lawless world! In the megalopolis of Cielazur, the truth is sometimes concealed to keep up appearances. Asa, a young police officer with a thirst for justice, sees her life change course dramatically when she discovers a strange symbol engraved upon her late father's service weapon. As she begins to investigate, Asa realizes that in order to uncover the truth about her father's mysterious death, she will have to enter the Citadel: a mysterious ghetto where crime reigns supreme, and the laws of nature don't apply!
On April 5th, 1514, a mysterious noblewoman leaves a newborn bearing only an unusual golden necklace at the gates of the Château du Clos Lucé in Amboise, France. Named "Cinq Avril" by the cooks who care for him, and taken under the wing of another resident of the castle, a certain Leonardo da Vinci, the child grows in energy and knowledge as he's instructed in a multitude of secrets. When his mentor dies, the young man discovers a posthumous letter explaining that he has the power to change the course of history if he can unravel the enigma of his birth.
Header image: Expedition © Marcelo Frusin, Richard Marazano / Dargaud