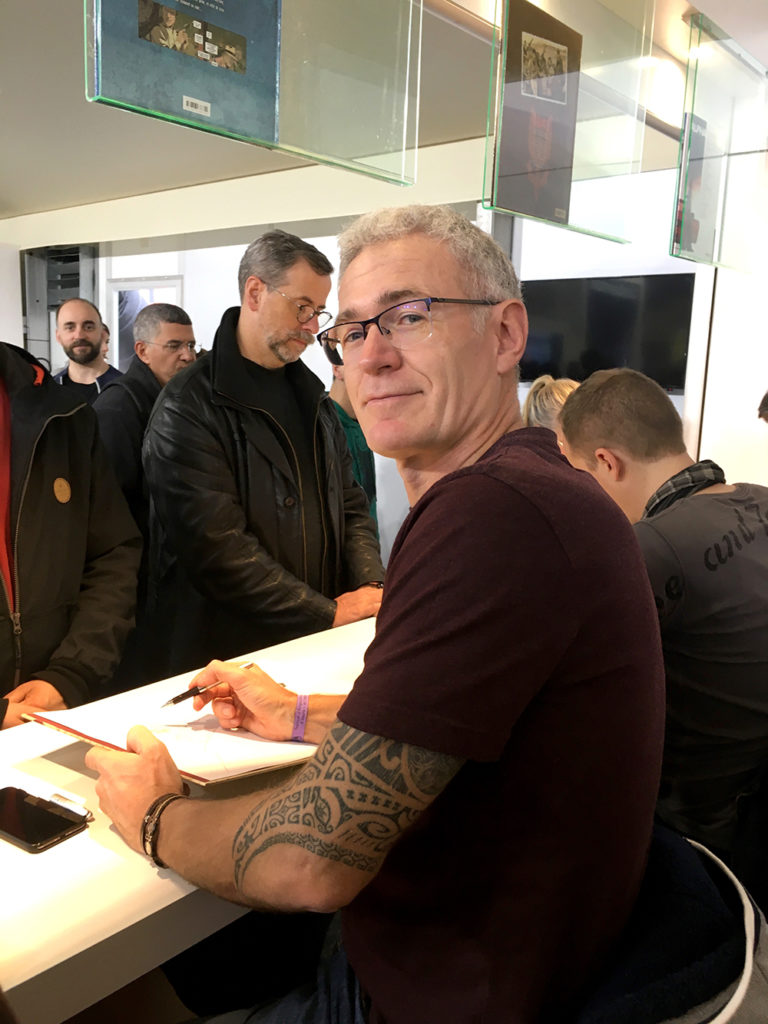 Born in France, Philippe Xavier is a veritable globetrotter. At age 18 he left to study advertising in Argentina, followed by a stint as a graphic designer in Chile. At 22, he moved to the US, where he lived for 12 years, and broke into the comics industry. He began to illustrate comics for various publishers, as well as collaborating with different magazines. Following his experience in the US, he published Le Souffle and Paradis perdu for Editions Soleil. In 2006, Philippe linked up with writer Jean Dufaux and publisher Le Lombard, and moved to Brussels, where the two creators teamed up for the long-running series Croisade (Crusade, Cinebook). Since 2017 Philippe has been working alongside Matz on the bestselling adventures of Tango. The fourth volume has just hit the French bookstore shelves, and the English translation is making its way to the Europe Comics catalog! While we wait impatiently, we caught up with Philippe during this year's Angoulême Comics Festival to find out more about his career, his travels and the insane world of Tango! 
How did you start in the world of comics?                                               
Back in the early '90s I moved to the States, and in 1995 at the Dragon Con in Atlanta I met an editor from Caliber Comics, Joe Pruett, who gave me a chance to try out for a new series – Legendlore. My first story came out in 1996 for Negative Burn #22, the cover was a drawing of Moëbius so it was really exciting you know, I was like, "Wow, this is cool," as I grew up reading Moëbius' Blueberry. And after that day I just kept working for comics, for about six years. I did 55 comics, it wasn't like "big-time mainstream superhero stuff," I worked more for independent publishers like Caliber, Peregrine Ent., Heavy Metal magazine, Frank Frazetta Fantasy Illustrated. It was really a lot of fantasy, very Tolkien. Quite different to what I'm doing now.
And at which point exactly did you realize that you wanted to do comics? 
All my life, since I was maybe 14 years old, I've wanted to draw comic books in the European, Franco-Belgian style. But my life made me move a lot. I moved to South America when I was 18, I lived in Buenos Aires, in Chile, and then I moved to the States. Once in the States, I wanted to keep drawing, I worked in advertising, so I was doing a lot of storyboarding and things like that. Then one day I picked up a comic book from Jim Lee, it was the X-Men, Omega Red, and I was like "Woah, I gotta do this." And since I was in the States, I started with American comic books. If I'd been in France, they would've been Franco-Belgian bandes dessinées. And then in 2002 Editions Soleil saw my work. They contacted me and I did one book for them, while I was still in the States. And then I moved back to France and I stayed to work there. And here we are.
So how did Tango come together? Did the travels inspire Tango or did Tango inspire more traveling?
Travel is part of me. I love traveling and I like low-key adventures. As you know, Tango's adventures are a bit more extreme, mine are not like that! So all the countries you see in different volumes of Tango – I lived there or I went through these countries and stayed there for a few months. I have very fun memories of my travels, of the people I met. So that's what I wanted to do, put it all in an adventure story, add some action and some sexy people, and that's it.
There are now four volumes in the series, each taking place in a different location. Is there one that's the closest to your heart? One that brings back the most fun memories?
It has to be the first one, taking place in Bolivia. Firstly because Bolivia is an amazing country! Matz (the scriptwriter of Tango), who I didn't know very well at the time, and I got a chance to go there together to discover the country, and it was amazing! We wrote every day while traveling. We would see various places and say, "Ah, this is great, let's do a scene here." So all the places you see in volume one are more or less real.
Your travel journal at the end of the book provides some really fascinating context to the whole thing!
It does, and I see how people really connected to volume one through it. I'm really happy every time I meet fans who have been to Bolivia and who recognize it in the first volume.
Speaking of Matz, Tango and his companion Mario have a really fun bromance unfolding throughout the series. I'm wondering if any of your dynamics with Matz have translated into these characters?
All of it! 
Except for the illegal stuff!
Oh yes, of course (laughs).
So who is Mario and who is Tango?
Well, physically, I would say I'm closer to Tango and Matz is closer to Mario. The way we try to enjoy our lives, the funny things we say to each other – it's all the same. But sometimes we switch, I'm not sure why, it just works out this way. But basically yes, I'm Tango and Matz is Mario. Sometimes he's really pissed off because he says I get all the girls! And I'm like, "Come on, in volume two you get the girl!"
The series feels very cinematic throughout. Were there any particular movies you were inspired by while creating it?
What we wanted to do with Tango is to recreate the comic books that we used to read when we were young guys, like Bernard Prince, Bruno Brazil, XIII, but we also wanted to recreate this kind of tandem, these two guys with funny lines, like in movies such as Lethal Weapon, The Last Boy Scout, the kind of movies we'd go see at the time, and it was just funny. It wasn't complicated to understand, it was just a good ride! Midnight Run with Robert De Niro is the perfect movie to me, Tango would be perfect for that. So that's the kind of thing we're doing. It's kind of who I am, I like to have fun, I like to tease people and be teased back in a friendly way, I want to travel, to see beautiful things, and I like action, so I've put all of myself in there, with the books I've read and all the movies I've liked. I also want the people who buy the books to recognize what they've read throughout the years, I want them to feel comfortable with it, and it works. Tango is very classical, but in a new style.
We currently have three volumes in English, with the fourth one being translated. Can you give us a little sneak peek into where Tango ends up this time? What kind of trouble he gets himself into?
After volume three they left Panama, and if you take the Panama highway, you will go all the way down to the end of Panama, where to cross the border you have to go through the Darién Gap. It's the most dangerous place in the world. Tango and Mario go through this gap and end up in Colombia. Once in Colombia they go to Quito to relax for a little bit. And then all the stuff from volume three is following them. We're also bringing back Carmen from volume one, and the Miami cartel, and all these people are going to get closer and closer to Tango and Mario. And all the things we've been spreading  in volumes one, two and three end up in volume four. Everything comes out here: we know where Tango comes from, why he worked for the DEA, why he stole the money, all the things he did with Carmen… Things wrap up very nicely. So that's volume four. And I'm currently working on volume five.
How many volumes do you have planned?
That we don't know… The first four volumes are about Tango, his past and his problems. And volume five is about Mario and his problems, so it will be very different from the others. Mario, who is around 60 right now, was a cop in Argentina back in the early '80s. And the early '80s in Argentina and Chile were times of dictatorship, so thousands and thousands of people died at the hands of the extreme right military regime. At the time Mario put a very bad guy away in jail, and this guy comes out after 40 years. He's an old man in a wheelchair, he's really mean, really nasty, and he wants to torture Mario and get Mario to tell him who sold him out. And so Tango has 54 pages to find Mario and bring him back in one piece.
Header image: Tango © Matz & Xavier / Le Lombard