This spring Europe Comics is taking two of its favorite authors to New York!
Award-winning French cartoonist BLUTCH and rising star of Polish comics Wojciech STEFANIEC will be guests at the Society of Illustrators' MoCCA Arts Festival on April 1 & 2. During and after the Festival they will participate in book signings and events with prominent American cartoonists and moderators.
Here below is the list of events confirmed to date.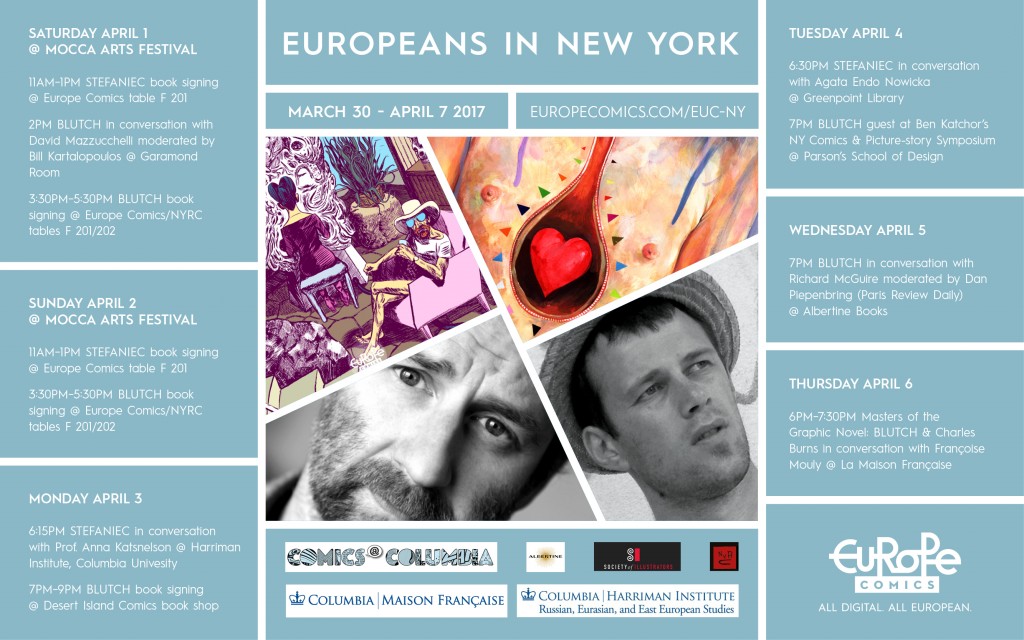 SATURDAY APRIL 1 @ MoCCA Arts Festival
11am – 1pm STEFANIEC book signing @ Europe Comics table F 201
2pm BLUTCH in conversation with David Mazzucchelli moderated by Bill Kartalopoulos @ Garamond Room
3:30pm – 5:30pm BLUTCH book signing @ Europe Comics/New York Review Comics tables F 201/202
SUNDAY APRIL 2 @ MoCCA Arts Festival
11am – 1pm STEFANIEC book signing @ Europe Comics table F 201
3:30pm – 5:30pm BLUTCH book signing @ Europe Comics/NYR Comics tables F 201/202
MONDAY APRIL 3
6:15pm STEFANIEC in conversation with Prof. Anna Katsnelson @ Harriman Institute, Columbia University
7pm – 9pm BLUTCH book signing @ Desert Island Comics book shop
TUESDAY APRIL 4
6:30 – 7:45pm Wojciech STEFANIEC in conversation with Agata Endo Nowicka @ Brooklyn's Greenpoint Library 
7pm BLUTCH guest at Ben Katchor's NY Comics & Picture-story Symposium @ Parsons School of Design, The New School
WEDNESDAY APRIL 5
7pm BLUTCH in conversation with Richard McGuire moderated by Dan Piepenbring (Paris Review Daily) @ Albertine Books
THURSDAY APRIL 6 – UNFORTUNATELY THIS EVENT HAS BEEN CANCELLED
6pm – 7:30pm Masters of the Graphic Novel: BLUTCH & Charles Burns in conversation with Françoise Mouly @ Columbia Maison Française