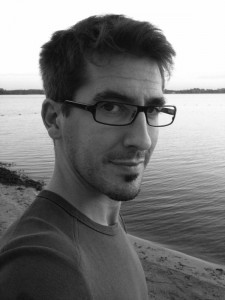 Which comic books have influenced your work the most? And which comics creator would you name as your role model?
I've been influenced by various different styles at the same time, from classic Franco-Belgian to American comics and manga. But if you ask me which particular works influenced me the most, I would definitely say Domû and Akira by Katushiro Otomo.
What do you think is the quintessential difference between European and American comics?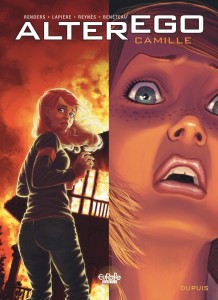 I'd say the difference is in the narrative. In European comics, it's a little more astute and detailed than in the American format, where there are often time gaps in between the frames and lots of action or dialogue in each frame, whereas in European comics this action and dialogue would be spread over several frames. What with the frames not being quite so closely connected to one another in American comics as you follow the narrative flow, artists tend to also allow some little quirks that are less common in European comics, such as characters outside of frames, or strips and frames getting distorted or extended to double pages. I'd say that in American comics the visual impact of the page is sometimes prioritized over how readable it actually is. What's also very different is the way they're published: American mainstream comics are published in monthly issues before being published as a whole, while European comics go straight to publication as whole albums. Surprisingly, the digital market repeats this difference, even though it has much more freedom in the way comics are published, and could allow more experimentation one way or the other.

Tell us about Harmony. What's the story behind the book? How did the idea come about and what was the creative process like?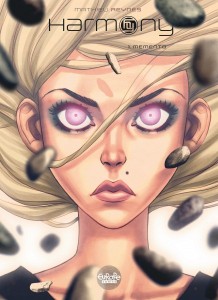 Harmony is a project I've been working on for several years, influenced by my childhood reads (Carrie or Firestarter by Stephen King, Akira by Otomo). My first drawings of a heroine with telekinetic powers date back to 2006. I was still a long way off the project as it is today, but I was already laying the foundations for it. I wrote several different plotlines around the main themes (adolescence, the quest for identity, extraordinary skills, genetic experiments, the balance of power etc.) before it all finally merged into one story. 
The story was written in 2012, but I was still working on other series, so I had to wait for two more years before I could start working on the artwork. I took inspiration from everything I watched or read, especially TV series.This is the first time I write my own script. It gives you enormous freedom but at the same time a huge responsibility with lots of constraints and doubts!
Which other comics creator, dead or alive, would you like to collaborate with?
I actually really enjoy working alone, but of course it would have been an honor to work with renowned artists. I'd really love to work on famous American comics characters, like Batman, Spiderman or Wolverine.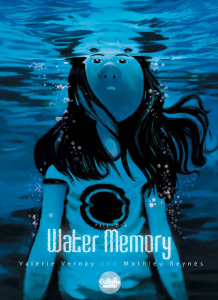 And if you hadn't become a comics artist – what other profession would you have chosen?
One of my passions is music. If I hadn't enjoyed drawing so much, I would've tried my luck in that industry as a musician or a composer. I am also very happy that Harmony has its own soundtrack, even though Thomas Kubler wrote it, not me.

Watch a trailer for Harmony here.
Mathieu Reynès will be with Europe Comics at the San Diego Comic-Con, 21-24 April. More details here.
Cover image from Harmony © Mathieu Reynès