Kick back and let these comics series–chosen from from across our wide range of genres–take you on magnificent adventures! 50% off on all 1st volumes until August 15th.
The Campbells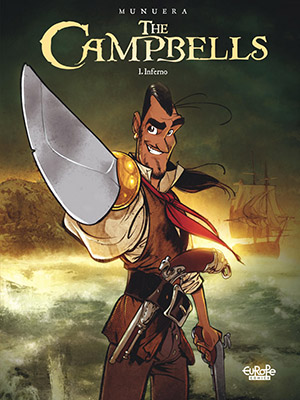 After his wife's brutal murder, Campbell, a pirate legend, gave up his life on the open seas to raise his two young daughters in peace. But, inevitably, his past eventually catches up with him in the form of Carapepino, a pretentious but clumsy pirate, desperately trying to win favour with the infamous Inferno. For his own sinister reasons, Inferno wants more than anything to get rid of Campbell and his offspring, once and for all. But Campbell and Inferno are bound to each other in ways that those around them would never have guessed…
Just outside Delhi, the capital of India, a man called Mowgli rents a house on the outskirts of the jungle, where he plans to live out the rest of his days. The forest is not nearly as vast as it once was, but the air, the trees and the hills still retain a thousand memories: the cries of birds long departed, the calls of brother wolves that have since died off, the rage of a jealous tiger… For Mowgli, the jungle is the stomping ground of his childhood and his path to adolescence, including the undeniable need to grow up and leave it. For Mowgli, it is time to rediscover the jungle so as to prevent the world of men from stealing away his innocence and his illusions. For this man growing ever older, these memories take him back to a time when all he had to do was learn, and not yet pay the price of his mistakes…
Chinaman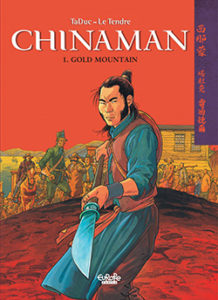 In the second half of the 19th century, a Chinese man wanders the plains of the American West. In the first volume, John Chinaman lands in San Francisco, tasked by the Elders of Canton with disciplining the local Triads. But this mission will be his last. From now on, his fate will be irrevocably tied to America's westward expansion.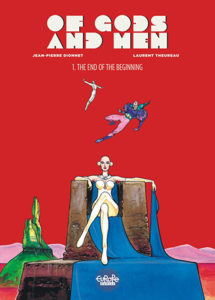 Of Gods and Men
The world turned upside down in 1929, starting in the United States. As the Great Depression shook the nation, so-called "gods" began to appear along Route 66, and quickly grew in number. With humankind slowly dying out, history then took a different course… This is the story "of gods and men," set in the year 2047.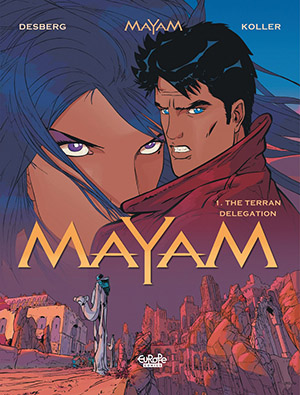 Mayam
Lenny June is your average happy-go-lucky expat, out for a good time and a quick buck. And on Tyr Mayam, a technologically backward planet riven by religious rivalries, he has it easy. It helps that he's quick-witted, handsome, and an exclusive member of the Galactic Confederation's Terran delegation to a world that's been declared an ethnologically protected zone for the next 500 years. But Lenny's life is about to change. For one, his fiancée is due from Earth any day now. And Tyr Mayam, with its doomsday cults and competing sects, has surprises in store, buried deep in ancient history…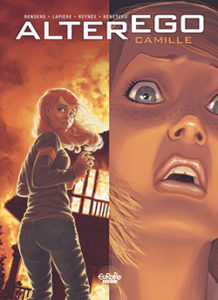 Alter Ego
Camille, a French girl living in Singapore, is going through a tough time in her relationship with her mother, Suzanne Rochant, a high-flying psychology and neuroscience researcher. Out of the blue, Suzanne is brutally killed in tragic circumstances. Almost immediately afterwards, Camille sets off for an Angolan village in search of the man who could be her father… the father that she's never met. She carries a letter left to this man in her mother's will, but the truth awaiting her isn't exactly what she'd had in mind… Camille soon finds herself wrapped up in the shady goings-on of her mother's business, as she desperately tries to get to the bottom of all the unanswered questions her Suzanne left with.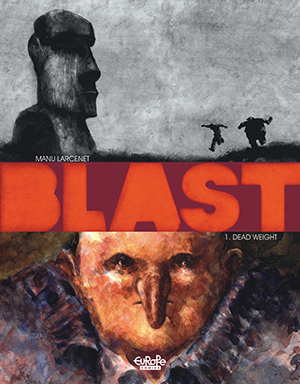 Blast
A man – filthy, stinking, alone and obese – is taken in by the police. We don't yet know what he's done, or why he's there. But he's going to tell us his story. The story of a man who strives to live by his own rules, free from the bounds of socially imposed morality and norms, an ambition inspired by one blinding, ecstatic, vivid moment of ultilmate perfection in life and existence – The Blast. He makes the only choice possible for him after such an experience: he leaves everything behind and sets off to live, really live, in the wild, on his own. This first volume is a homage to the acute beauty of nature, solitude and feeling alive. And to the pain and brutality necessary for this man to find his way to another, purer, more complete level of existence. But is the mysterious 'Blast' really what it seems? And so the interrogation begins.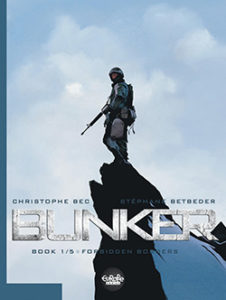 Bunker
Fear is infectious on the Demarkacija… At over 7000 meters altitude, the Demarkacija is the final rampart between Velikiistok and Ieretik territory. In Bunker 37, Aleksi Stassik scrutinizes the approaching enemy and lies in wait for the attack. Above him, in the mountains, roams another enemy, even more terrifying that the first…
Sam Hicks: ex-SAS, no ties, no family, and nothing to lose. Darwyn: his former Sergeant. Umata: a deadly female operative from Israeli Special Forces. They're the perfect team to go deep undercover and take down Darkwater, the outfit that's made private military contractor Jason King a billionaire, profiteering from war the world over. Because King isn't content with just riches; he wants power. His next step? Fascist empire. Amazing Améziane's wild yet thoroughly researched world of tough-talking mercs, pop-art layouts, twisty plots, and pop-cultural references are a must for fans of hardcore action from "Strike Back" to "The Losers."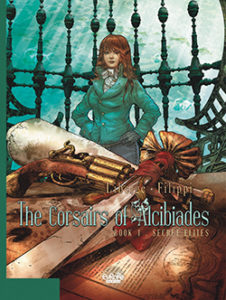 The Corsairs of Alcibiades
The scene is early nineteenth century England, in a secret and exclusive university under the auspices of the British Crown. Peter, Lydia, Mike, Curtis, and Maryline, five young people with nothing in common, have been brought together here to take part in the admissions process of this most unusual school. Why were they chosen? And to what end? None of them realize yet that they will soon leave behind their relatively calm lives for untold adventures that lie ahead of them.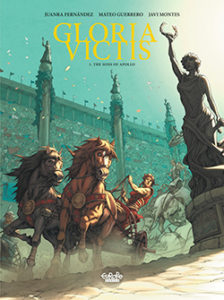 Gloria Victis
There was a time when certain mortals could become gods. At this time, two thousand years ago, men would pass into legend by risking their lives to entertain the crowds; famous charioteers who, perched on their chariots like Apollo, would fight for their lives and their honor in the arena. This is the story of one of those heroes: Aelio Hermeros, perhaps one of the greates chariot riders of all time. He was a mortal immortalized in the memory of those who saw him compete, who witnessed his defeats, his victories, his blood spilled and, most of all, his glory.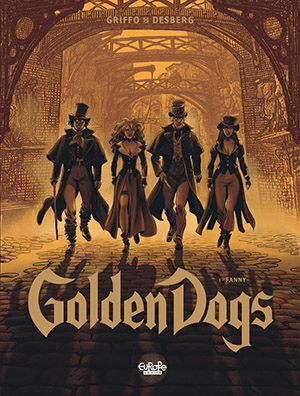 Golden Dogs
Fanny, like so many other girls of her time, has been driven to selling her body to survive. She has since become the most sought-after prostitute of her brothel. She knows people, she knows things, and she is determined to one day move on to a better life. One day, the handsome and enigmatic James Orwood seeks her out, and makes her a proposition that might just be the making of her. He wants to use her reputed powers of seduction to get information from the rich and powerful. They form an alliance, along with Lario and Lucrecia, all four of them bringing a unique skill to the table. This could be the beginning of something great…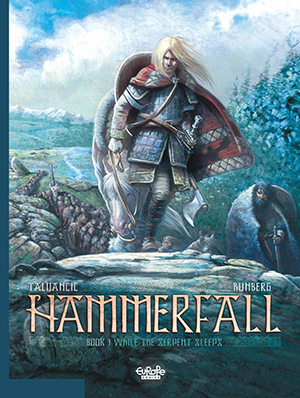 Hammerfall
In 8th-century Europe, a clash of cultures and religions inevitably leads to a clash of swords. This harsh, changing world suits Björn the Beautiful, who has a single passion: violence. His bloodlust led to his exile from his native land, and it's his bloodlust that brings him back. For Harald, it's the season of Jul and he's about to marry the gorgeous Lina. The festivities are interrupted by the arrival of Björn and his troops. With his people either slaughtered or enslaved, Harald begins a forced march with the other survivors. He wants revenge, but he must be patient like the serpent: know when to sleep, and know when to strike.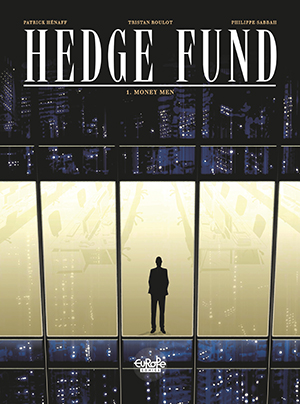 Hedge Fund
Frank Carvale is arrogant, ambitious, and willing to do anything it takes to get ahead. He's clever, too, but maybe not as clever as he thinks. A chance meeting with a magnate in Hong Kong could either be the big break he needs—or the biggest mistake of his life. A financial thriller set at the heart of the international economic crisis.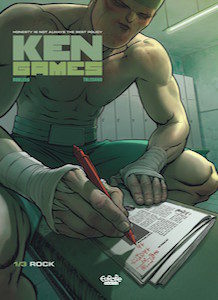 Ken Games
This first volume of the Ken Games series gives us a profile of Peter Fermat (aka Rock), a young man who, like each of the three main characters, is leading a double life. His story opens with a boxing match which has a nasty ending for the up-and-coming boxer, despite his victory. It's not long before we discover that Rock is not only striving to make it in the boxing world, but is also something of a mathematical genius, which is how he met his best friend, TJ. For the first time in all their years of friendship, TJ introduces Rock to a girlfriend, the lovely Anne. Anne and Rock soon establish a bond of trust when Rock discovers that Anne too is living a double life, even though Anne's secret is not exactly what she leads Rock to believe. This is just the beginning of the tangled web of lies and deception that gets ever more convoluted as the series goes on…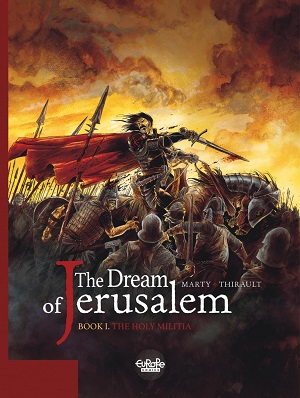 The Dream of Jerusalem
France, 1076. Hermance Languedolce, a child with miraculous healing powers, falls in with religious rebels and is branded a heretic. Hideously tortured, he summons a miracle and saves himself, only to be taken in by kind gypsies. When fearsome warrior Karlis Oresund is converted to Christ, he too receives a miraculous ability to sense evil. Entering the service of Bohemond of Taranto, he sets forth on a crusade to the Holy Land, conscripting Hermance by force along the way. Hermance can't or won't remember his powers, but can Karlis bring them out of the scarred young man?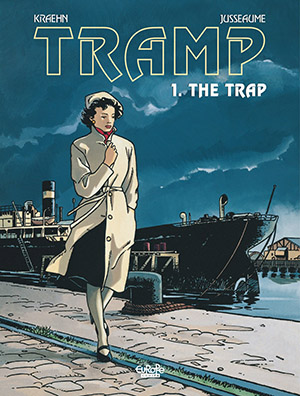 Tramp
In the chilly gray port town of Rouen, De Trichère, a man who's made his fortune in shipping, is dying of cancer. He lost his wife to bombing during the war, and his daughter lost the use of her legs. Now the wheelchair-bound girl is all he has left, and he's willing to go to any lengths to secure her future. Cozying up to a former first mate with a reputation for sadism? Check. Insurance fraud on a massive scale? Check. Sending over fifty sailors to certain doom, sure, but even… murdering his own secretary when she finds out?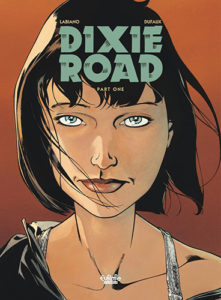 Dixie Road
The United States… the late twenties. Like many others, the company Fisherman's Dream staggers under the 'crash'. In the midst of this economic nightmare, we meet a young girl, Dixie. The recent events will push her and her family to hit the road, in pursuit of the elusive American Dream.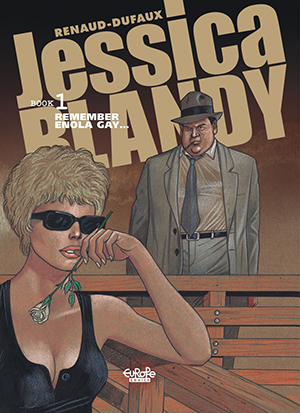 Jessica Blandy
Waves crash on the beaches of California as Jessica Blandy wakes up in her lover's arms for the last time. A mysterious killer is stalking the streets of San Francisco with a chilling final message for his victims: remember Enola Gay. Sexy, strong-willed Jessie won't rest until she's found the truth, a quest for revenge that propels her into a world of thugs, mystics, and crooked cops in this classic thriller by Renaud & Dufaux.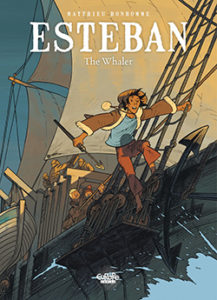 Esteban
When Esteban, a young Native American boy of just 12 years old, presents himself to the captain of the Leviathan for the post of 'harpooner', he's the laughing stock of the whole crew. But when the captain finds out that Esteban is the son of Suzanna of the Tehuelches tribe, he decides to take him on… as ship's boy. Despite his lowly post, this is Esteban's chance to discover the sailor's life, with all its hardship and its happiness, and maybe even a chance to prove what he's made of!
Header image: The Campbells © Jose Luis Munuera / Dupuis