Here is a selection of graphic novels that transport you straight to the battlefields loaded with military missions and operations. All on sale, 50% off! Ends on April 15th.
It's Bagdad 2004. There are almost as many fighters in the private armies as there are official soldiers. When one of these mercenaries falls into homicidal madness and starts killing Iraqi civilians, the American government fear an international scandal. A young military legal advisor and a laconic ex-mercenary are sent on the trail of the killer.
Ismaël seems like a regular nice-guy fallen on hard times. He's living with his adoring sister and her son following his return from his posting in Iraq. But he has a dark past with the gangs of L.A. and an even darker one with his combat experiences in the US army. These experiences haunt him, giving rise within him to a monstrous second self that he's trying desperately to control… but just when things seems like they're on the up, tragic events send Ismaël plunging into the abyss.
Sam Hicks: ex-SAS, no ties, no family, and nothing to lose. Darwyn: his former Sergeant. Umata: a deadly female operative from Israeli Special Forces. They're the perfect team to go deep undercover and take down Darkwater, the outfit that's made private military contractor Jason King a billionaire, profiteering from war the world over. Because King isn't content with just riches; he wants power. His next step? Fascist empire. Amazing Améziane's wild yet thoroughly researched world of tough-talking mercs, pop-art layouts, twisty plots, and pop-cultural references are a must for fans of hardcore action from "Strike Back" to "The Losers."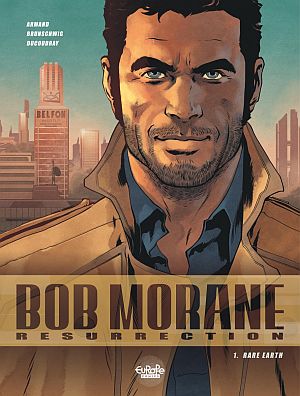 Bob Morane is back! This thrilling reboot from Lombard reintroduces the heroic soldier and all his classic associates in a new, present-day world. The whip-smart, physically skilled, and drop-dead gorgeous Morane has volunteered for a peacekeeping mission to Nigeria, where his conscience runs him afoul of his commanding officers and puts some very important people in his debt. Eventually, he finds himself organizing the largest humanitarian operation that has ever been undertaken in Africa. But there are many forces at play, some more shadowy than others—and some are extremely nefarious . . .
Glorim Cortis is a military celebrity in the Imperial army. The Empire has conquered many known lands, but not yet any unknown. This is the mission entrusted by the emperor to Glorim and his squadron. Once they cross the final frontier of mapped Imperial territories, this group of elites rides their way through a series of intense emotions spanning from doubt to fear. One thing is for sure: as the new map's outlines slowly take shape, their expedition will lead to things that none of them were expecting,
This opening episode begins with the Hittites' bloody Urar conquest, which is the first stage of a fierce conflict. Urar belongs to the rulers Marak, Kymris and Simmissee, three ancient rivals who have now united and formed one fearsome fighting force whose sole preoccupation is killing. Woe betide anyone who provokes their wrath!
Fear is infectious on the Demarkacija… At over 7000 meters altitude, the Demarkacija is the final rampart between Velikiistok and Ieretik territory. In Bunker 37, Aleksi Stassik scrutinizes the approaching enemy and lies in wait for the attack. Above him, in the mountains, roams another enemy, even more terrifying that the first…