You might want to start the year's reading with soothing comics and graphic novels that lift your spirits and warm your heart. Grab these knowing you can escape what's going on in the real world for a bit! 50% off on our best feel-good reads, until Jan 16th!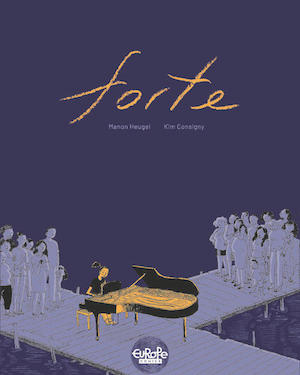 Flavia Antunes grew up in a favela. Her father was a casualty of gang warfare; her mother, a cleaning lady, is all she has left. That is, until she meets Mr. Lima, a wealthy old man who introduces her to her future: the piano. Music will take her far from home, all the way to a prestigious Paris conservatory. Being a foreign student is hard: low-paying jobs, prejudiced landlords, competitive peers. But Paris also has its perks, like love, friendship, and undreamt-of opportunities… Can Flavia find a way to balance the demands of the heart and her demanding art?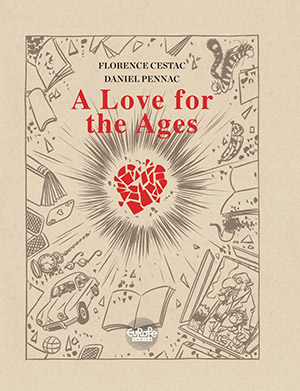 Jean and Germaine are the most affable couple the little village of Colle sur Loup has ever seen. A duke married to a commoner, they have no children, no jobs, and are disastrous cooks! They like to indulge in life's small pleasures; their books, their garden, and their after-lunch naps. They live for each other, and for their love. Their simple happiness intrigues, fascinates, infuriates and is the envy of all those around them.
Daniel Pennac knew Jean and Germaine well. He spent his time at their house reading, watching, learning, and, of course, trying Germaine's catastrophic efforts in the kitchen! He's now taken it upon himself to tell the story of those happy days, and of a love that has always captivated him.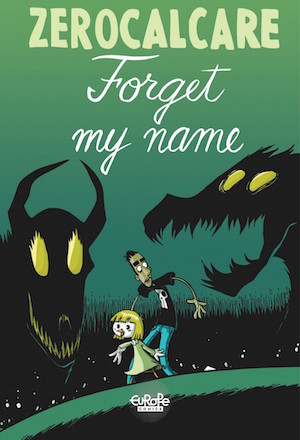 When the last vestiges of his childhood are taken from him, Zerocalcare discovers unsuspected secrets about his family. Torn between the soothing numbness of the innocence of youth and the impossibility to elude society's ever expanding control over people's lives, he'll have to understand where he really comes from, before he understands where he is going.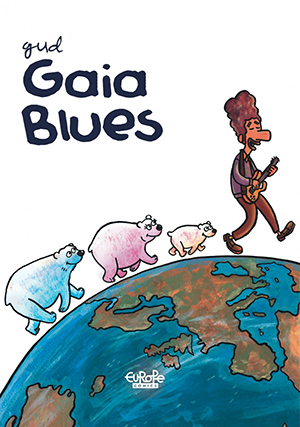 Gaia is the ancient name of our Earth, a place now endangered by growing human pollution. A family of polar bears is about to discover what are the effects of this situation, in a story told entirely with no words.
"Girls, living in the country will be your chance," her parents tell her. And so Catherine Meurisse spends her childhood outdoors. Construction all around her: an old farmhouse renovated into a home, trees planted, a garden created, dreams cultivated. They dig, they graft, they plant a rosebush "adopted" from Montaigne, a fig tree from Rabelais. They observe the tumult of the outside world: new developments in industrial agriculture, the citification of rural France… With her characteristic humor, Catherine Meurisse has composed a witty poem dedicated to the countryside where her vocation as an artist first took form. The Great Outdoors, like Lightness, her previous album, is a testament to her conviction that nature and art —everything that grows, everything that lives against all opposition— always offer us a chance.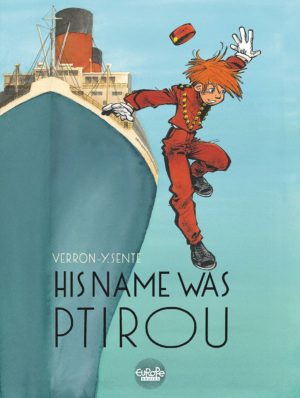 The best part of Christmas is getting to hear one of Uncle Paul's stories. This year, Uncle Paul treats the kids—and us—to the story of the real-life boy who inspired the beloved Spirou.
It's 1929. Ptirou is a circus acrobat who, while the world's economy is crashing, sees his own world fall apart. Orphaned, and possessing only his skill, a bottle of perfume, and an inherited dream, Ptirou sets out for New York and new adventures. With saboteurs on one side, the lovely Juliette on the other, and his own knack for mischief, Ptirou finds adventure aboard an ocean liner before it's even left port.
Rose is not a happy young woman; she is closed off and angry and she hates her job. But her life changes drastically when she inherits her father's bakery in a small town in Brittany. Returning to a place that brought her both joy and grief forces her to confront painful memories of her past and find the courage to open her heart to a new, happier life that awaits her if she will just let it. A story about new beginnings, filled with small town charm, delicious pastries and the warmth of home and friends..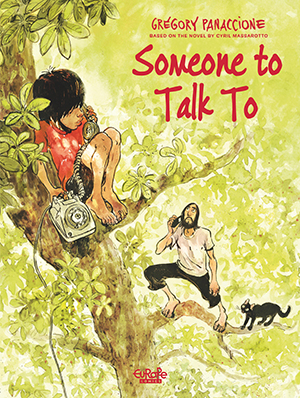 Hematite is a young vampire who is trying to find her way. As a member of the illustrious Blackwood family, she faces pressure to conform to high society standards, but such grandstanding isn't for her. And neither is drinking blood—she'd rather have vegetable soup! So it is that she opts for the more diverse Wolven School, rather than joining the ranks of her fellow vampires at the Diaemus Academy. Being different can be hard, though, and doesn't always help to make friends. Luckily for Hematite, she has her poetry, as well as Drunela—a draugr who won't let their differences keep them apart—and Emile, a human boy fascinated by the occult who would just love to take a peek at the Blackwoods' private library. Unfortunately, bridging societal divides isn't always easy, and can lead to terrible consequences…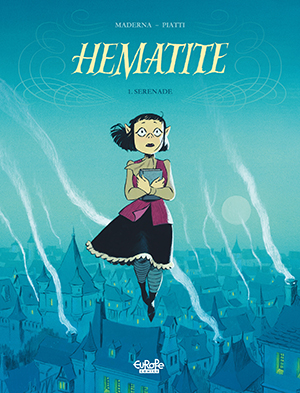 Samuel is feeling blue, and for good reason! He's single, lives in a tiny Paris apartment, and is languishing in a job he hates. Alone on his birthday, he decides to amuse himself by calling the only phone number he knows by heart: the one for his childhood home. To his surprise, someone picks up… His past self! All 10-year-old Sam wants to do is play soccer, travel the world, and write books to impress girls. How will Samuel ever be able to tell him the truth without crushing his dreams? It's time he got his life back on track.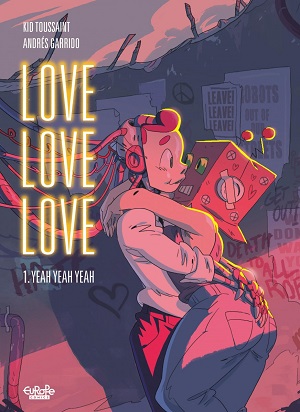 In a futuristic Paris, robots have evolved into sentient beings whose rights are being revoked due to the perceived threat they pose to human society. But not everyone has turned their backs on these so-called mechas. When the cherish bot Karel and down-on-her-luck Elle meet in the subway, they soon become friends, and something more… But a robot resistance is forming, and the two of them are dragged unwittingly into the chaos. Not only that, but Karel's programmed life expectancy is mysteriously decreasing… Will they be able to stop the countdown, and steer clear of both the robot rebels and human police?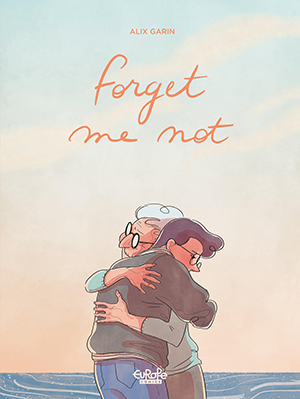 When Clémence, a student and actress struggling with personal issues, sees how miserable her grandmother is in her nursing home, she decides to break her out and take her on a road trip to the coast so she can see her childhood home one last time. But traveling with a senior with Alzheimer's Disease comes with a fair amount of challenges, and the journey is fraught with highs, lows, and near misses. Still, it's a chance for the two women to reconnect, with each other and with themselves, and it's a chance for Clémence to give Grammy the gift of one last thrilling and joyful experience.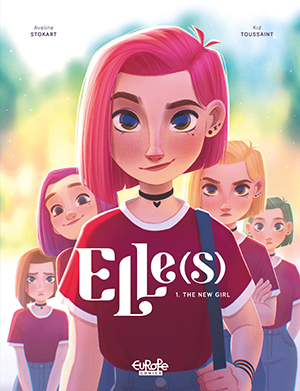 Elle is just another teenage girl… most of the time. Bubbly and good-natured, she wastes no time making friends on her first day at her new school. But Elle has a secret: she hasn't come alone. She's brought with her a colorful mix of personalities, which come out when she least expects it… Who is Elle, really? And will her new friends stand by her when they find out the truth?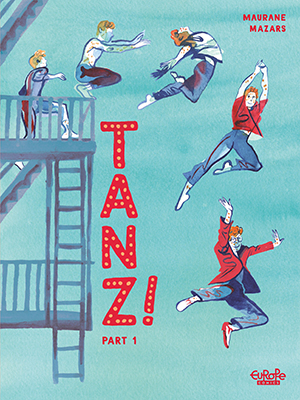 Germany, April 1957. Uli has a dream: to become a famous Broadway dancer. But as a modern dance student at the prestigious Folkwang school, Uli's energetic and outgoing personality stands out in sharp contrast to the melancholy of post-war Europe. During a trip to Berlin, he meets Anthony, a young American dancer. The attraction is immediate. Anthony convinces Uli to come to New York and try his luck on Broadway. The young men part ways, but Uli will pack his bags and embark on an adventure that will take him to a new life overflowing with life, color, and movement — but also disappointment, harsh reality, and a good dose of heartbreak.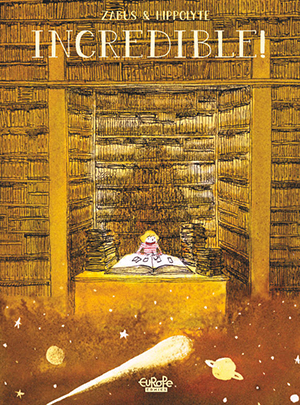 Jean-Loup is 11 years old and lives with his dad—and he's afraid of everything. So he stays in his bedroom, hiding behind his OCD as he collects facts and figures on every conceivable subject and classifies them on thousands of numbered cards. If only he had someone to share them with. He'll soon have his chance at school, but getting up in front of the class is the scariest thing of all. Then, on the morning of the presentation, at 7:29 and 57 seconds, something incredible happens that will change his life forever… A humorous, moving story brought to life by Hippolyte's timeless illustrations, reminiscent of Sempé.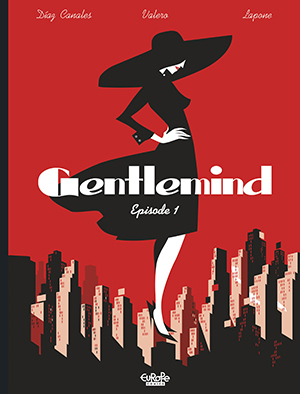 New York, 1940. Navit, a young, penniless singer, inherits ownership of an old-fashioned girlie magazine: "Gentlemind." Combative, intelligent, and audacious, she sets herself up as the publication's new director and takes on the immense challenge of turning it into a modern magazine. Haunted by the memory of her lover who left for the front lines of Europe, she must confront the realities of an American society that is in its golden years, but remains highly patriarchal. A deeply touching story spanning three decades, relating the American dream from a woman's perspective!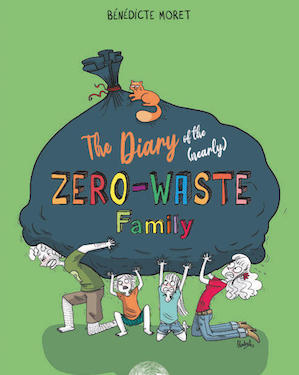 In 2014, a French family of four decided to start living a "zero waste" lifestyle for a year, which made headlines and eventually led to a new career centered on their experience and approach: through downsizing, composting, recycling, eliminating, DIY, buying in bulk, resourcefulness, and rigorous self-discipline, they essentially managed to reduce their yearly household waste down to one small jar of miscellaneous items. This is their story, as told and drawn by the mother herself. Entertaining, educational, and as vitally topical as you can get!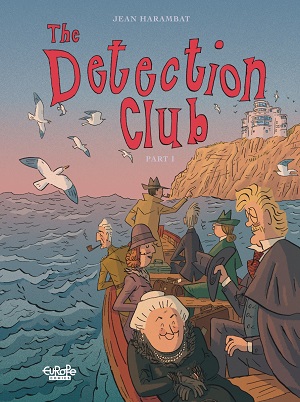 In 1930s England, the best mystery writers of the era come together to form the Detection Club. G. K. Chesterton, Agatha Christie, John Dickson Carr and others gather to eat, drink, and challenge one another. They are in for a bigger test, however, when eccentric billionaire Roderick Ghyll invites them all to his mansion on a private island off the coast of Cornwall, promising to enchant them with his latest creation: a robot that can predict the culprit in their novels. But when someone ends up murdered, who will lead the investigation? Jean Harambat is back, following the success of "Operation Copperhead," with a hilarious, satirical take on the classic crime novel.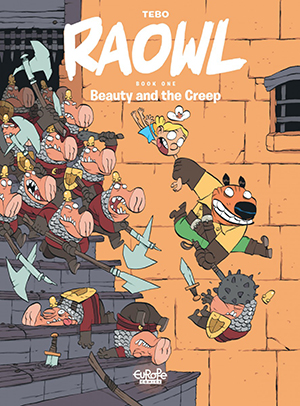 Raowl is not a hero for the faint of heart: he slices, dices, and decapitates anyone standing between him and a kiss from a princess. Unfortunately for Raowl, the first princess he encounters doesn't find him to her liking. So when Raowl rescues a second princess, he doesn't take no for an answer—and as it turns out, the two have a lot in common! Raowl's rage is all the greater when the princess is kidnapped and taken to a castle full of cannibals, and he doesn't waste any time leaping into the mouth of the beast! A rollicking rewrite of classic fairy tales, filled with guts, quips, and colorful characters.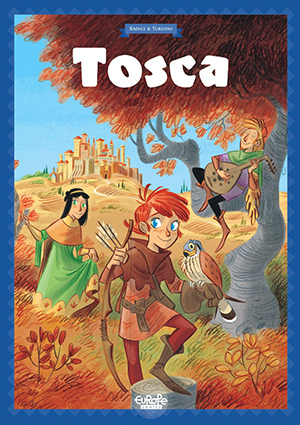 Tosca and Rinaldo are orphans. Ever since their parents died, they have been living hidden in the forest. Lucilla is the only daughter of the Duc di Castelguelfo, famous for his exploits defending the Republic of Siena. Lucilla's parents are too busy to pay much attention to their daughter, who still feels lonely despite being surrounded by an army of maids and servants.
But everything changes when she meets Tosca – a mini Robin Hood living a life so different from her own – and their adventures through 14th-century Tuscany begin. In this first volume in the series, they will have to save Lucilla from a fate worse than death: marriage to a man she doesn't want.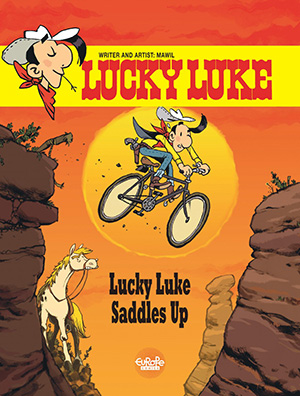 "What… a… darn… stupid… contraption!" The 1st Columbia San Francisco Bicycle Race seems like the perfect opportunity for Albert Overman to impress the nation with his revolutionary design. But when a rival manufacturer hires two goons to intercept him, it's up to Lucky Luke to save the day once more. The lonesome cowboy will find himself swapping stirrups for pedals as he heads west in the saddle of Overman's invention. Will he make it to the starting line in time, or will the dawning of the modern age be stopped by ruthless thugs, stubborn hillbillies, and wary Apache? And what will Jolly Jumper think of his cowboy changing steeds?
Header: Lucky Luke Saddle Up © Mawil  / Lucky Comics