No one ever really outgrows the monsters of their childhood. They just move from under our beds to our comics and graphic novels, now 50% off until September 30th!
In a post-apocalyptic New York City obliterated by a Big Night that wiped out most of civilization, bands of children struggle to stay alive in the wreckage, hunting for food under billowing clouds of toxic fog and running from hungry zombies. One child is endowed with the power to keep them at bay, but will it be enough to protect the survivors from the terrifying creature that has just risen out of the Hudson River? Meanwhile, a raving old man with a house full of books says the worst is yet to come…
Chris is a young pastry apprentice who, one fateful night, sees his delicious creations magically disappear. He decides to get hold of the thief, who happens to be a peculiar sort of squirrel. Chris doesn't know that the chase will lead to a fantastic adventure! The restaurant's fridge is the gateway to the magical world of Fridgebottom, a country populated by myths and legends. In this new universe Chris makes the acquaintance of Hannah, a young elf who runs the Monster Delight pastry shop, and who isn't so great at making pastry! Luckily for Hannah, Chris has a knack for inventing the perfect sweet delight for every palette.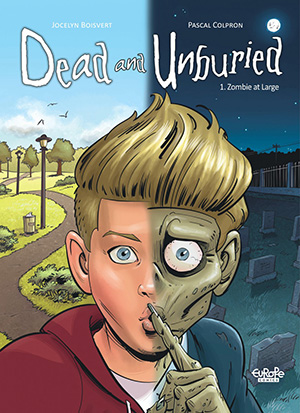 Dead and Unburied
Yan is on top of the world. School's almost out for summer, he's about to have a new baby sister, and he's going to be spending his vacation making a zombie movie with his best friend Nico. But on his way home from school, he finds himself in the wrong place at the wrong time, and before he knows it, his life is slipping away… Things are no longer smelling rosy now that Yan's pushing up daisies. But for some reason, Yan's soul isn't going anywhere: his body may be rotting, but his mind is clear, and once out of his grave, Yan is determined to be reunited with his family. He may be falling apart, but he isn't about to let that happen to them!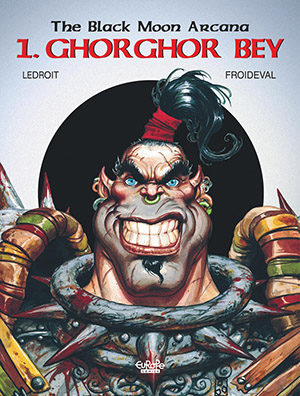 The Black Moon Arcana
Of all the terrifying warlords to wreak destruction across the empire, few can match the savagery of Ghorghor Bey. His name alone can cause even the bravest of soldiers to tremble in their boots, and noble lords and ladies throughout the land pray that he never comes knocking at their castle doors in search of gold, booze, and maidens. But few know the tragic story behind this fearsome warrior's rise to power. From his harrowing childhood to his first love(s), his devastating heartbreaks and crushing victories, read on and discover how a naive young half-ogre would go on to become Ghorghor the Terrible.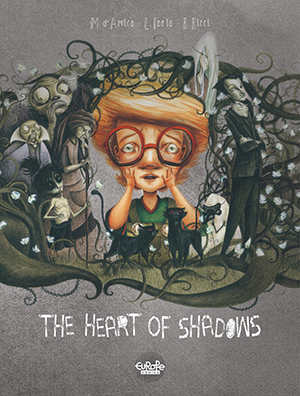 The Heart of Shadows
Luc is a frail child who's afraid of anything and everything, no thanks to his Italian grandmother and her dark bedtime stories. So when he disappears from his bedroom one night, everyone fears the worst. Has he been kidnapped? Did he run away like his sister once did? Little do they know, Luc has traveled to a mysterious land filled with monsters and strange creatures named Shadows and is about to embark on a terrifying journey around the world where he must learn to conquer his fears if he ever hopes to return home. Accompanying him on his journey is the mysterious Uomo Nero, the bogeyman from the nursery rhymes his nana used to sing to him…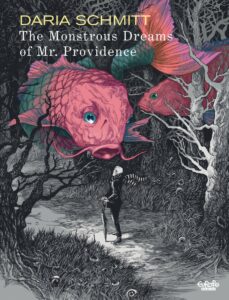 The Monstrous Dreams of Mr. Providence
Mr. Providence is the caretaker at what seems by day to be an ordinary city park. But the park is home to mysterious entities that awaken when night falls, and Providence has sworn to protect its visitors despite the doubts of his corporate-minded new manager. A delicate balance is tipped into chaos with the discovery of a mysterious blank book—and the dark energies it threatens to unleash. All Providence wants is to escape: to somewhere quiet, isolated, and peaceful, like the strange high house he keeps seeing reflected in the park's pond…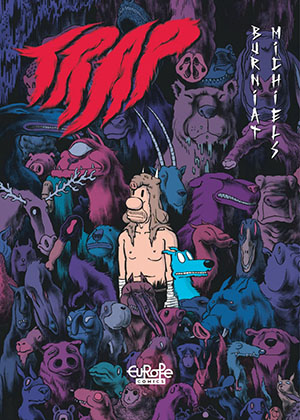 Trap
A man lives in the wild with a dog as his only companion… and great powers at his disposal. All he needs is an animal's hide to take on its abilities. Together, he and his dog will go off to seek a terrible monster, in a silent story brought to vivid life by Burniat and Michiels. Fierce, funny, strange, endearing!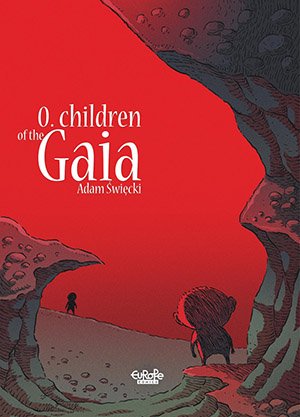 Gaia
Children of the Gaia is a brief introduction to the post-apocalyptic world of the Gaia series. A family of monsters has to fight for food and survival every single day…
Golam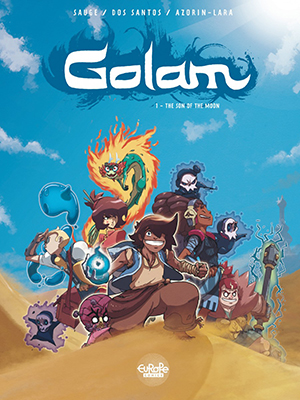 Through a series of strange circumstances, Mehdi, a pickpocket making his living in the streets of the Abu caliphate, finds himself partaking in the entrance exam for Hikmadrassa, the most prestigious alchemy school on the continent. He might not know much about enchantments, spells and conjuring up golams, but he will soon discover that he's got a rare power all of his own! As he dives into the world of the golams, Medhi not only meets his first true friends, but he also comes to understand his origins and turns to face his destiny!
Monsters are popping up all over, wreaking wild havoc on Earth! Captain Woof, a dog from another dimension, is here to find out what's been weakening the walls between parallel universes and letting these creatures through. Helping him are Captain Mysterioso, a teen reassembled by aliens to be invulnerable and shoot destructo-rays; Captain Bummer, a woman with the power to push anyone to suicide; and Captain Smooch, a playboy that one kiss can turn into a raging beast. Throw in Captain Megahertz, a man who can travel along any electrical frequency, and you've got the Captainz! A rollicking love letter to superhero comics.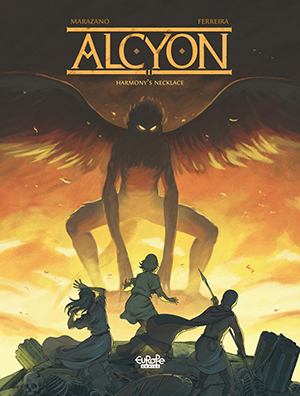 Alcyon
Sycion, the jewel of ancient Greece, at the time of tyrants and myths… In order to right a wrong that threatens their tribes and fathers, Alcyon and Phoebe, two troublemaking friends, depart in search of Harmony's necklace, a legendary item forged by the god Hephaestus himself. Joined by Kyrilos, a young Spartan out to prove himself, their adventures in this world will be long, dangerous, and epic.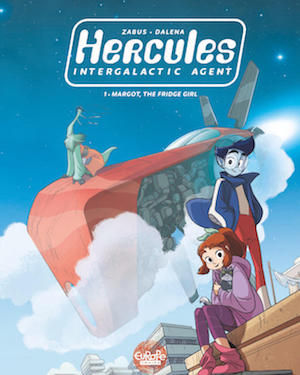 Hercules Intergalactic Agent
Hercules and his friend Marlon have just enrolled at the School of Intergalactic Agents, but they're both having problems. Hercules is a little young—and a little short—to make the grade, while Marlon just can't help being a coward. For their first Surveillance Operation, they're sent to Earth to gather information on a girl who's behaving strangely. But while they're away, the dreaded Blackbird plans to attack the School…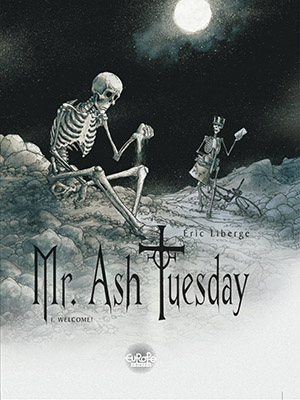 Mr. Ash Tuesday
A fatal slip on the toy car that his son had left in the bathroom, and Victor Tourterelle is dispatched straight to the other side of the mirror, to the beautiful world of chalk desert, under a sky as black as ink. No noise, not a soul. In his new state, Victor finds that he's still fully conscious, more acutely than on earth, even. But his body is only bones. Little does the dead man know that he's at the dawn of the wildest adventure of all time…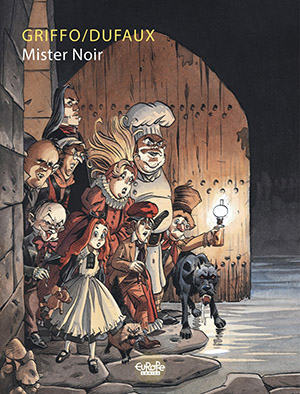 Mr. Noir
England, last century. A castle: Blacktales. Every seven years its proprietor, the frightening Monsieur Noir, comes over to sign the new lease with his tenant. In Blacktales, two unrelenting opposing clans fight a ferocious and cunning struggle over the possession of a pen: the lease contract can be signed only with this pen, the signature giving absolute power. Into this troubled atmosphere arrives the recently orphaned Fanny: the pen, missing for two years has been located. It is in the hands of the two creatures whose ruthless sadism terrorises all the inhabitants of the place…
Header image: Trap © Mathieu Burniat, Loup Michiels / Dargaud