It's that time of year: Turkey, or vegan turkey dinners and Europe Comics Black Friday blowout sale! It is finally here and we're giving you 50% off on more than 300 titles! Choose comics and graphic novels from all genres, you name it, we've got it on sale! Until Nov 30th!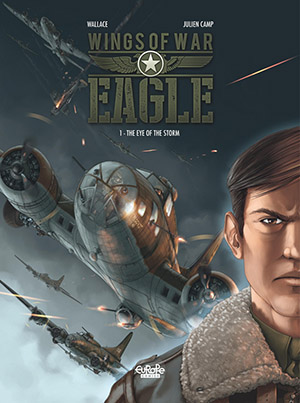 The son of a hero from the Great War who made his fortune in the steel industry, James O'Brady is destined for a great career in politics. When his father is appointed ambassador to Germany, James goes with him, to get an inside of view of the geopolitical landscape in the mid-1930s. But James follows his own path… which is destined to cross that of a young German fighter pilot.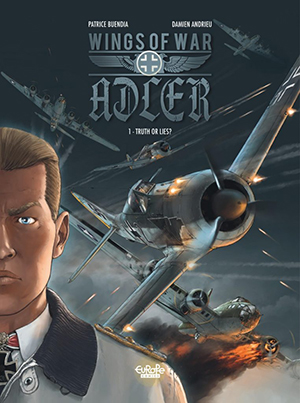 Hans Raeder lost both his father and his younger brother in 1918. To cope with the pain he, like Germany itself, takes refuge in fantasies—not only the fantasies of others, but also those of his own creation. In a country rebuilding itself on myths and deception, Hans is prepared to do anything to become the idol he worships: a fighter pilot… even if it means turning into a Nazi monster. What he doesn't realize is that his destiny is linked to another young pilot, on the other side of the Atlantic…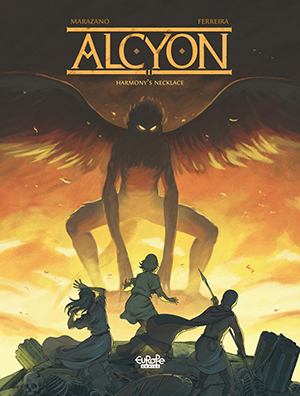 Sycion, the jewel of ancient Greece, at the time of tyrants and myths… In order to right a wrong that threatens their tribes and fathers, Alcyon and Phoebe, two troublemaking friends, depart in search of Harmony's necklace, a legendary item forged by the god Hephaestus himself. Joined by Kyrilos, a young Spartan out to prove himself, their adventures in this world will be long, dangerous, and epic.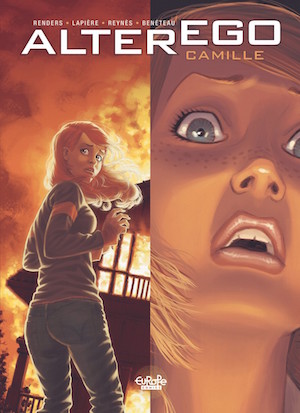 Camille, a French girl living in Singapore, is going through a tough time in her relationship with her mother, Suzanne Rochant, a high-flying psychology and neuroscience researcher. Out of the blue, Suzanne is brutally killed in tragic circumstances. Almost immediately afterwards, Camille sets off for an Angolan village in search of the man who could be her father… the father that she's never met. She carries a letter left to this man in her mother's will, but the truth awaiting her isn't exactly what she'd had in mind… Camille soon finds herself wrapped up in the shady goings-on of her mother's business, as she desperately tries to get to the bottom of all the unanswered questions her Suzanne left with.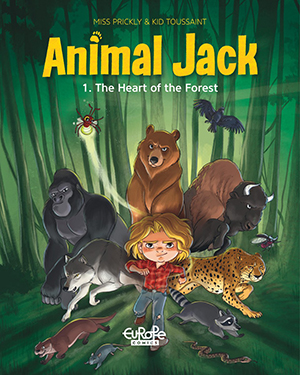 Jack is a typical grade school kid… except that he never speaks a word, is followed everywhere he goes by a flying bug, and can turn into any animal he wants, usually to come to the rescue of his family and classmates. Not everybody appreciates his strange behavior, however. When the town's children start disappearing into the forest, though, Jack's special ability is their only hope. Will Jack ever be understood and accepted by those around him? And will the townsfolk come to see the forest as anything besides a danger and a nuisance?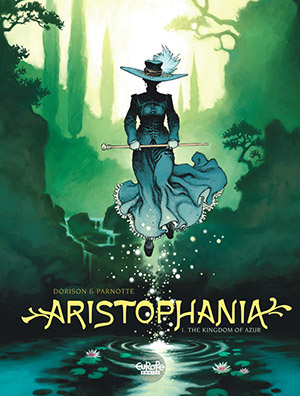 It is the early 1900s and the three Francœur children are struggling to survive in the slums of Paris. But their lives change forever with the arrival of a mysterious stranger from their father's past. Countess Aristophania Bolt from the Kingdom of Azur claims she has come to help the trio, but between disturbing phenomena—tricks or sorcery?—and invisible threats, it is hard to know whom to trust…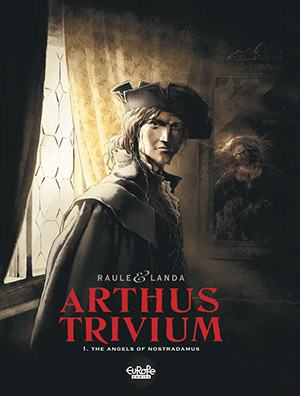 France, 1565. Charles IX reigns with an aging Nostradamus as his advisor, but unrest is afoot in the land. The Black Plague, believed to be under control, rears its head anew. Superstition vies with newly born science in the people's hearts and minds. Through a countryside riven by religious and political rivalries travel Nostradamus' three young disciples, Arthus Trivium, Angelica Obscura, and Angulus Dante, solving mysteries with wits, weapons, and the erudition their master has imparted. But soon they are drawn into the web of a well-laid plot against Nostradamus' family, which may threaten the life of the king himself.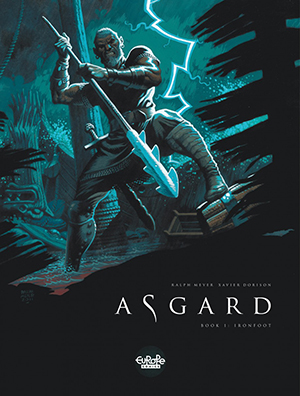 A monstrous sea serpent is terrorizing the Fjördland, destroying one fishing boat after another, eating all on board, and keeping the Vikings from going on their pillaging expeditions. All hope seems lost until a stranger with a dark past and a score to settle with the gods shows up and offers to hunt down and slay the Krökken for a thousand silver talents. Soon a ragtag group of would-be monster hunters boards a drak and, against a divine, ominous Nordic background of lakes and mist and mountains, sets sail on a perilous mission not all will survive.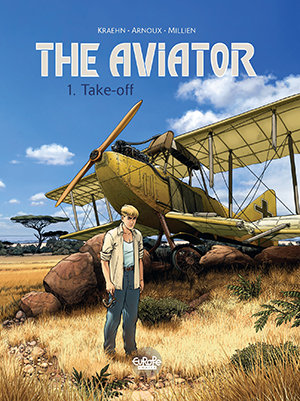 1917, East Africa. A German pastor—also a doctor, and married to a Frenchwoman—teaches his son Josef to fly the Albatros biplane he uses to visit his rural patients. But the war raging in Europe has spread to Africa, where the Allies are fighting the Germans in their various colonies. Against this backdrop—and strictly against his father's wishes—Josef dreams of flying the nest, and makes a decision that will have terrible consequences…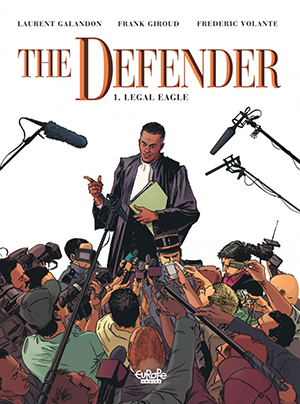 Meet Leo Sully-Darmon, a hot-shot photogenic criminal defense attorney who takes on cases nobody else will touch. Leo loves a good cause just as much as he loves a good photo-op, and he happens to excel at both. But when he agrees to represent a woman accused of crimes against humanity during her former life as an officer in an Iraqi detention camp, he may have bitten off more than he can chew, as antagonistic forces conspire to cast doubt on his client's innocence and start digging up dirt on his own life… complete with dark secrets from both the past and the present.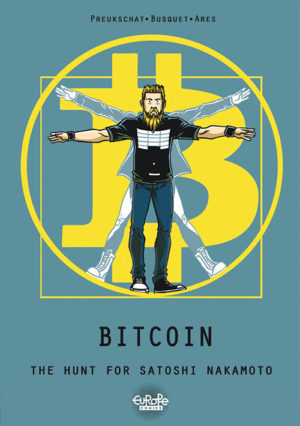 Bitcoin is making giant strides throughout the world. Satoshi Nakamoto, its creator, continues as an enigmatic and cryptographic figure. Nonetheless, rumors surrounding his potential wealth have not gone unnoticed by the mafia. He has also popped up on the radar of the secret services. In fact, NSA agents have been searching for him for some time now. The opportunities that this crypto-currency has opened up within the financial markets have turned Nakamoto into a hero admired in more and more places near and far. His fans would go to great lengths to protect and defend him. For many, simply managing monetary transactions and issuing bitcoins without the involvement of intermediaries as well as carrying out transactions collectively online are factors which promote values for a freer world—in hope of a better world.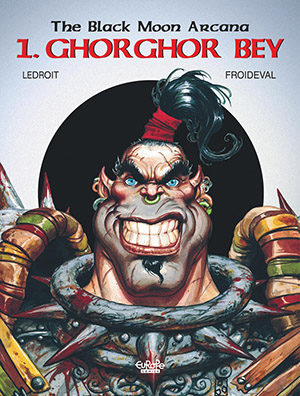 Of all the terrifying warlords to wreak destruction across the empire, few can match the savagery of Ghorghor Bey. His name alone can cause even the bravest of soldiers to tremble in their boots, and noble lords and ladies throughout the land pray that he never comes knocking at their castle doors in search of gold, booze, and maidens. But few know the tragic story behind this fearsome warrior's rise to power. From his harrowing childhood to his first love(s), his devastating heartbreaks and crushing victories, read on and discover how a naive young half-ogre would go on to become Ghorghor the Terrible.
A man – filthy, stinking, alone and obese – is taken in by the police. We don't yet know what he's done, or why he's there. But he's going to tell us his story. The story of a man who strives to live by his own rules, free from the bounds of socially imposed morality and norms, an ambition inspired by one blinding, ecstatic, vivid moment of ultilmate perfection in life and existence – The Blast. He makes the only choice possible for him after such an experience: he leaves everything behind and sets off to live, really live, in the wild, on his own. This first volume is a homage to the acute beauty of nature, solitude and feeling alive. And to the pain and brutality necessary for this man to find his way to another, purer, more complete level of existence. But is the mysterious 'Blast' really what it seems? And so the interrogation begins.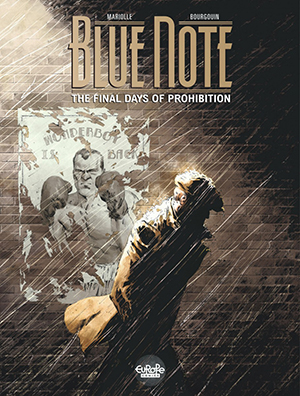 New York. November 1933. Seven years of Prohibition is about to come to an end—seven years of mafia control of the illegal alcohol trade, of high-level corruption … and of the speakeasy, whose clientele enjoy not only liquor, but the Golden Age of Jazz. A world Irish boxer Jack Doyle is reluctantly drawn back to, to settle old scores. But what he thinks will be a simple fight turns into a web of exploitation and double-dealing … and a tangle with the elusive Miss Lena. To get free he will have to use all his native cunning…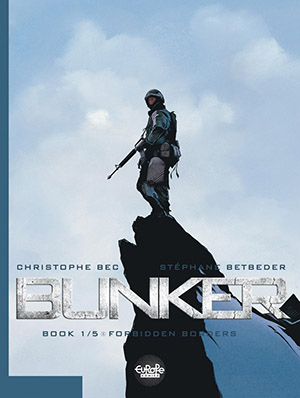 Fear is infectious on the Demarkacija… At over 7000 meters altitude, the Demarkacija is the final rampart between Velikiistok and Ieretik territory. In Bunker 37, Aleksi Stassik scrutinizes the approaching enemy and lies in wait for the attack. Above him, in the mountains, roams another enemy, even more terrifying that the first…
Sam Hicks: ex-SAS, no ties, no family, and nothing to lose. Darwyn: his former Sergeant. Umata: a deadly female operative from Israeli Special Forces. They're the perfect team to go deep undercover and take down Darkwater, the outfit that's made private military contractor Jason King a billionaire, profiteering from war the world over. Because King isn't content with just riches; he wants power. His next step? Fascist empire. Amazing Améziane's wild yet thoroughly researched world of tough-talking mercs, pop-art layouts, twisty plots, and pop-cultural references are a must for fans of hardcore action from "Strike Back" to "The Losers."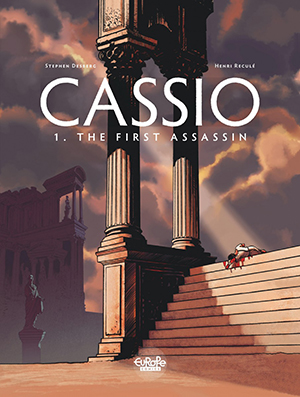 Rome, 145 CE: Cassio, a prominent lawyer who once saved the Emperor's life, wakes in the night to noises. Four assassins have entered his villa and overpowered his formidable slave, the warrior Alva. He seems to know them, and knows why they have come… Ephesus, present day: archeologist Ornella Grazzi finds a ruin with a fresco of Cassio's face. The papyrus scrolls inside tell the beginning of a story she has long suspected and been searching for clues to all her life: how Cassio survived his own assassination and came back from the dead for vengeance…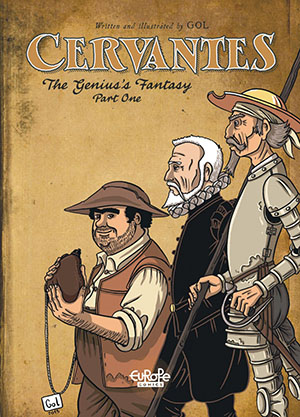 This is the story of the distinguished Don Miguel de Cervantes Saavedra, and the misfortunes and blessings to be visited upon him over the course of his most remarkable life.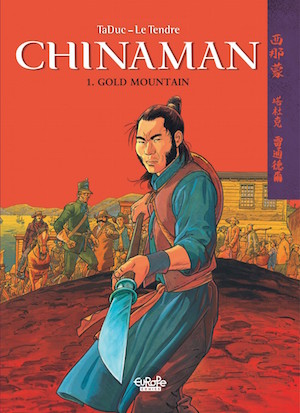 In the second half of the 19th century, a Chinese man wanders the plains of the American West. In the first volume, John Chinaman lands in San Francisco, tasked by the Elders of Canton with disciplining the local Triads. But this mission will be his last. From now on, his fate will be irrevocably tied to America's westward expansion.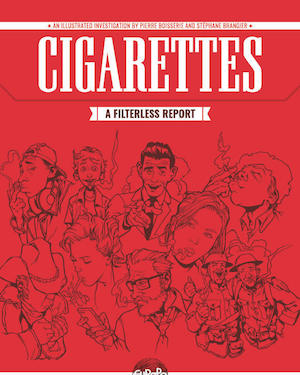 Arguably humanity's most deadly invention—responsible for 100 million deaths in the 20th century—the cigarette continues to kill. Half of all smokers die of a smoking-related illness, and more than a billion people currently smoke. "Cigarettes" tells the story of the tobacco industry's cynical efforts to impose this danger on as many people—or victims—as possible, with a single purpose in mind: shareholder profits. Always frank in delivering its meticulously-documented message, "Cigarettes" should make the tobacco industry tremble more than a nicotine-deprived smoker.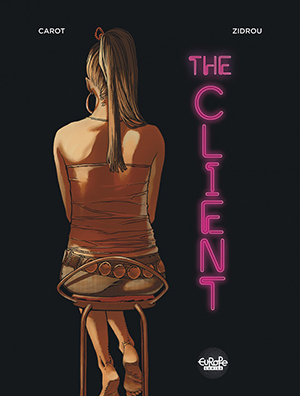 An average Joe falls in love with a hooker from Ecuador and, when she goes missing, pressures a local mobster into telling him where she is by kidnapping his only daughter… What could possibly go wrong? A story about second chances, with a buddy road trip and musings on art and beauty thrown in for good measure.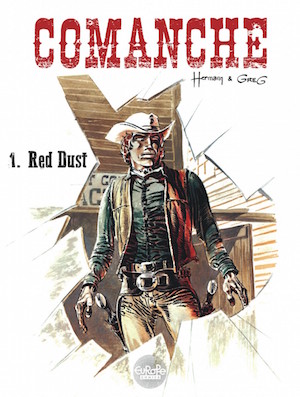 A lone cowboy rides into town and all hell breaks loose… Sound familiar? Here is yet another take on the beloved Wild West trope, complete with corrupt law enforcement officers, a town drunk, guns for hire, a brave young woman trying to hold on to her failing ranch, vicious people with wealth and power trying to take it from her, a couple of cow-herders, and a colorful cast of characters with names like Red Dust, Ten Gallons, and of course… Comanche.
The scene is early nineteenth century England, in a secret and exclusive university under the auspices of the British Crown. Peter, Lydia, Mike, Curtis, and Maryline, five young people with nothing in common, have been brought together here to take part in the admissions process of this most unusual school.
Why were they chosen? And to what end?
None of them realize yet that they will soon leave behind their relatively calm lives for untold adventures that lie ahead of them.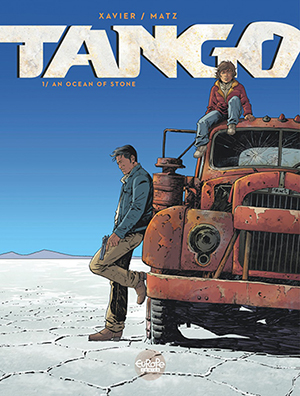 He used to play a dangerous game, running cash for the mob. Now he calls himself Tango, and he lives in a little village rising like a small island out of the rocky sea of the Andes. He's made a few friends since he arrived, with whom he's got a lot in common: they've all got secrets from their past, and they're not exactly who they say they are. One by one, their secrets are revealed in a storm of violence when old friends come knocking, demanding past debts be paid. High up in the Bolivian hills, a mountain community is once again upended by the arrival of strangers and the troubles they seem to bring with them.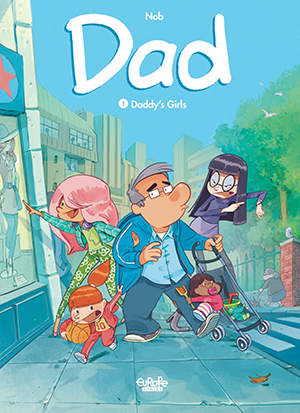 Being a single dad is a full-time job, as Dad knows only too well! Especially with four headstrong daughters to whom obedience doesn't exactly come naturally… With bookish Pandora, emotional Ondine, mischievous Roxanne and, the latest addition, baby Bella, this unemployed actor has landed himself the role of a lifetime: looking after his family!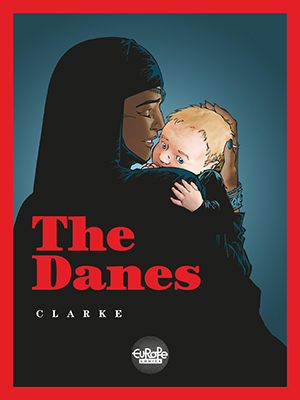 When an Aryan baby is born to a Muslim woman living in Copenhagen, her husband's family shuns her. But DNA tests prove Sorraya's fidelity. And she is just the first in what soon becomes a rash of similar cases across Europe, threatening widespread social change even as they ignite passions in immigrant communities and incite familiar racial hatreds. What mysterious conspiracy connects a retrovirus, a young slacker biogeneticist, a former punkette, a dogged reporter, and pharmaceutical giant Keoxis? Clarke delivers a contemplative slice of near-future science fiction paced like a thriller but full of probing questions about our prejudices.
The year is 1998. In the merciless world of the stock exchange, Alexandre, a brilliant young trader, finds himself caught in the middle of a game of scheming and manipulation. An employee of the BGCI, he is duped into covering up several risky transactions by his colleague and so-called friend. The losses begin to snowball, becoming ever harder to hide. Facing an audit and with a journalist hovering around, Alexandre's fall from grace takes a deadly turn. This first volume brings us forward 12 years in the future, when Christopher Dantes, a businessman as rich as he is mysterious, makes his first public appearance at the Millennium Financial Ball, coming face to face with the people involved in the plot of that sordid drama of the past.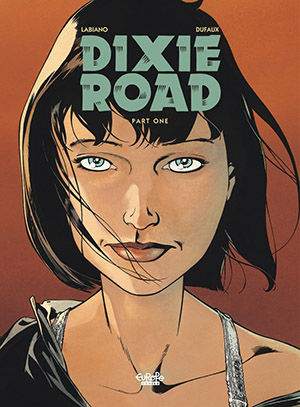 The United States… the late twenties. Like many others, the company Fisherman's Dream staggers under the 'crash'. In the midst of this economic nightmare, we meet a young girl, Dixie. The recent events will push her and her family to hit the road, in pursuit of the elusive American Dream.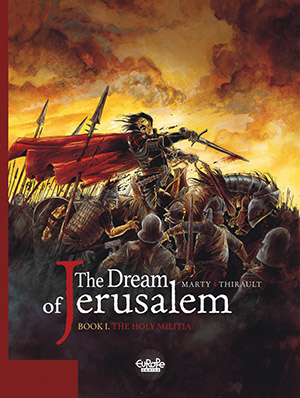 France, 1076. Hermance Languedolce, a child with miraculous healing powers, falls in with religious rebels and is branded a heretic. Hideously tortured, he summons a miracle and saves himself, only to be taken in by kind gypsies. When fearsome warrior Karlis Oresund is converted to Christ, he too receives a miraculous ability to sense evil. Entering the service of Bohemond of Taranto, he sets forth on a crusade to the Holy Land, conscripting Hermance by force along the way. Hermance can't or won't remember his powers, but can Karlis bring them out of the scarred young man?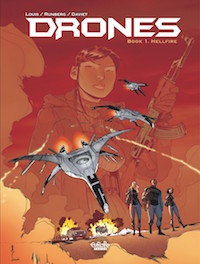 Two women–each other's nemeses. Louise Fernbach and Yun Shao. One a European soldier, the other a Catholic terrorist from China. Ever since she discovered Yun Shao was behind the deaths of some of her fallen comrades, Louise has been out for her blood. Whatever it takes. Louise shows no mercy. Louise is a drone pilot. For her, wars are just video games she plays from Copenhagen HQ. For Yun Shao, they are a fight to the death with disposable machinery. Welcome to modern warfare…
1907: In a small town in the Pyrenees, a young soldier regularly climbs one of the tallest peaks to deliver supplies to an observatory. There, he makes a friend whose great passion for the Tour de France pushes ambitious Amédée to take up cycling and dream of winning the Tour himself. But the road to the Tour de France is more challenging and dangerous than he thought, and a terrible accident leaves him handicapped. Still, Amédée remains undaunted and trains even harder, which sets him on the road to cycling stardom… until war breaks out and interrupts his plans yet again. An inspiring tale of courage and human achievement, set against the fascinating backdrop of one of the world's most grueling tests of endurance.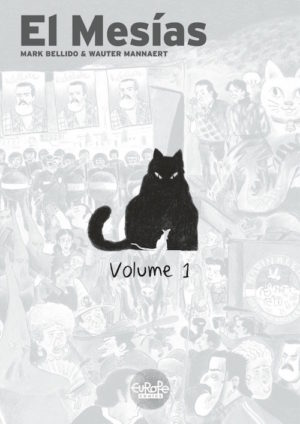 Jesús Fernández, aka El Pocero (the digger), used to be the richest man in Spain. At the top of his prosperity, he starts building a city that will be named after him. Until he sees his megalomaniac project crushed by the real estate crisis in 2008. Completely bankrupt, he decides to end his life. In a dramatic fit he writes a farewell letter, lights some candles, ties newspaper clippings about his greatest accomplishments around his chest and hangs himself. But fate seems to have other plans for him. At that exact same moment two police officers and a bailiff appear on his doorstep. They cut the noose around his neck… and throw him out of his house. He roams around desperately until he ends up in a bar in the next village. That's where he first hears about the mythical village of Marinaleda, in the heart of Andalusia. A utopian place where villagers have turned their backs on capitalism and the crisis doesn't seem to have struck. Since he's got nothing left to lose, Jesús decides to go try his luck in Marinaleda.
Paris, 1802. Bonaparte has just been proclaimed First Consul, provoking Fouché's departure from the Police headquarters. The two men are now both set on finding a certain object, stolen by a beautiful prostitute, which could change their destiny. Bonaparte calls on the services of François, a petty thief otherwise known as "The Torpedo," to recover the mysterious object.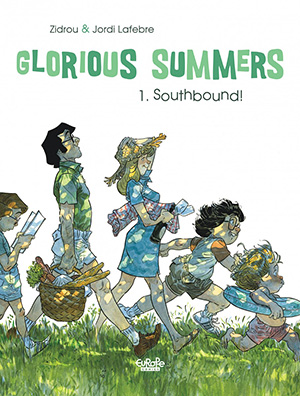 In this nostalgic account, the Faldérault family sets out for a final summer vacation together before an impending marital separation disrupts the family dynamics for good. Along the way, heading south to France from Brussels, Pierre, Maddie, and their children revel in impromptu skinny-dips, family sing-alongs, and camping in the wild, ultimately finding a renewed zest for life—and vacation!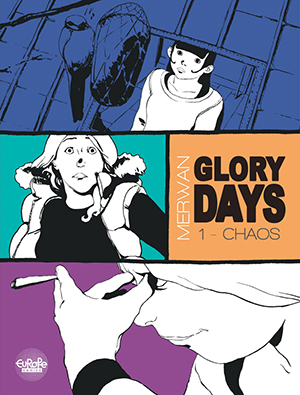 Three young women lacking direction struggle with the challenges of life and relationships: Violet has dumped her boyfriend and is finding it hard to move on; Leila has betrayed her best friend and finds herself now ostracized by her social circle; and Helen struggles to find a balance between her personal life and the doctoral thesis taking up all her time and energy. A realistic slice-of-life portrayal of the growing pains of young adulthood.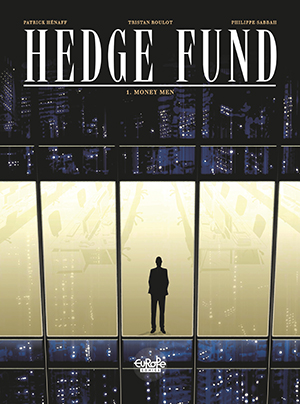 Frank Carvale is arrogant, ambitious, and willing to do anything it takes to get ahead. He's clever, too, but maybe not as clever as he thinks. A chance meeting with a magnate in Hong Kong could either be the big break he needs—or the biggest mistake of his life. A financial thriller set at the heart of the international economic crisis.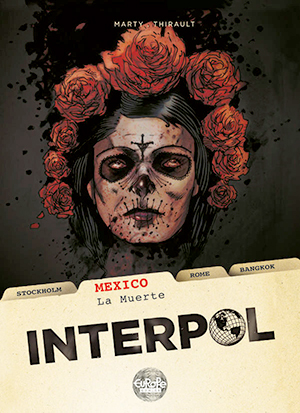 A highly dubious investigation in the heat and humidity of Mexico's badlands. When headless women's bodies are found all across Mexico City, Interpol agent Clare Burnell faces the indifference of the local police and the ultra-violence of gangs of drug traffickers. Her only choice is to team up with Pablo Tikal, a P.I. whose methods are as effective as they are unorthodox.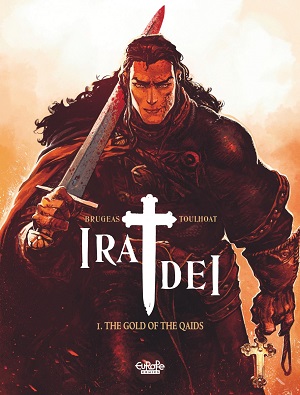 A Norman by the name of Tancred makes landfall in Sicily with a motley international mercenary crew. A figure of mystery and danger, he soon proves himself a fierce blade and a cunning strategist, but why has he come? Revenge on the embattled Lord Harald now besieging Taormina? The fabulous wealth of the Qaids hidden within the city? Why does Tancred travel with a papal legate who calls him Robert? What disgraceful past is he trying desperately to hide? It's every man for himself in this intrigue of shifting alliances and sudden death, set against the backdrop of Sicily's Norman conquest.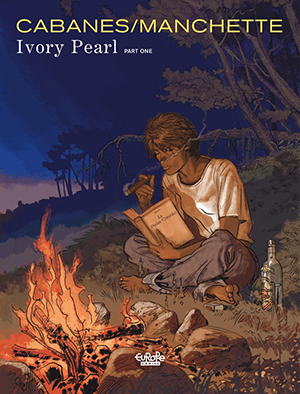 "Ivory Pearl" is the final work by the French master of noir fiction, Jean-Patrick Manchette. But this wide-reaching geopolitical thriller, blending action and adventure, was only known to readers in its unfinished form, as written by Manchette before his passing in 1995. Now, using his father's notes, Doug Headline has finally put together the full tale, alongside artist Max Cabanes. Together, they have brought Ivory Pearl to vivid life in a graphic novel not to be missed.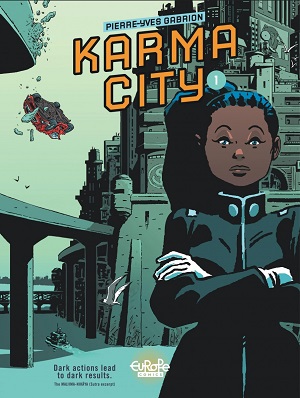 Karma City is a town of virtue governed by the universal laws of karma and where public interest primes. Emma List, a paleontology researcher, presents herself at the gates of the "white zone" of the capital city. She is authorized entry despite her negative karma level. A few minutes later she has a stroke and dies in a car crash. What initially appears to be a routine case for agents Cooper, Napoli, and Asuka soon transforms into a wide-ranging investigation. For Emma List had moved into the grey zone to pursue proof that pre-karmic societies once existed.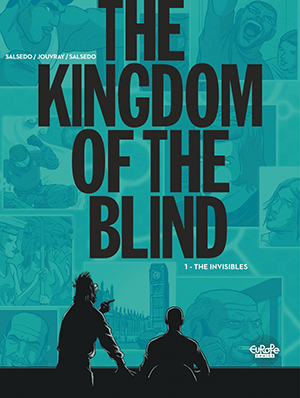 The era of privacy is over. With the proliferation of cameras, social networks, and automated surveillance systems, everyone is being watched at all times and people have begun to give in to the surveillance state. Well, almost everyone… Laurette is a young, rebellious teenager in London plotting an attack on a major government data center with a group of activists. But when the plan goes wrong, Laurette disappears, kidnapped by unknown agents. Dissatisfied with the police's lack of progress, Adil, Laurette's brother, decides to investigate on his own. A science-fiction story that explores a future not too far from our own, tackling the issue of surveillance from both sides of the law.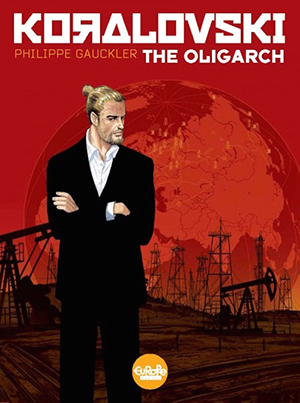 Viktor Koralovski was Russia's Oil King—a title that earned him the wrath of President Khanine and ten years in prison. An unexpected missile attack allows Koralovski to escape. However, he soon learns that while he was locked up, his friends and enemies have become almost indistinguishable, which leads to his current position at the centre of a vast conspiracy that threatens to engulf the entire oil industry!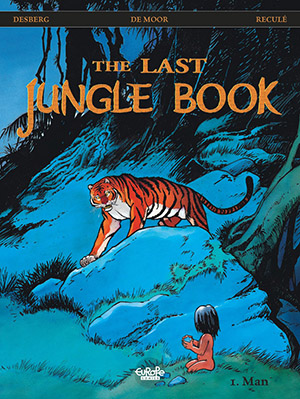 Just outside Delhi, the capital of India, a man called Mowgli rents a house on the outskirts of the jungle, where he plans to live out the rest of his days. The forest is not nearly as vast as it once was, but the air, the trees and the hills still retain a thousand memories: the cries of birds long departed, the calls of brother wolves that have since died off, the rage of a jealous tiger… For Mowgli, the jungle is the stomping ground of his childhood and his path to adolescence, including the undeniable need to grow up and leave it. For Mowgli, it is time to rediscover the jungle so as to prevent the world of men from stealing away his innocence and his illusions. For this man growing ever older, these memories take him back to a time when all he had to do was learn, and not yet pay the price of his mistakes…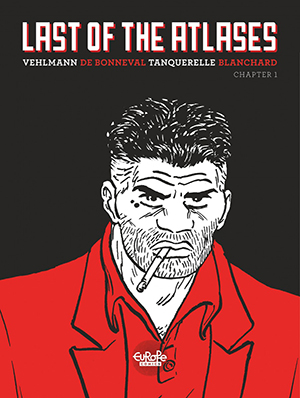 Birds wasting away in a national park, refusing to migrate. Identical geometric markings on the wings of completely different insect species. A pillar of dust in the desert. A small-time hood travels to India's shipbreaking yards in search of a giant nuclear-powered construction robot. A big-time crime boss makes a killing off the Algerian Revolution, in a world where it happened fifteen years later than in our own. "A good story," insists reporter Françoise Halfort, visited abruptly by a post-menopausal pregnancy, "is one that draws unexpected connections between seemingly unconnected events." Four star creators join talents on a vast canvas that takes in the entire French 20th century.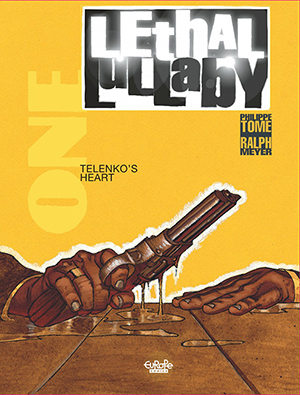 Telenko, a New York taxi driver, spends his days ferrying around the dregs of society in one of the city's roughest neighborhoods. He has an obsessive fear of dying like a guy he saw in a film, who'd hear his heart stop every 15 beats. Because Telenko himself has a tired heart. He has a minor case of tachycardia and the odd extra systole, not helped by his stressful job and the constant abuse from his wheelchair-bound wife, Martha: "You don't divorce a wife in a wheelchair, Telenko!" She'll get what's coming to her, no doubt. Just like that slut who just got in his taxi who's fooling around with some other guy right under her decrepit old husband's nose. So he decides to kill Martha. But you gotta have some guts to kill your wife in cold blood. Especially when she's got a nasty surprise in store…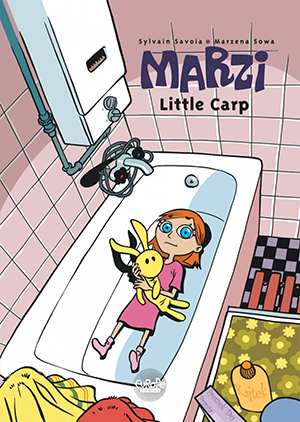 "Before, there were trees and countryside. Man didn't intervene. Stalin decided to "rectify" that space, and now, instead of trees, there are concrete buildings, everywhere. Stalin had a factory built. Thanks to that, lots of people got jobs, like my dad." Born in 1979, Marzi is a 7-year-old Polish girl who looks wide-eyed at the world around her: her parents, her family, her school friends and the crabby women at the grocery store who don't even smile for a fruit delivery. Marzi lives on a council estate in an industrial town, and is a cheerful, carefree, mischievous and perceptive little girl, bound to run into many adventures!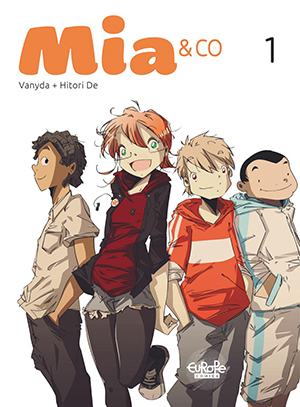 Mia, Gauthier, Louka and Zouzou are inseparable. Like most teenagers, they'd much rather be playing video games or making music than doing their homework. Mia, the only girl in the group, doesn't really seem to click with the other girls in her class. But as they grow up, her tight-knit friendship group will become more and more complicated as girl-boy relationships start to get interesting…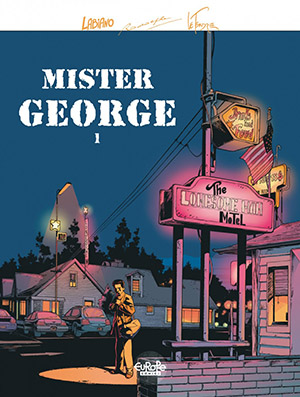 Mechanic George Price has fulfilled his American dream: business is good, and he's married to his devoted Tracy. But after he has surgery to remove a brain tumor, he suffers unnerving memory loss and other psychological trauma. His doctor and father-in-law, Walt, claims they're just normal post-op side effects. But a few chance occurrences and disturbing discoveries begin to convince George that he used to be somebody else, somewhere else… And reporter Jennifer Lee is convinced of the same thing. As George sets out to find his true identity, Jennifer launches an investigation that might turn into the scoop of her career, against the backdrop of a country threatened by terrorism.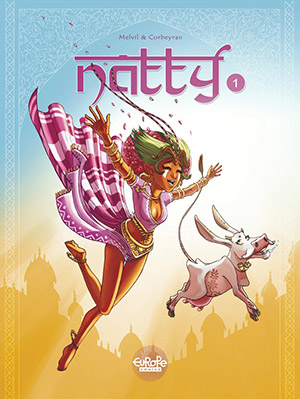 Rebellious Princess Natty of Orchidhali is a member of the floral caste and lives in a luxurious, sunshine-filled palace. But once she refuses her arranged marriage, she is forced to flee the palace. She ends up in the dark realm of the Untouchables, the very lowest caste of society, where a strange form of leprosy reigns as a result of the lack of sunlight. Natty meets an Untouchable named Sami, who is just as rebellious as she is, and together they make a plan to leave the shadows of the underworld and return to the light. But just as they are about to make their escape, a battalion of soldiers arrives, and Sami ends up in prison.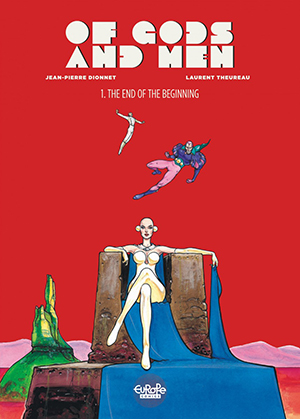 The world turned upside down in 1929, starting in the United States. As the Great Depression shook the nation, so-called "gods" began to appear along Route 66, and quickly grew in number. With humankind slowly dying out, history then took a different course… This is the story "of gods and men," set in the year 2047.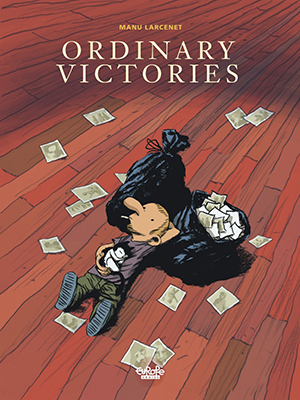 Marco's left town for the countryside. He's left his psychologist because he feels he's doing better. He's quit his job as a reporter because he's had enough of photographing corpses. He gets himself a little cottage in the heart of rural France, where he lives with his cat, Adolf. He throws out all his work, and cuts ties with his employer. That night, he has his first panic attack.
It's not long before he meets the lovely Emilie, and also the wise and good-natured old man who lives in the cottage just across the way… but who, it turns out, isn't exactly what he seems…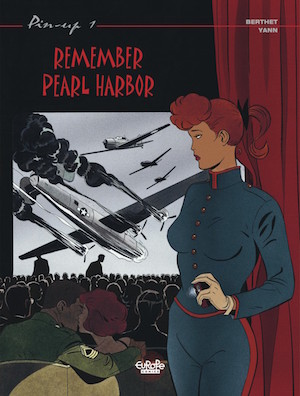 It's 1943 and all-American Joe is heading off to fight the Japanese. His distraught fiancé Dottie Partington is fired from her job as a movie usher, and a friend helps her find employment at the Yoyo Club, a cabaret favored by soon-to-be-deployed US Air Force personnel. In the meantime, Joe is marooned on an atoll in the South Pacific, where he experiences firsthand the terror of war, and encounters a motley crew of fictional and real-life characters. Back in the States, famed cartoonist Milton approaches Dottie and uses her as the model for his new comic strip, "Poison Ivy," which centers on the adventures of a patriotic vamp capable of making soldiers "forget their girlfriends back home." The strip is a runaway success and kindles the fantasies of GIs across the globe, eventually reaching even Joe.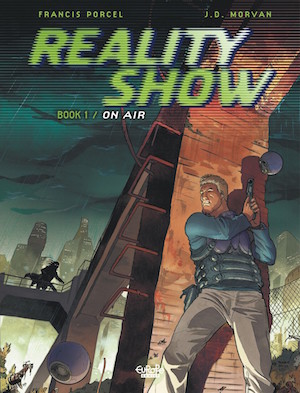 In a future age where robots take care of most of the more tedious tasks, humans have a lot of time on their hands. So what to do with it? Well, obviously, they're going to watch the Norman K. Barron show! Norman is a handsome and heroic policeman, whose dealings have already cost the life of his partner, who has now been replaced by Oshi Feal, a young recruit fresh out of police school. But nothing could have prepared Oshi for this kind of mission, where unexpected developments are a must… After all, you gotta keep the viewers happy!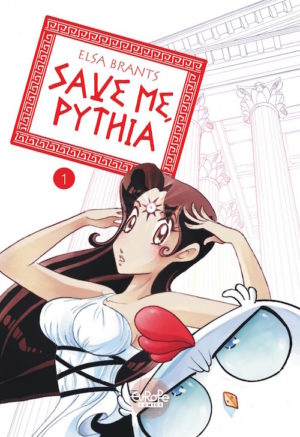 Pythia lives in Delphi, in Ancient Greece, and between her classes at high school and her part-time job at the temple of Apollo, she leads quite a normal, boring life… until the day that she refuses Apollo's advances and he places upon her a terrible curse. She is now able to predict the future, but whenever she sees a catastrophic event on the horizon, no one believes her warnings and she is helpless to stop it from taking place. However, her new skills draw the interest some of the highest authorities: Zeus, the king of the Gods, entrusts her with a mission. Zeus has fathered yet another bastard child, a boy named Xanthos, and his wife Hera is on the war path. Wherever Xanthos goes, she rains down misfortunes and disasters, but maybe Pythia's prophecies could help the arrogant young Xanthos to survive the wrath of Her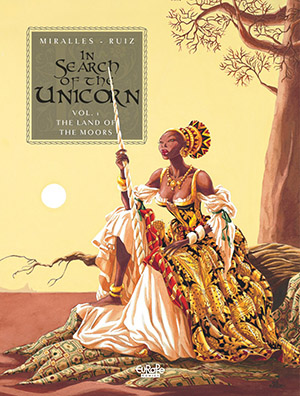 1471. Leading a band of faithful crossbowmen, Juan de Olid leaves Castile in secret, bound for adventure and the unknown lands of Sub-Saharan Africa. The expedition's objective is to bring back a unicorn horn as quickly as possible—the future of the kingdom depends on it. On the advice of the most pre-eminent experts of their day, Juan de Olid and his companions take along with them the one thing that can help them in their quest: a virgin. For the scent of unsullied maidens has the power to tame the most formidable of unicorns. Meanwhile, the apothecaries of King Henry IV of Castile, nicknamed "the Impotent," impatiently await this legendary horn, as it is said it can cure the King and ensure the continuation of the royal line…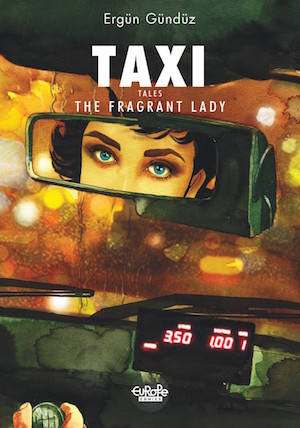 "The Fragrant Lady" is a tale that brings to life the recollections of an old gentleman in the back seat of Yalcin's cab. The man tells of the time he spent with an enviable French woman named Floré during the silver age of Istanbul. His too-good-to-be-true story unravels with rich illustrations by Ergün Gündüz, which are throwbacks to the days of urban glamor in Beyoglu, in stark contrast with the current state of the district.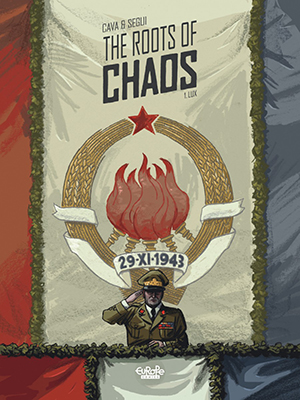 March 1953. Alexander is walking through the streets of London with a bomb in his hand. It is destined for Marshal Tito, during his controversial visit to Great Britain. Alexander's story began several months earlier, when his mother was struck by a car and instantly killed. Trying to understand why and how his mother, who was in an institution for senile elderly people, wound up so far from her home, Alexander finds himself caught up in a spiral of terror involving the British secret service, strange Serbian nationalists, and the island of Majorca… all of which culminate, several months later, with Alexander finding himself on the bank of the Thames, holding a bag with a bomb in it…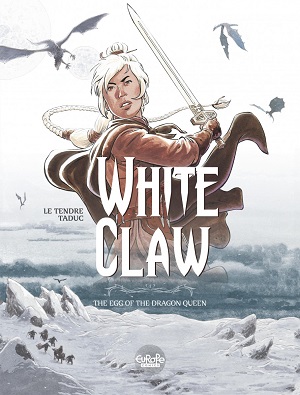 Taho-the-Quick, a poacher, has an encounter with the animal totem of his people, the dragon queen, who entrusts him with the dangerous mission of carrying her egg to her dragon brothers up in the mountains. On his journey, Taho-the-Quick will not only have to fight enemies but also join forces with unexpected allies, including the mysterious White Claw, a warrior with unparalleled skills. The survival of the dragon species and that of a whole people will depend on their partnership.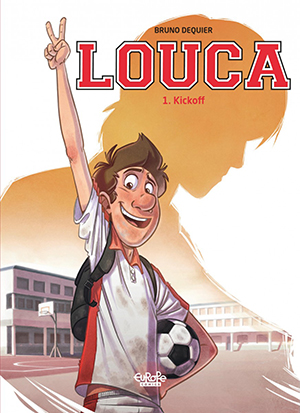 Adolescence is a terrible time for most people. For Louca, it's especially bad! Generally mediocre, a poor student, awkward with girls… he's a walking disaster. But Louca has decided: starting tomorrow, he's going to change! Still, that's easier said than done… especially when your own mind keeps changing! Luckily, Louca will get a helping hand from a certain fellow named Nathan. Good-looking, amazing at football, funny, smart… this Nathan certainly seems like the perfect guy, and the best coach Louca could possibly hope for. With one little exception: Nathan is a ghost… How did Nathan die? Why can only Louca see him? Will Nathan manage to turn Louca into the kind of guy people want to be with? Will Louca manage both to pass his exams, and to win over Julie, the girl of his dreams?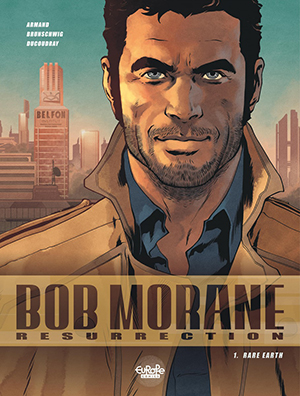 Bob Morane is back! This thrilling reboot from Lombard reintroduces the heroic soldier and all his classic associates in a new, present-day world. The whip-smart, physically skilled, and drop-dead gorgeous Morane has volunteered for a peacekeeping mission to Nigeria, where his conscience runs him afoul of his commanding officers and puts some very important people in his debt. Eventually, he finds himself organizing the largest humanitarian operation that has ever been undertaken in Africa. But there are many forces at play, some more shadowy than others—and some are extremely nefarious…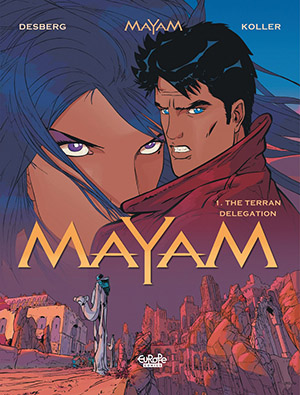 Lenny June is your average happy-go-lucky expat, out for a good time and a quick buck. And on Tyr Mayam, a technologically backward planet riven by religious rivalries, he has it easy. It helps that he's quick-witted, handsome, and an exclusive member of the Galactic Confederation's Terran delegation to a world that's been declared an ethnologically protected zone for the next 500 years. But Lenny's life is about to change. For one, his fiancée is due from Earth any day now. And Tyr Mayam, with its doomsday cults and competing sects, has surprises in store, buried deep in ancient history…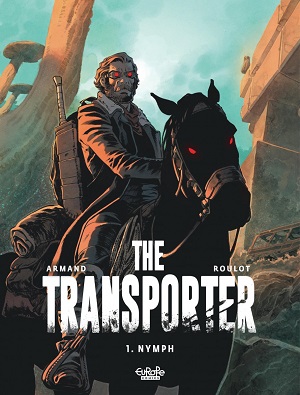 Human life has been devasted by an unstoppable virus … Not a disease, but a chemical reaction that attacks iron, destroying everything that contains them and setting civilization back hundreds of years. It even affects the iron that is present in blood—enough to cause bizarre mutations and affect human fertility. Amid the resulting chaos, one man has set himself an unusual mission: to transport anything anywhere for anyone—for a price. But what he asks in return is no less mystifying than his self-appointed role… as the Transporter.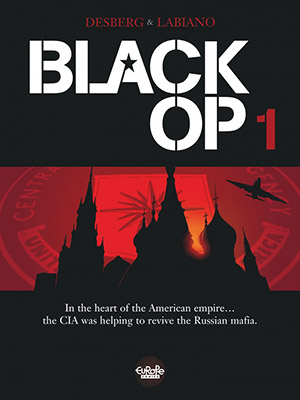 It's 1945. Floyd Whitman discovers that 'those scumbag communists' have killed his father. He's just a child, but he resolves to one day join the CIA. By 2003, America has triumphed over the Soviet Union, but the Russian mafia has become the most powerful, and certainly the most violent criminal group throughout the whole country. Through the fate of one man–young and full of illusions in 1965, but rather more embittered in 2003–we see the CIA help the Russian mafia get back on its feet in the squalid back rooms of the American empire. A great spy adventure comparable with the best of Hollywood thrillers.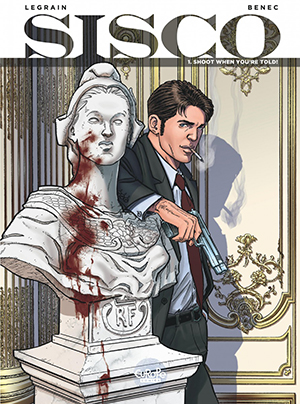 Agent Sisco-Castiglioni—Sisco for short—is responsible for protecting the President… which doesn't necessarily mean he's on the President's side. Nor are his colleagues necessarily on his. When an ill-advised business deal threatens to embarrass the country's leader, Sisco is called in to take drastic action. But what should have happened behind closed doors is witnessed from a window—and the chase is on to prevent embarrassment turning into national scandal… In Part 1 of this episode, the question is: Is it possible to get away with murder?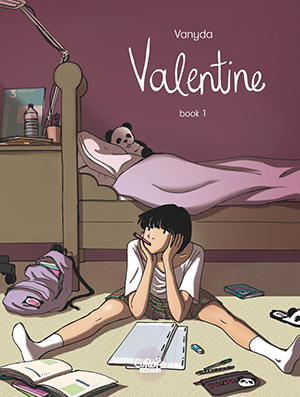 Valentine is a secondary-school student like many others. Her daily life is filled with all the upheavals and self-questioning of adolescence. Self-conscious, she tries to assert herself within a group in which she is "the shy one". She spends most of her time with her girlfriends, at school or at parties on the weekend. She also tries desperately to get the attention of Felix, the boy she's in love with – and who has no idea she exists. To make things worse, he's in the "rival" class to her own… Little by little, this young woman learns to express herself and find her place in the cruel and treacherous world of adolescence, from MP3 players and Japanese mangas, to her first parties and her first whiskey and Coke.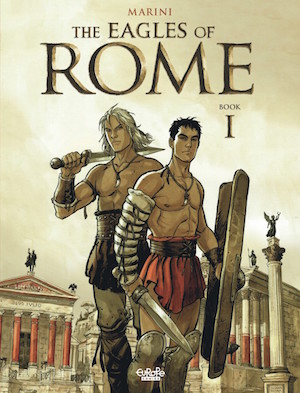 The strategic general Drusus is entrusted with the mission of bringing the indomitable barbarians of Germania under the Roman Empire's control. Once the battle is won, Prince Sigmar offers his son, Arminius, as a hostage to the Romans. Caesar consigns the education of the young barbarian to one of his most trusted companions, Titus Valerius Falco. Titus has a son of the same age as Arminius, an unruly young man called Marcus, also in need of an education worthy of his name. Together, these two budding soldiers go through full training, and are time and again subjected to the steely discipline and harsh tests of their tutor, an ex-legionary. Through these trying experiences, the insolent young Roman and the hot-headed German gradually transform their reciprocal hatred into a strong friendship… especially as they begin to discover the irresistible charms of their various female contemporaries…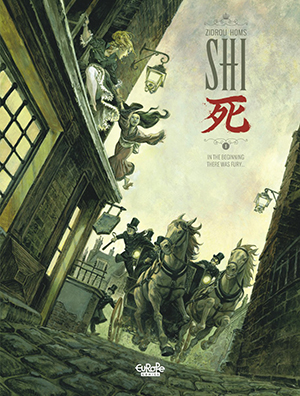 During the 1851 Great Exhibition in London, two women's lives become irrevocably intertwined when they both fall victim to a nefarious underground fraternity of ex-soldiers from England's upper crust who have sworn their lives to defending the British Empire—as well as their own decadent lifestyles. In this first volume, young rebel Jennifer Winterfield and the mysterious Kitamakura from Japan forge an unlikely alliance along with Jennifer's doctor uncle and a street urchin named Pickles. Together they lay the groundwork for a criminal organization that will go on to sow terror in the hearts of the colonialists and industrialists who tried to put them down.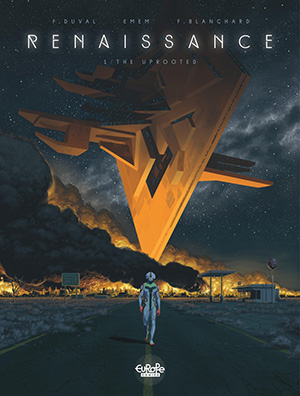 Swänn and Sätie were born on Näkän, a major planet in the Complex, a federation of extraterrestrial civilizations. The young couple hoped to live a peaceful life in an environment where nature and technology coexist in balance. But they are forced to mobilize when the leaders of the Complex decide to launch a vast expedition to save a planet that has exhausted its resources: Earth.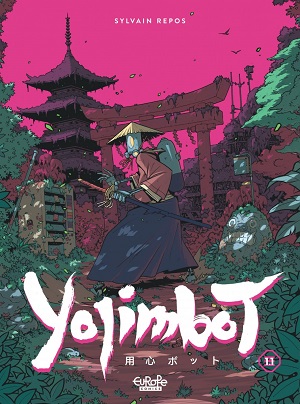 In a dystopian not-too-distant future in Japan, Hiro lives with his father on an island populated by androids, where they eke out a meager existence while trying to keep out of sight. But when they run afoul of a troop of high-tech military thugs, Hiro's dad sacrifices himself to save his son, turning Hiro's already-bleak world upside-down. He is then rescued by a samurai robot called a "yojimbot," and together they seek to avenge his father's death and make contact with a mysterious associate known only as the "rights holder," before the soldiers and their drones close in…
Header: Chinaman © Serge Le Tendre, Olivier TaDuc  / Dupuis