Teacher gave the kids a book to read for the summer but they rather read what they choose? Here are fun comics and graphic novels full of adventures and life lessons that they would actually enjoy! All 50% off until June 30th.
Being sisters is never easy. But when you're as different as Sarah, Cassiopeia, and Lucille, it's even harder! The first is haunted by recurring dreams, the second lives with her head in the clouds, and the last spends most of her time with her cat. Then one day they discover a mysterious photo of their mother pregnant. Where was it taken, and who is the baby? And most importantly, why was this photo hidden away in the depths of the attic? To find out, they'll have to venture into the tangled forest of the Grémillet family secrets!
Being a single dad is a full-time job, as Dad knows only too well! Especially with four headstrong daughters to whom obedience doesn't exactly come naturally… With bookish Pandora, emotional Ondine, mischievous Roxanne and, the latest addition, baby Bella, this unemployed actor has landed himself the role of a lifetime: looking after his family!
Raowl is not a hero for the faint of heart: he slices, dices, and decapitates anyone standing between him and a kiss from a princess. Unfortunately for Raowl, the first princess he encounters doesn't find him to her liking. So when Raowl rescues a second princess, he doesn't take no for an answer—and as it turns out, the two have a lot in common! Raowl's rage is all the greater when the princess is kidnapped and taken to a castle full of cannibals, and he doesn't waste any time leaping into the mouth of the beast! A rollicking rewrite of classic fairy tales, filled with guts, quips, and colorful characters.
Ulysses, mythical hero and king of Ithaca, left years ago to fight in the Trojan War. He never came home. His son, Telemachus, an impatient and immature prince who is as clumsy as he is ambitious, decides to go looking for him. On the way, he meets the hot-headed princess Polycaste, who helps him in his perilous adventure full of vengeful gods and terrifying monsters. Will the winds be favorable to them?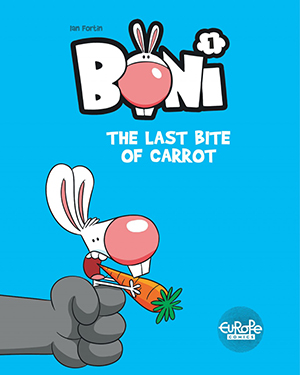 Boni
Life lessons dispensed by a rabbit who's no dummy. Boni is a cute, sweet, innocent little rabbit living in a hostile world. His best friend Milo can hardly see and is kind of an idiot, forever hitting on Brigitte, a she-rabbit who openly despises him. His nemesis, Bruno, has only one means of expression: punching people in the face (especially Boni). His grandpa is a sadistic, contemptuous old grump. His babysitter, Ms. Popo, was awarded the prize for worst childcare practitioner in the world, a prize that required zero effort on her part to win.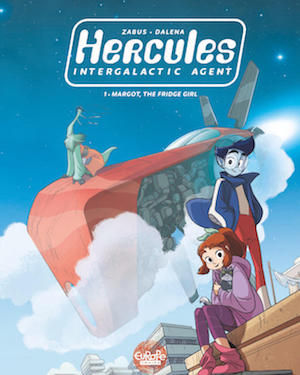 Hercule Intergaclatic Agent
Hercules and his friend Marlon have just enrolled at the School of Intergalactic Agents, but they're both having problems. Hercules is a little young—and a little short—to make the grade, while Marlon just can't help being a coward. For their first Surveillance Operation, they're sent to Earth to gather information on a girl who's behaving strangely. But while they're away, the dreaded Blackbird plans to attack the School…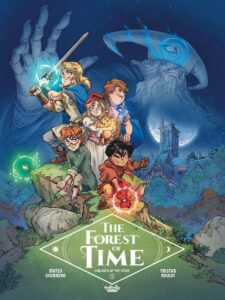 The Forest of Time
Deep in the heart of an enchanted forest, a small village of children lives unaffected by the passage of time thanks to a powerful stone that protects them from it. But when the stone is shattered and a thief runs off with one of the shards, four of the children must set out at once in search of the missing shard before their village is swallowed up by time and everybody in it dies. Armed with four crystals with special powers, the children bravely make their way through the dangerous forest to hunt down the thief, making friends and enemies along the way and encountering one strange creature after another.
Pico Bogue is the eldest child of a normal family, and when we say 'normal', we mean unique, quirky and occasionally just stark raving mad! Along with his little sister Anna, Pico goes through life with as many certainties as he has questions, making the kind of pertinent observations that only children are capable of. Sometimes challenging, always loveable, there's no end to Pico's mischief, much to the amusement, exasperation and surprise of his long-suffering parents!
The Marrowbone has been immobilized and Victor MacLimpet is feeling glum: a pirate without a ship is a pirate without a job. Just as he hits rock bottom, Victor gets a very bad idea… He'll wreck a galleon and steal its cargo. Perfect! Except that the "loot" in question will sow discord within the "Pirate Family" and all over Turtle Island…
Tiny Fox lives alone beneath his apple tree in the distant hills. He is a happy little animal, busy looking after himself and his foxy things. Then one day, a Great Boar appears and moves in under the apple tree, bringing with him a time of change and adventure. Is Tiny Fox ready?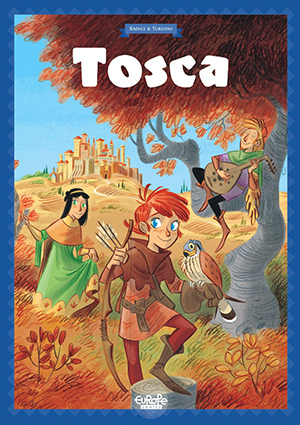 Tosca
Tosca and Rinaldo are orphans. Ever since their parents died, they have been living hidden in the forest. Lucilla is the only daughter of the Duc di Castelguelfo, famous for his exploits defending the Republic of Siena. Lucilla's parents are too busy to pay much attention to their daughter, who still feels lonely despite being surrounded by an army of maids and servants. But everything changes when she meets Tosca – a mini Robin Hood living a life so different from her own – and their adventures through 14th-century Tuscany begin. In this first volume in the series, they will have to save Lucilla from a fate worse than death: marriage to a man she doesn't want.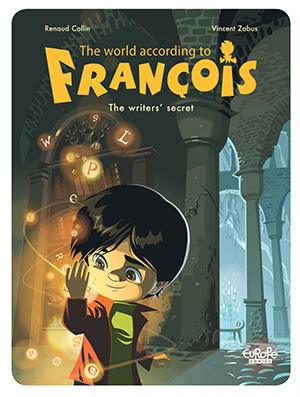 The World According to François
François has no interest in choosing between dream and reality: he wants both! Like all ten-year-olds, François has a lot of questions–but he puts his imagination to use to try to find the answers.
Header image:  Tiny Fox and Great Boar © Berenika Kołomycka / Le Lombard