Our latest special is dedicated to two horrifying wars that shook up the world during the 20th century. The Folies Bergère by Zidrou and Francis Porcel depicts the atrocious scenes from the battlefield during World War I. While Bear's Tooth by Yann and Alain Henriet and Vice Squad by Zidrou and Jordi Lafebre tell two devastating personal stories taking place during World War II.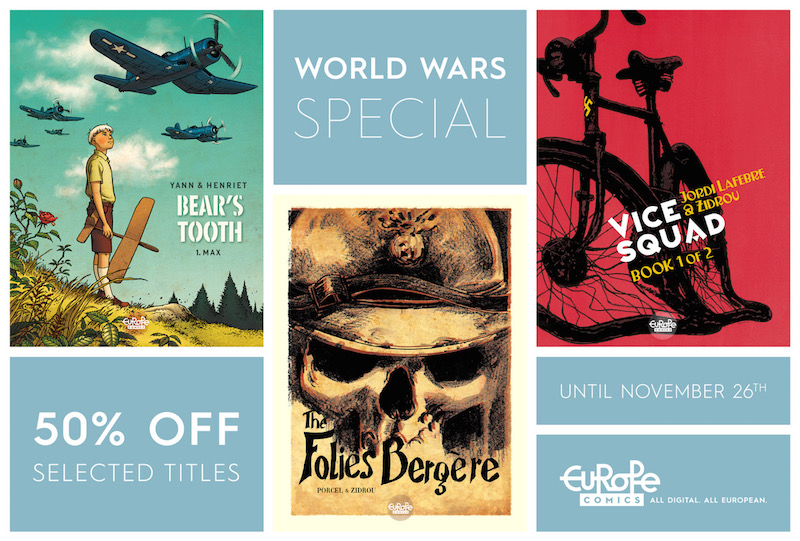 Series synopses
Silesia, 1930. Three children play with toy airplanes. Three friends – Max the Polish Jew, Werner and Hanna the Germans. All dream of becoming pilots, but they won't all have the same opportunities, and the world is heading down a dark road… 1944. Max is now an ace in the US Navy, while Hanna is one of Germany's top test pilots. Will anything remain of their old friendship, as the sides they each chose are locked in a struggle to the death? Three friends, united by their love of flying, torn apart by different origins. Amidst the madness of WW2, what will prove strongest: friendship, or loyalty?
We're right in the middle of World War I, deep in the trenches. The soldiers are confronted by unimaginable suffering and violent death on a daily basis. Considered as nothing more than cannon fodder by their superiors, they try desperately to survive. Partly as an act of defiance in the face of hardship, partly as the ultimate irony, the soldiers nickname their regiment after the famous Parisian cabaret club 'Folies Bergère'. They laugh and joke, they write, they draw, they fight, they die in appalling circumstances, they kill themselves, they lose their minds. And then one of their number is sentenced to death by firing squad… and miraculously survives…
It is the winter of 1937, and Aimé Louzeau lives with his mother and their servant. One day, he goes to the Quai des Orfèvres, the police prefecture of Paris, to speak with the vice squad. He currently works in the Criminal Investigation department, but crimes of passion and back alley stabbings really aren't his thing, so he requests a transfer from Chief Inspector Séverin. The atmosphere immediately darkens, as Louzeau is thrown straight into the interrogation of a pimp called Guapito and his prostitute.
Cover image: The Folies Bergère © Zidrou & Porcel / Dargaud