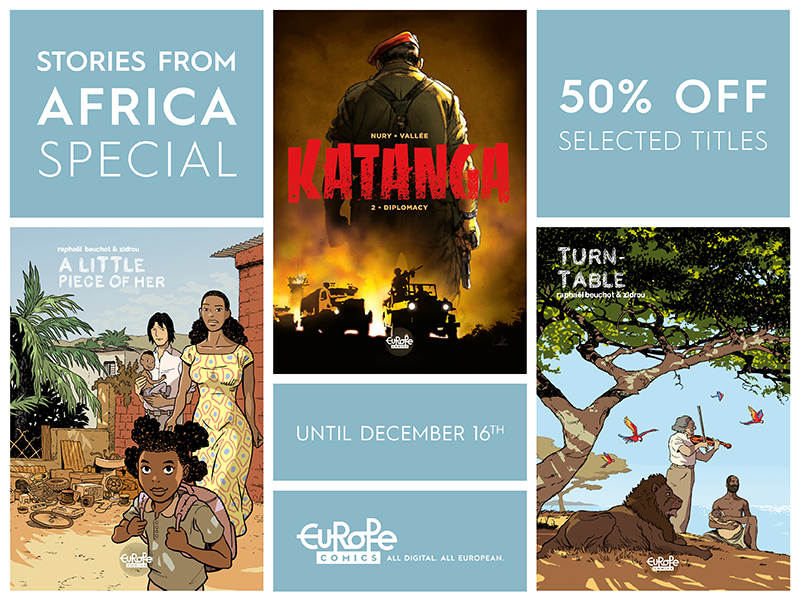 Once Upon a Time in Africa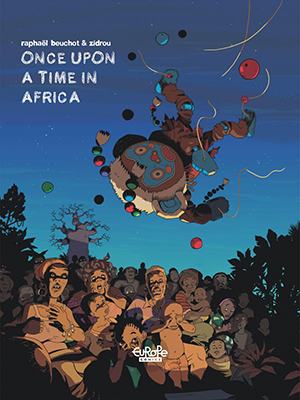 No one thought he'd ever dare to return. In this African country where the dictatorship has banned all forms of cultural expression, the storyteller named Once-Upon-A-Time has already had a brush with death. For refusing to stop performing his puppet shows, he lost both his hands, severed at the wrist with the slash of a machete. Now he's back, ready to begin performing again, and ready to take on the powers that be…
The Forgotten Slaves of Tromelin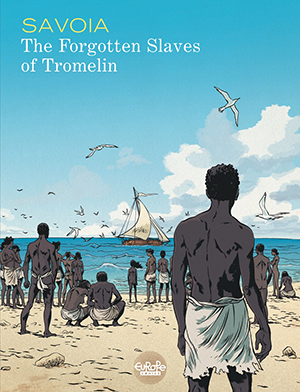 This story takes place on a tiny, far-flung island in the middle of the Indian Ocean, whose nearest neighbor is Madagascar, 500 kilometers away… In 1760, the Utile, a ship carrying black slaves from Africa, was shipwrecked here and abandoned by her crew. The surviving slaves had to struggle to stay alive in this desolate land for fifteen years… When this tale got back to France, it became the cornerstone of the battle of Enlightenment to outlaw slavery. More than two hundred years later, the artist Sylvain Savoia accompanied the first archeological mission in search of understanding how these men and women, who had come from the high mountains of Madagascar, had survived alone in the middle of the ocean. This is the story of that mission, through which we're exposed to the extraordinary story of the slaves themselves.
Meet the children: Airbus, with his barely contained rage, Angel, whose sweet looks belie a mercurial cruelty, and Mongol, who talks to insects and stray animals. They spend their days weaving baskets at Save the Innocents, an outreach foundation. They fantasize about the friendly blonde aid worker Anika, are wary of her blandly affable Belgian boss, and mock her short husband Recto, who speaks their language so poorly. Meanwhile, gunfire thunders daily in the hills just outside town. But when their old friend Black Domino resurfaces full of schemes and swagger, will the looming violence find an echo in the children's hearts?
Yu Kiang works for a Chinese lumberjack corporation in the Congo. Despite his company's ban on its employees from frequenting the local girls, Yu has fallen for a Congolese woman, Antoinette… and, in a very different way, for Antoinette's little daughter, Marie-Léontine. One night, in the arms of his lover, Yu discovers Antoinette's wound: a terrible scar, an assault on her femininity. How many others are there like her, exiled from their own body, victims of a monstrous ongoing tradition? How many? 150 million. But the only thing that matters to Yu and Antoinette is that little Marie-Léontine never falls victim to the tradition that her mother had to suffer.
1960: Katanga breaks away from the Republic of Congo-Léopoldville to become its own republic, backed by the UMHK, a Belgian mining company. When the UN sends in its peacekeeping forces, the UMHK responds by hiring its own mercenaries. Amidst this chaos, $30 million in diamonds goes missing, only to turn up with a man named Charlie at a refugee camp nicknamed "Camp Cannibal." Soon enough, everyone's after the diamonds: hard-bitten French mercenaries, hateful former Nazis, adulterous mining executives, greedy Katangan officials… and Charlie's sister. It's everyone for themselves in a mad scramble of double-crosses, a scathing cross-section of human venality.
Virtuoso Belgian violinist Eugène Ysaÿe is invited out to the Congo by the governor to give a concert. How could he refuse such an invitation? Eugène waves goodbye to the infamous gray Belgian skies and hops on a plane taking him to the dazzling colors of Africa. He is invited to stay a few weeks at his nephew's house, by the stunning Lake Maï Ndombé. And that's where he meets Turntable. Through their mutual appreciation of music, the servant and the celebrity gradually form an unlikely friendship, breaking the boundaries of convention.
Header image: A Little Piece of Her © Zidrou & Raphaël Beuchot / Le Lombard