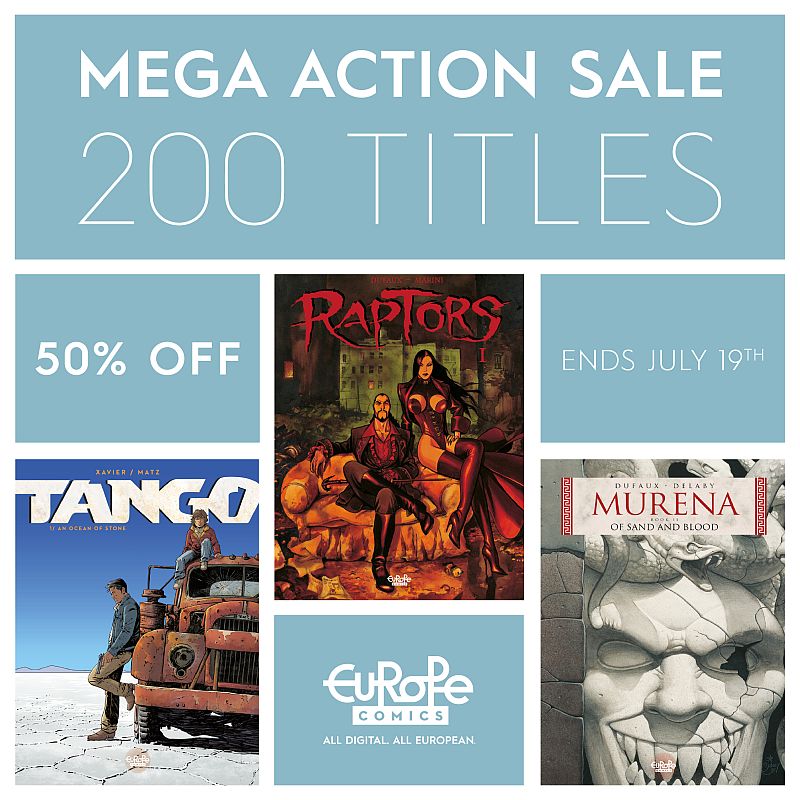 What exactly is a harem for? For the pleasure of a sovereign, of course. But he would be foolish to limit it to this sole purpose. They say that if you can satisfy a man, he'll give you all the treasures of the earth. Including the spoils of war. Sultan Murati's harem is a far more powerful weapon than the British and German armies, both of which are seeking his alliance. The flower of all flowers, the weapon of all weapons, Jade, the Sultan's new favorite, is entrusted with the Sultan's scheme to launch an assault on an English diplomat. A model of British calm and impregnability, like all men, Lord Nelson has his Achilles' heel: his wife… 50 years later, Jade's granddaughter, Kim, is trying to trace the footsteps of her fascinating ancestor in a modern Istanbul, where the harems have all but disappeared. But not the brothels, as Kim discovers at her own expense. But Kim's not just trying to find her roots. Legend has it that Jade, and Jade alone, knew where the Black Sultan hid his treasure, a treasure that no one has ever managed to unearth…
The strategic general Drusus is entrusted with the mission of bringing the indomitable barbarians of Germania under the Roman Empire's control. Once the battle is won, Prince Sigmar offers his son, Arminius, as a hostage to the Romans. Caesar consigns the education of the young barbarian to one of his most trusted companions, Titus Valerius Falco. Titus has a son of the same age as Arminius, an unruly young man called Marcus, also in need of an education worthy of his name. Together, these two budding soldiers go through full training, and are time and again subjected to the steely discipline and harsh tests of their tutor, an ex-legionary. Through these trying experiences, the insolent young Roman and the hot-headed German gradually transform their reciprocal hatred into a strong friendship… especially as they begin to discover the irresistible charms of their various female contemporaries…
It's stinking hot, and the crowd is beginning to lose interest in the last few gladiators still fighting for survival in the arena. Only the Emperor Claudius is still riveted, determined to stick it out until the death rattle of the last fighter announces the end of the day's frivolities. Life is just as ferocious outside the arena. Everyone wants the power; everyone is willing to kill to get it… For Agrippina, Claudius' second wife, her dear husband has served his purpose. Now that he has acknowledged her son, Nero, as his heir, it's high time he disappeared. But Agrippina has time against her: there's talk of Claudius wanting to renounce her in favor of the woman he loves, Lolia Paulina. Needless to say, it doesn't end well for poor Lolia…
1471. Leading a band of faithful crossbowmen, Juan de Olid leaves Castile in secret, bound for adventure and the unknown lands of Sub-Saharan Africa. The expedition's objective is to bring back a unicorn horn as quickly as possible—the future of the kingdom depends on it. On the advice of the most pre-eminent experts of their day, Juan de Olid and his companions take along with them the one thing that can help them in their quest: a virgin. For the scent of unsullied maidens has the power to tame the most formidable of unicorns. Meanwhile, the apothecaries of King Henry IV of Castile, nicknamed "the Impotent," impatiently await this legendary horn, as it is said it can cure the King and ensure the continuation of the royal line…
Hans Raeder lost both his father and his younger brother in 1918. To cope with the pain he, like Germany itself, takes refuge in fantasies—not only the fantasies of others, but also those of his own creation. In a country rebuilding itself on myths and deception, Hans is prepared to do anything to become the idol he worships: a fighter pilot… even if it means turning into a Nazi monster. What he doesn't realize is that his destiny is linked to another young pilot, on the other side of the Atlantic…
The son of a hero from the Great War who made his fortune in the steel industry, James O'Brady is destined for a great career in politics. When his father is appointed ambassador to Germany, James goes with him, to get an inside of view of the geopolitical landscape in the mid-1930s. But James follows his own path… which is destined to cross that of a young German fighter pilot.
Sycion, the jewel of ancient Greece, at the time of tyrants and myths… In order to right a wrong that threatens their tribes and fathers, Alcyon and Phoebe, two troublemaking friends, depart in search of Harmony's necklace, a legendary item forged by the god Hephaestus himself. Joined by Kyrilos, a young Spartan out to prove himself, their adventures in this world will be long, dangerous, and epic.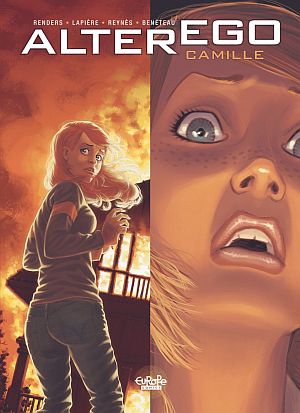 Camille, a French girl living in Singapore, is going through a tough time in her relationship with her mother, Suzanne Rochant, a high-flying psychology and neuroscience researcher. Out of the blue, Suzanne is brutally killed in tragic circumstances. Almost immediately afterwards, Camille sets off for an Angolan village in search of the man who could be her father… the father that she's never met. She carries a letter left to this man in her mother's will, but the truth awaiting her isn't exactly what she'd had in mind… Camille soon finds herself wrapped up in the shady goings-on of her mother's business, as she desperately tries to get to the bottom of all the unanswered questions her Suzanne left with.
A highly dubious investigation in the heat and humidity of Mexico's badlands. When headless women's bodies are found all across Mexico City, Interpol agent Clare Burnell faces the indifference of the local police and the ultra-violence of gangs of drug traffickers. Her only choice is to team up with Pablo Tikal, a P.I. whose methods are as effective as they are unorthodox.
The era of privacy is over. With the proliferation of cameras, social networks, and automated surveillance systems, everyone is being watched at all times and people have begun to give in to the surveillance state. Well, almost everyone… Laurette is a young, rebellious teenager in London plotting an attack on a major government data center with a group of activists. But when the plan goes wrong, Laurette disappears, kidnapped by unknown agents. Dissatisfied with the police's lack of progress, Adil, Laurette's brother, decides to investigate on his own. A science-fiction story that explores a future not too far from our own, tackling the issue of surveillance from both sides of the law.
Three young women lacking direction struggle with the challenges of life and relationships: Violet has dumped her boyfriend and is finding it hard to move on; Leila has betrayed her best friend and finds herself now ostracized by her social circle; and Helen struggles to find a balance between her personal life and the doctoral thesis taking up all her time and energy. A realistic slice-of-life portrayal of the growing pains of young adulthood.
New York. November 1933. Seven years of Prohibition is about to come to an end—seven years of mafia control of the illegal alcohol trade, of high-level corruption … and of the speakeasy, whose clientele enjoy not only liquor, but the Golden Age of Jazz. A world Irish boxer Jack Doyle is reluctantly drawn back to, to settle old scores. But what he thinks will be a simple fight turns into a web of exploitation and double-dealing … and a tangle with the elusive Miss Lena. To get free he will have to use all his native cunning…
Sam Hicks: ex-SAS, no ties, no family, and nothing to lose. Darwyn: his former Sergeant. Umata: a deadly female operative from Israeli Special Forces. They're the perfect team to go deep undercover and take down Darkwater, the outfit that's made private military contractor Jason King a billionaire, profiteering from war the world over. Because King isn't content with just riches; he wants power. His next step? Fascist empire. Amazing Améziane's wild yet thoroughly researched world of tough-talking mercs, pop-art layouts, twisty plots, and pop-cultural references are a must for fans of hardcore action from "Strike Back" to "The Losers."
Rome, 145 CE: Cassio, a prominent lawyer who once saved the Emperor's life, wakes in the night to noises. Four assassins have entered his villa and overpowered his formidable slave, the warrior Alva. He seems to know them, and knows why they have come… Ephesus, present day: archeologist Ornella Grazzi finds a ruin with a fresco of Cassio's face. The papyrus scrolls inside tell the beginning of a story she has long suspected and been searching for clues to all her life: how Cassio survived his own assassination and came back from the dead for vengeance…
In the second half of the 19th century, a Chinese man wanders the plains of the American West. In the first volume, John Chinaman lands in San Francisco, tasked by the Elders of Canton with disciplining the local Triads. But this mission will be his last. From now on, his fate will be irrevocably tied to America's westward expansion.
The United States… the late twenties. Like many others, the company Fisherman's Dream staggers under the 'crash'. In the midst of this economic nightmare, we meet a young girl, Dixie. The recent events will push her and her family to hit the road, in pursuit of the elusive American Dream.
In 8th-century Europe, a clash of cultures and religions inevitably leads to a clash of swords. This harsh, changing world suits Björn the Beautiful, who has a single passion: violence. His bloodlust led to his exile from his native land, and it's his bloodlust that brings him back. For Harald, it's the season of Jul and he's about to marry the gorgeous Lina. The festivities are interrupted by the arrival of Björn and his troops. With his people either slaughtered or enslaved, Harald begins a forced march with the other survivors. He wants revenge, but he must be patient like the serpent: know when to sleep, and know when to strike.
Frank Carvale is arrogant, ambitious, and willing to do anything it takes to get ahead. He's clever, too, but maybe not as clever as he thinks. A chance meeting with a magnate in Hong Kong could either be the big break he needs—or the biggest mistake of his life. A financial thriller set at the heart of the international economic crisis.
Vince's latest mission takes him to Malta. His job is to ensure the safety of the archeologists and art buyers for the Vatican. His daring and efficiency have won him many a great success, and some renown in his sector. And now he's being offered a promotion. From now on, he'll be part one of the Janitores, otherwise known as "The Keepers". The Keepers are an elite group created by the secret services of the pontifical state, who's life work is to protect the Vatican from those members who might give in to temptation. And so a new life begins…
In a future age where robots take care of most of the more tedious tasks, humans have a lot of time on their hands. So what to do with it? Well, obviously, they're going to watch the Norman K. Barron show! Norman is a handsome and heroic policeman, whose dealings have already cost the life of his partner, who has now been replaced by Oshi Feal, a young recruit fresh out of police school. But nothing could have prepared Oshi for this kind of mission, where unexpected developments are a must… After all, you gotta keep the viewers happy!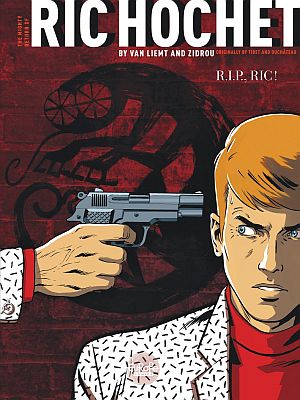 The Mighty Return of Ric Hochet

Ric Hochet, the famous Parisian newshound, is not himself. He's wearing a mysterious bandage, he isn't driving his usual car, and a strange smell is emanating from his apartment… When he's invited to his old friend Police Commissioner Bourdon's wedding in the South of France, his infallible memory starts failing and his legendary luck begins to desert him. Then an attempt is made on Bourdon's life. What's eating Ric and why would anyone want to murder Bourdon? Clearly, things are not all what they seem—least of all Ric himself.
Julian Lethercore can read minds. Well, actually, what he reads are molecules, borne on saliva and other bodily fluids, with which he can access a person's memories, the secrets of their very lives and identities. He's also the result of a top secret military experiment gone wrong. He and the four other "bloodcogs" serve their master, Senator Pershing, a former warhawk now disgraced under a new administration headed by President Harmond. But Harmond may be gunning for more than the Senator's reputation. He may be out for all the bloodcogs—and it's up to Julian to find out.
Joaquin is an ambitious young casino worker in Havana during the final days before Fidel Castro's coup to overthrow the corrupt Cuban government. Against this tense political backdrop, Joaquin finds himself holding a briefcase full of cash belonging to his gangster boss, stolen by Joaquin's own brother, a guerrilla working for the revolution. When he learns that a young woman he has taken a liking to will be prostituted by his boss to none other than President Batista, he convinces her to flee with him — and the stolen money — to the United States, where they buy a car and head across the country, with the Cuban mafia hot on their trail.
Their reign is coming to an end. They had the power, they dominated the town, the whole world. Order prevailed. Their order. But then a certain pair of siblings came along — the Raptors. United by blood, decked out in skin-tight leather, slipping through the night, sowing disorder. The head of the town is worried, and not without reason. The immortal race to which he belongs is starting to discover what it means to die…
1880. Kansas. Elijah Stern, the local undertaker, leads a calm and solitary life, until one day he is asked to carry out an autopsy on a man found dead in a brothel. Taking on the role of forensic pathologist, he discovers that the man had not died of natural causes and finds himself involved, against his better wishes, in the middle of a bonafide investigation. But Stern has no idea that the key to this case lies in his own past…
For Ian Mallory, life as he knew it ended the day his wife was murdered, in an attack that sent him into a coma. Three years later, he's woken up, with the bullet still lodged inside his brain. Any attempt to remove it will kill him, but that isn't all: because of the bullet, he feels emotions several hours after they occur. An affliction that may be a gift—at least in the eyes of the NSA.
He used to play a dangerous game, running cash for the mob. Now he calls himself Tango, and he lives in a little village rising like a small island out of the rocky sea of the Andes. He's made a few friends since he arrived, with whom he's got a lot in common: they've all got secrets from their past, and they're not exactly who they say they are. One by one, their secrets are revealed in a storm of violence when old friends come knocking, demanding past debts be paid. High up in the Bolivian hills, a mountain community is once again upended by the arrival of strangers and the troubles they seem to bring with them.
In the chilly gray port town of Rouen, De Trichère, a man who's made his fortune in shipping, is dying of cancer. He lost his wife to bombing during the war, and his daughter lost the use of her legs. Now the wheelchair-bound girl is all he has left, and he's willing to go to any lengths to secure her future. Cozying up to a former first mate with a reputation for sadism? Check. Insurance fraud on a massive scale? Check. Sending over fifty sailors to certain doom, sure, but even… murdering his own secretary when she finds out?
In ancient Iran, a man with a mysterious past and an even more mysterious future arrives in the city of Gonur-Depe to start a new life as a merchant. There he meets a wealthy woman who vows to make his life miserable, but her plans are interrupted when the city is attacked by the army of an evil prince that has been possessed by an even more evil god. The man and woman manage to flee the blood-soaked city and embark on a long, brutal journey of survival through the desert, moving toward their destiny and the world-changing events about to unfold.
1917, East Africa. A German pastor—also a doctor, and married to a Frenchwoman—teaches his son Josef to fly the Albatros biplane he uses to visit his rural patients. But the war raging in Europe has spread to Africa, where the Allies are fighting the Germans in their various colonies. Against this backdrop—and strictly against his father's wishes—Josef dreams of flying the nest, and makes a decision that will have terrible consequences…
Bob Morane is back! This thrilling reboot from Lombard reintroduces the heroic soldier and all his classic associates in a new, present-day world. The whip-smart, physically skilled, and drop-dead gorgeous Morane has volunteered for a peacekeeping mission to Nigeria, where his conscience runs him afoul of his commanding officers and puts some very important people in his debt. Eventually, he finds himself organizing the largest humanitarian operation that has ever been undertaken in Africa. But there are many forces at play, some more shadowy than others—and some are extremely nefarious…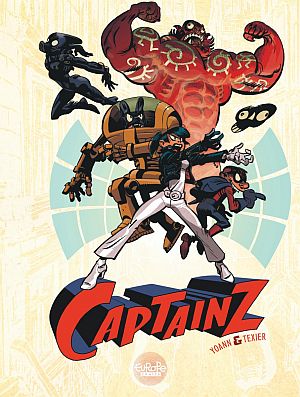 pping up all over, wreaking wild havoc on Earth! Captain Woof, a dog from another dimension, is here to find out what's been weakening the walls between parallel universes and letting these creatures through. Helping him are Captain Mysterioso, a teen reassembled by aliens to be invulnerable and shoot destructo-rays; Captain Bummer, a woman with the power to push anyone to suicide; and Captain Smooch, a playboy that one kiss can turn into a raging beast. Throw in Captain Megahertz, a man who can travel along any electrical frequency, and you've got the Captainz! A rollicking love letter to superhero comics.
Saburo is an ambitious young yakuza who provokes a war between rival factions in an attempt to overthrow the Oyabun Kodama, Tokyo's gang boss. But the sly old devil won't give up without a fight! Hoping to have Saburo killed, he orders Shi's release from prison, something the old blind warrior has been waiting thirty years for. Thirty years cut off from the rest of the world, unaware of the betrayal that sealed his fate. Sometimes, all that separates family and business is the width of a blade…
The year is 1998. In the merciless world of the stock exchange, Alexandre, a brilliant young trader, finds himself caught in the middle of a game of scheming and manipulation. An employee of the BGCI, he is duped into covering up several risky transactions by his colleague and so-called friend. The losses begin to snowball, becoming ever harder to hide. Facing an audit and with a journalist hovering around, Alexandre's fall from grace takes a deadly turn. This first volume brings us forward 12 years in the future, when Christopher Dantes, a businessman as rich as he is mysterious, makes his first public appearance at the Millennium Financial Ball, coming face to face with the people involved in the plot of that sordid drama of the past.
Agent Sisco-Castiglioni—Sisco for short—is responsible for protecting the President… which doesn't necessarily mean he's on the President's side. Nor are his colleagues necessarily on his. When an ill-advised business deal threatens to embarrass the country's leader, Sisco is called in to take drastic action. But what should have happened behind closed doors is witnessed from a window—and the chase is on to prevent embarrassment turning into national scandal… In Part 1 of this episode, the question is: Is it possible to get away with murder?
Just outside Delhi, the capital of India, a man called Mowgli rents a house on the outskirts of the jungle, where he plans to live out the rest of his days. The forest is not nearly as vast as it once was, but the air, the trees and the hills still retain a thousand memories: the cries of birds long departed, the calls of brother wolves that have since died off, the rage of a jealous tiger… For Mowgli, the jungle is the stomping ground of his childhood and his path to adolescence, including the undeniable need to grow up and leave it. For Mowgli, it is time to rediscover the jungle so as to prevent the world of men from stealing away his innocence and his illusions. For this man growing ever older, these memories take him back to a time when all he had to do was learn, and not yet pay the price of his mistakes…
When Esteban, a young Native American boy of just 12 years old, presents himself to the captain of the Leviathan for the post of 'harpooner', he's the laughing stock of the whole crew. But when the captain finds out that Esteban is the son of Suzanna of the Tehuelches tribe, he decides to take him on… as ship's boy. Despite his lowly post, this is Esteban's chance to discover the sailor's life, with all its hardship and its happiness, and maybe even a chance to prove what he's made of!
Parlay is the French king of a dying island tribe and the father of the sublime Armande. He's selling his pearls, a fortune collected from his island's lagoon. The wealthiest traders in the Solomon Islands have been invited to the auction, except for David Grief, the Englishman the natives call the Son of the Sun. Come hell or high water—probably both—Grief will be there. And he isn't coming for the pearls. This is a thrilling adaptation of two Jack London novellas, "A Son of the Sun" and "The Pearls of Parlay."
There was a time when certain mortals could become gods. At this time, two thousand years ago, men would pass into legend by risking their lives to entertain the crowds; famous charioteers who, perched on their chariots like Apollo, would fight for their lives and their honor in the arena. This is the story of one of those heroes: Aelio Hermeros, perhaps one of the greates chariot riders of all time. He was a mortal immortalized in the memory of those who saw him compete, who witnessed his defeats, his victories, his blood spilled and, most of all, his glory.
Fanny, like so many other girls of her time, has been driven to selling her body to survive. She has since become the most sought-after prostitute of her brothel. She knows people, she knows things, and she is determined to one day move on to a better life. One day, the handsome and enigmatic James Orwood seeks her out, and makes her a proposition that might just be the making of her. He wants to use her reputed powers of seduction to get information from the rich and powerful. They form an alliance, along with Lario and Lucrecia, all four of them bringing a unique skill to the table. This could be the beginning of something great…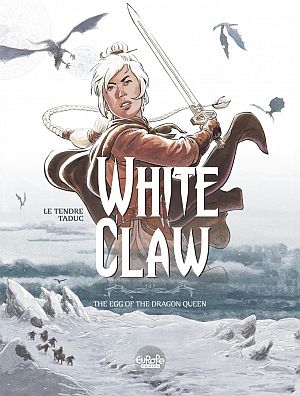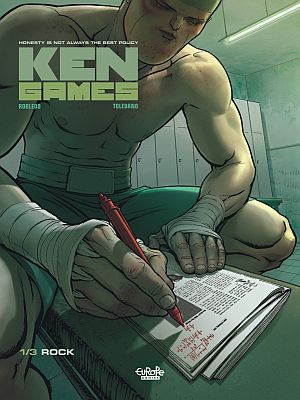 This first volume of the Ken Games series gives us a profile of Peter Fermat (aka Rock), a young man who, like each of the three main characters, is leading a double life. His story opens with a boxing match which has a nasty ending for the up-and-coming boxer, despite his victory. It's not long before we discover that Rock is not only striving to make it in the boxing world, but is also something of a mathematical genius, which is how he met his best friend, TJ. For the first time in all their years of friendship, TJ introduces Rock to a girlfriend, the lovely Anne. Anne and Rock soon establish a bond of trust when Rock discovers that Anne too is living a double life, even though Anne's secret is not exactly what she leads Rock to believe. This is just the beginning of the tangled web of lies and deception that gets ever more convoluted as the series goes on…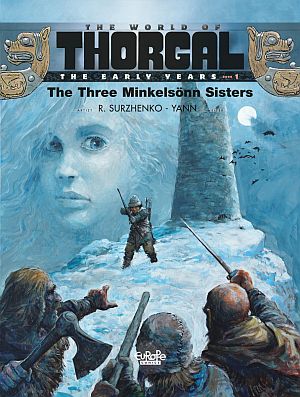 The World of Thorgal: The Early Years

It's been a long, cold winter, and the Vikings are suffering major food shortages. Many of the men have left on a long voyage. In their absence, Björn, son of the village chief, Gandalf-the-mad, has been left in charge. Which is not good news for Thorgal, a young skald of mysterious origins, marginalized by the Viking tribe. Lucky for him, he has the beautiful Aaricia to look out for him. When Thorgal's singing attracts three whales into the bay, the villagers hope they might finally be able to feed themselves. But something tells Thorgal that these are no ordinary whales…
A monkey-faced man named Kid Noize who has a 1977 Mustang, a talking dog, and dreams of being a famous DJ, travels between worlds to deliver mysterious packages to people. Unfortunately, he has lost the package of his next recipient, a young boy named Sam who is having a hard time in life, grieving the loss of his mother while trying to adapt to a tough new town and school. Neither Sam nor Kid Noize has any idea what awaits them as they join forces to find the package that will help shape Sam's destiny…
Header image:  Cash Cowboys © Amazing Améziane / Le Lombard