This week's special is dedicated to the charismatic anti-heroes of the Europe Comics collection. You can read Blast, Tyler Cross: Miami, Harden, Lethal Lullaby, Escobar, Undertaker, Bandit and Murena for just half the price until August 19th!!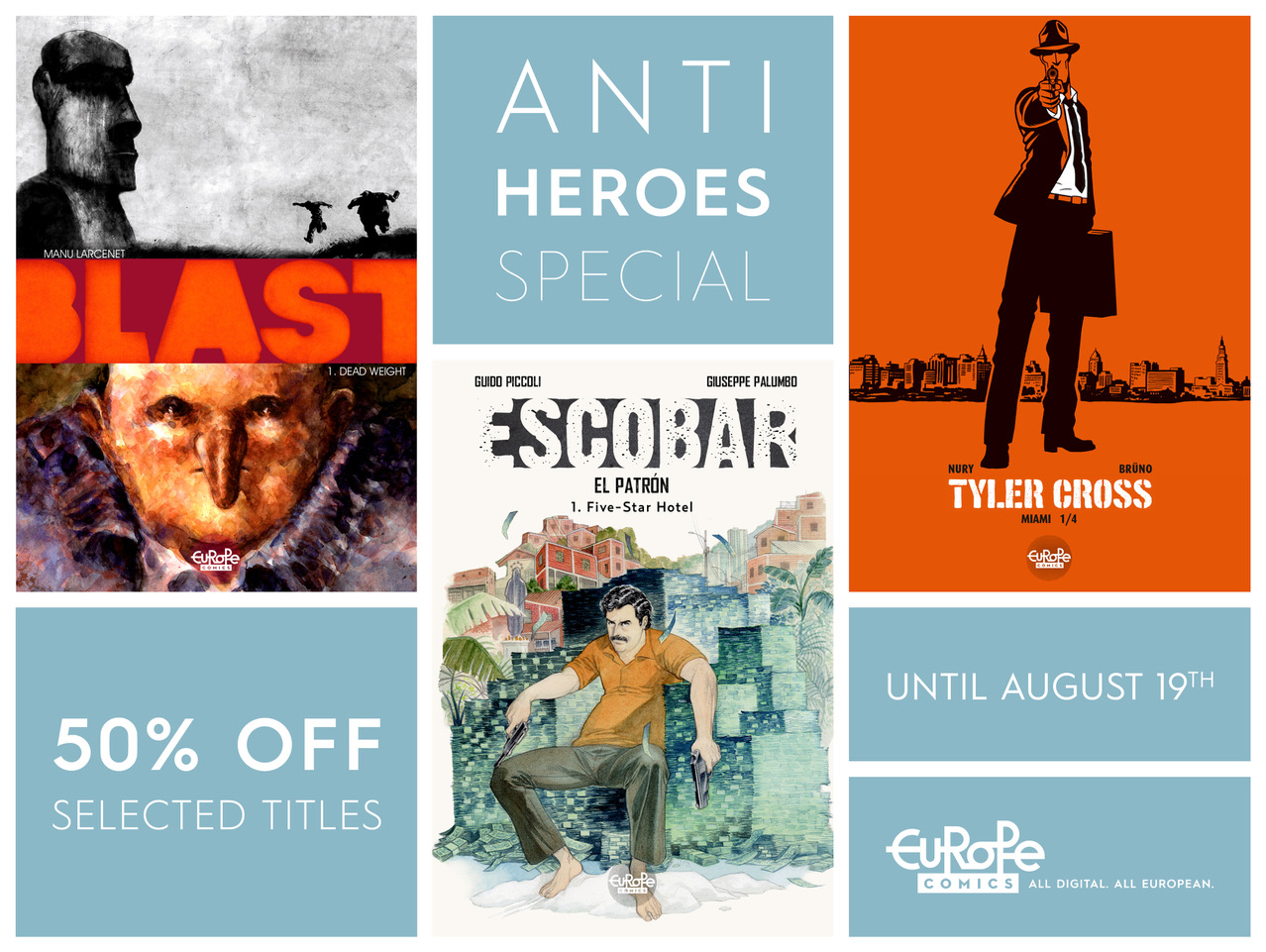 A man – filthy, stinking, alone and obese – is taken in by the police. We don't yet know what he's done, or why he's there. But he's going to tell us his story. The story of a man who strives to live by his own rules, free from the bounds of socially imposed morality and norms, an ambition inspired by one blinding, ecstatic, vivid moment of ultilmate perfection in life and existence – The Blast. He makes the only choice possible for him after such an experience: he leaves everything behind and sets off to live, really live, in the wild, on his own. This first volume is a homage to the acute beauty of nature, solitude and feeling alive. And to the pain and brutality necessary for this man to find his way to another, purer, more complete level of existence. But is the mysterious 'Blast' really what it seems? And so the interrogation begins.
Someone hired hitmen to kill Tyler Cross. They didn't get him, but now his girlfriend's dead, and he wants to know who paid to have him dead. Someone else spent the take from his last job, investing it in a shady land deal down in sunny Miami. Tyler Cross just wants his money back, but the D.A.'s goons, Cuban gangsters, Miami developers, a trust-fund junkie, and a secretary with an ex-con boyfriend complicate things. Bodies will fall when greed and amoral justice face off in an island-hopping game of cold-blooded murder and white-collar crime
Ismaël seems like a regular nice-guy fallen on hard times. He's living with his adoring sister and her son following his return from his posting in Iraq. But he has a dark past with the gangs of L.A. and an even darker one with his combat experiences in the US army. These experiences haunt him, giving rise within him to a monstrous second self that he's trying desperately to control… but just when things seems like they're on the up, tragic events send Ismaël plunging into the abyss.
Telenko, a New York taxi driver, spends his days ferrying around the dregs of society in one of the city's roughest neighborhoods. He has an obsessive fear of dying like a guy he saw in a film, who'd hear his heart stop every 15 beats. Because Telenko himself has a tired heart. He has a minor case of tachycardia and the odd extra systole, not helped by his stressful job and the constant abuse from his wheelchair-bound wife, Martha: "You don't divorce a wife in a wheelchair, Telenko!" She'll get what's coming to her, no doubt. Just like that slut who just got in his taxi who's fooling around with some other guy right under her decrepit old husband's nose. So he decides to kill Martha. But you gotta have some guts to kill your wife in cold blood. Especially when she's got a nasty surprise in store…
Pablo Escobar is widely considered to have been the most successful criminal in history and to have invented modern-day drug trafficking. At the height of his career, the Colombian kingpin was making a million dollars a day smuggling cocaine into the United States. Here is the tale of the final days of "El Patrón," folk hero to some, public enemy number one to others, doting father and family man, ruthless murderer and an outlaw like no other.
Undertaker Jonas Crow is charged with transporting the coffin of an ex-miner become millionaire back to the mining vein that made his fortune. The funeral should have been a calm affair, but there's an unexpected turn of events: on the eve of his death, Joe Cusco swallowed all his gold, so as to carry it with him for all eternity. Unfortunately, the secret was leaked, provoking the fury of all the miners of Anoki City. They can't just leave such a fortune to be buried while they're sweating their souls away in the mining shafts! As Jonas says, "death never comes alone…"
It's stinking hot, and the crowd is beginning to lose interest in the last few gladiators still fighting for survival in the arena. Only the Emperor Claudius is still riveted, determined to stick it out until the death rattle of the last fighter announces the end of the day's frivolities. Life is just as ferocious outside the arena. Everyone wants the power; everyone is willing to kill to get it… For Agrippina, Claudius' second wife, her dear husband has served his purpose. Now that he has acknowledged her son, Nero, as his heir, it's high time he disappeared. But Agrippina has time against her: there's talk of Claudius wanting to renounce her in favor of the woman he loves, Lolia Paulina. Needless to say, it doesn't end well for poor Lolia…
Based on the life and crimes of François Troukens, "Bandit" delves into the former armed robber's childhood and early criminal acts, recounts some of his most famous and audacious heists and the life on the run that followed, and shows how even a Public Enemy Number One can change his ways and embark on the path towards redemption.