Tomorrow, May 17 marks the beginning of the biggest comics festival in Poland – Komiksowa Warszawa! The event is organized by Europe Comics partner Timof, in cooperation with the Warsaw Book Fair. The 2018 edition features an extensive cast of international authors, including Belgian scriptwriter Jean Dufaux (Djinn, Murena, Spellbound). To celebrate, we're offering you a 50% discount on a range of fantastic comics by Polish creators. The special ends May 30th!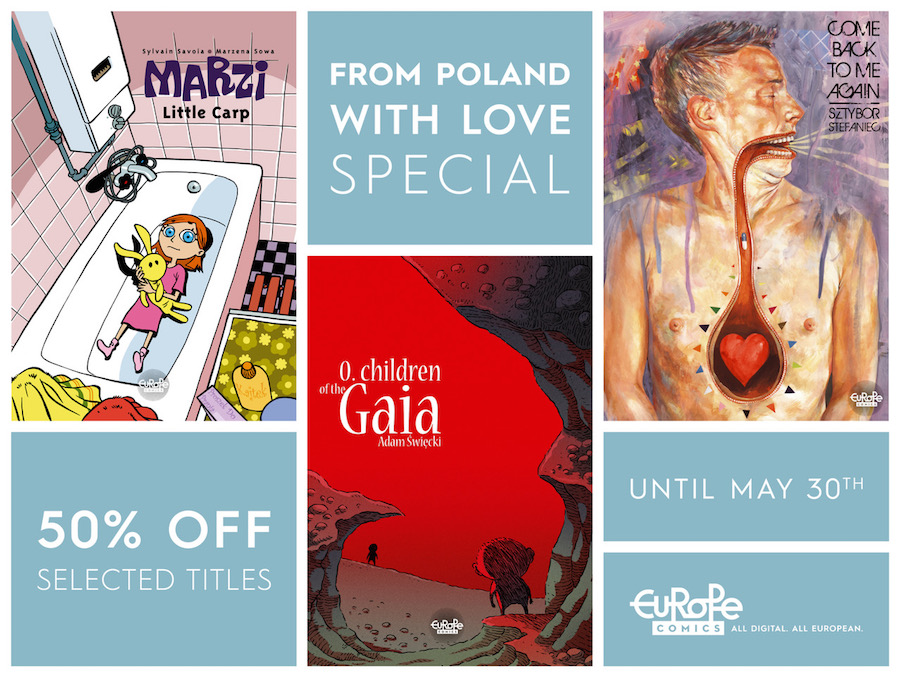 "Before, there were trees and countryside. Man didn't intervene. Stalin decided to "rectify" that space, and now, instead of trees, there are concrete buildings, everywhere. Stalin had a factory built. Thanks to that, lots of people got jobs, like my dad." Born in 1979, Marzi is a 7-year-old Polish girl who looks wide-eyed at the world around her: her parents, her family, her school friends and the crabby women at the grocery store who don't even smile for a fruit delivery. Marzi lives on a council estate in an industrial town, and is a cheerful, carefree, mischievous and perceptive little girl, bound to run into many adventures!
The Earth is ill. It has become a difficult place to live. Few people scattered on the inhospitable land, fighting every day for a decent life. One day a strange child arrives on the farm. He becomes a part of the family. Earth are changing. And events are gaining momentum, seeking to unpredictable finale.
This is a dramatic graphic novel because it is about life. This is romance, because there is love. This is crime, because it's about mysterious death. It's also a graphic novel about dreams, because there is a lot of sleep in it. Come Back to Me Again is an emotional journey into yourself. This diary of feelings jagged by addiction. Alcohol addiction. Drug addiction. Love addiction. And life addiction. This story is about the continuous falling asleep and waking up. About daydreaming and life without sleep.
An absorbing family drama depicted in dark artwork. Robert Boganiec is a writer. His crime stories are always perfectly narrated, and the heroes of this books consequently do what they should. But as he discovers his wife's unfaithfullness, he does not hesitate to do what must be done…
Technological revolutions are a time of incredible inventions, brilliant minds, and fantastic discoveries. As well as bad inventions, failed experiments, and bizarre ideas. "Revolutions" brings to life a series of alternate histories, and offers inventions so fantastic they could never be brought into existence in our world. Instead, these inventions disappear into oblivion, or transform into something completely other than what their makers intended. A truly "revolutionary" series of graphic novels.
Header image: Marzi © Marzena Sowa and Sylvain Savoia / Editions Dupuis