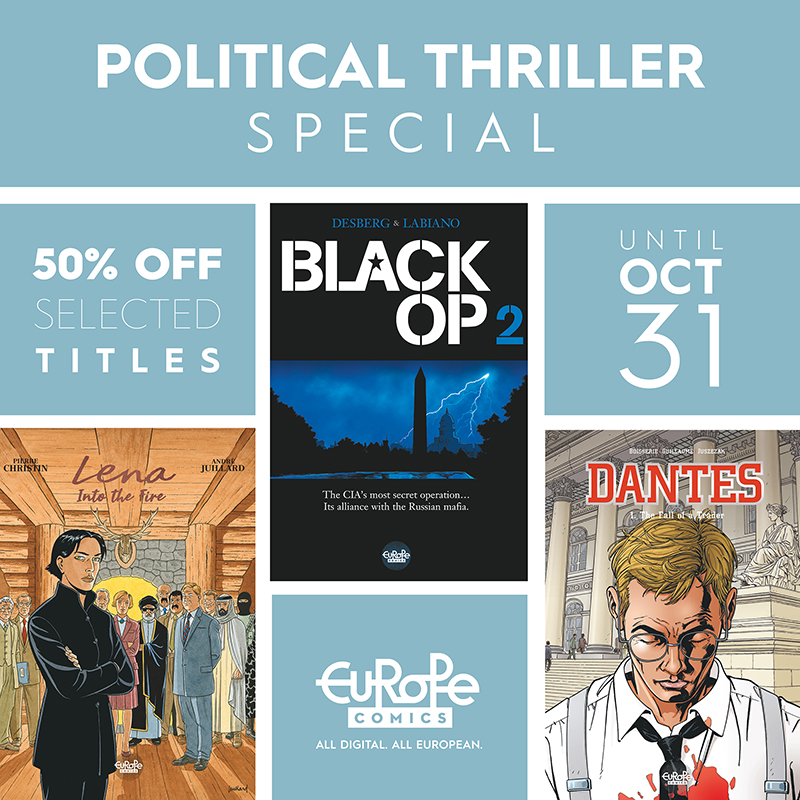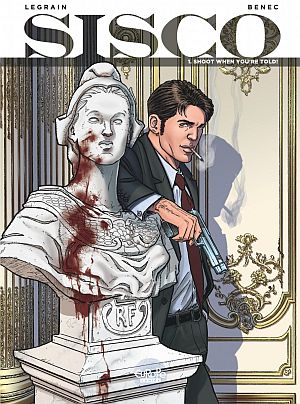 Agent Sisco-Castiglioni—Sisco for short—is responsible for protecting the President… which doesn't necessarily mean he's on the President's side. Nor are his colleagues necessarily on his. When an ill-advised business deal threatens to embarrass the country's leader, Sisco is called in to take drastic action. But what should have happened behind closed doors is witnessed from a window—and the chase is on to prevent embarrassment turning into national scandal… In Part 1 of this episode, the question is: Is it possible to get away with murder?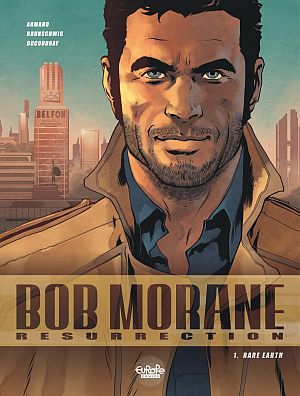 Bob Morane is back! This thrilling reboot from Lombard reintroduces the heroic soldier and all his classic associates in a new, present-day world. The whip-smart, physically skilled, and drop-dead gorgeous Morane has volunteered for a peacekeeping mission to Nigeria, where his conscience runs him afoul of his commanding officers and puts some very important people in his debt. Eventually, he finds himself organizing the largest humanitarian operation that has ever been undertaken in Africa. But there are many forces at play, some more shadowy than others—and some are extremely nefarious . . .
Meet Leo Sully-Darmon, a hot-shot photogenic criminal defense attorney who takes on cases nobody else will touch. Leo loves a good cause just as much as he loves a good photo-op, and he happens to excel at both. But when he agrees to represent a woman accused of crimes against humanity during her former life as an officer in an Iraqi detention camp, he may have bitten off more than he can chew, as antagonistic forces conspire to cast doubt on his client's innocence and start digging up dirt on his own life… complete with dark secrets from both the past and the present.
Who is Lena? What is she up to? Does she even know her mission? Setting out from an East Berlin neighborhood that is home to former dignitaries, she goes about passing out small, innocent-seeming gifts from Budapest to Transylvania to Kiev. She crosses the Danube delta, the Black Sea, Anatolia, and the Aleppo bazaar. Each time, she crosses borders incognito, claiming to have nothing to declare. A journey at once timeless and inextricable from the great issues of our age, "Lena" combines the intimacy dear to André Juillard and Pierre Christin's predilection for vast geopolitical canvases.
"The bill always comes due…" Jay Sherman is the American Dream come true: a self-made man who worked himself up from the streets to the upper echelons of moneyed society. But when his son Robert, a promising Democratic presidential candidate, is shot before his eyes, Sherman's world spins into chaos. Threats on his life and that of his estranged daughter soon follow. An old mentor turned FBI chief steps up to offer his protection, but lacking any real leads, they can only look into Sherman's past… which has more than its share of skeletons. A political thriller with Gatsbyesque overtones.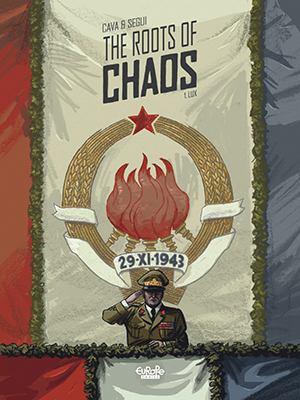 March 1953. Alexander is walking through the streets of London with a bomb in his hand. It is destined for Marshal Tito, during his controversial visit to Great Britain. Alexander's story began several months earlier, when his mother was struck by a car and instantly killed. Trying to understand why and how his mother, who was in an institution for senile elderly people, wound up so far from her home, Alexander finds himself caught up in a spiral of terror involving the British secret service, strange Serbian nationalists, and the island of Majorca… all of which culminate, several months later, with Alexander finding himself on the bank of the Thames, holding a bag with a bomb in it…
It's 1945. Floyd Whitman discovers that 'those scumbag communists' have killed his father. He's just a child, but he resolves to one day join the CIA. By 2003, America has triumphed over the Soviet Union, but the Russian mafia has become the most powerful, and certainly the most violent criminal group throughout the whole country. Through the fate of one man–young and full of illusions in 1965, but rather more embittered in 2003–we see the CIA help the Russian mafia get back on its feet in the squalid back rooms of the American empire. A great spy adventure comparable with the best of Hollywood thrillers.
The year is 1934. Rasputin holds the reins of government. When the Czar is mortally wounded in an ambush, the mad monk turns to his Council of Dark Mages and his former mentor, Baba Yaga. Together, they concoct a plan that involves trench warfare mechas, mind-to-mind transfers, and the long-lost heir to the Romanoff throne: Kyril Noskov, a hero of the war that's been raging since 1914, to which generations of Russian youth have been sacrificed. Roulot and Rodier's reimagining of a Russia that never was blends science fact and dark fantasy into a spellbinding fable of the price of power.
If you have a problem, if no one else can help, and if you can find him, Max Ferlane is your man: a good man with skills a bad past has left him. Now he's trying to leave that bad life behind, put those skills to good use. He's in the Congo rescuing a young girl from an arranged marriage when an old employer turns up: the Babylon Agency, specializing in high-profile political exfiltrations. Max is forced into a different, far more dangerous mission that will take him deep into warring jungles and his own past mistakes. For Max's PTSD hallucinations are only getting worse…
When an Aryan baby is born to a Muslim woman living in Copenhagen, her husband's family shuns her. But DNA tests prove Sorraya's fidelity. And she is just the first in what soon becomes a rash of similar cases across Europe, threatening widespread social change even as they ignite passions in immigrant communities and incite familiar racial hatreds. What mysterious conspiracy connects a retrovirus, a young slacker biogeneticist, a former punkette, a dogged reporter, and pharmaceutical giant Keoxis? Clarke delivers a contemplative slice of near-future science fiction paced like a thriller but full of probing questions about our prejudices.
The year is 1998. In the merciless world of the stock exchange, Alexandre, a brilliant young trader, finds himself caught in the middle of a game of scheming and manipulation. An employee of the BGCI, he is duped into covering up several risky transactions by his colleague and so-called friend. The losses begin to snowball, becoming ever harder to hide. Facing an audit and with a journalist hovering around, Alexandre's fall from grace takes a deadly turn. This first volume brings us forward 12 years in the future, when Christopher Dantes, a businessman as rich as he is mysterious, makes his first public appearance at the Millennium Financial Ball, coming face to face with the people involved in the plot of that sordid drama of the past.
Header image:  The defender / © Laurent Galandon, Frédéric Volante, Franck Giroud, Le Lombard